Enjoy reading my review of an amazing Princess Alaskan Cruise and Excursions. The 3,660-passenger Discovery Princess was the newest ship in Alaska, and we were on her! Departing for an inside passage along the Alaskan coast, the Royal-class Discovery Princess eased out of Seattle as we toasted the trip with champagne on our balcony.
Soon a breathtaking view of picture-perfect Mount Rainier slid into view. The view was all the more impressive when I learned it is "only visible a few times a year," according to locals! But, statistically, it is "out" about every fourth or fifth day, or 83 days a year. So…lucky me!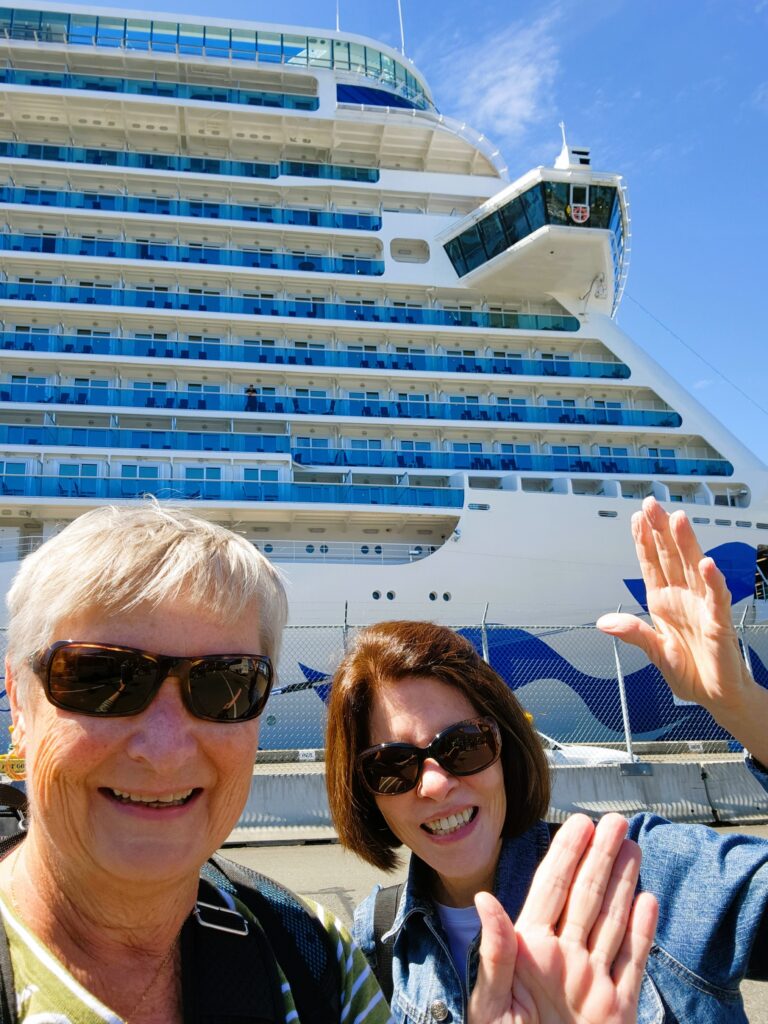 About the Princess Cruise Lines MedallionClass® Discovery Princess
The Discovery was built in Italy with next-level technology called Princess MedallionClass®. I know…gobbledy-gook, right? What you really want to know is, "What's in it for me?" Let me tell you when you walk up to your stateroom, the door screen greets you, and the door unlocks, well, it all starts to make sense. That little medallion is encoded with everything the ship and its staff need to know, from your room number to your preferred credit cards! When you go to a bar, and they call you by name…well, Cheers! You're finally where everybody knows your name!
Not only that, but with this technology, you can order "room service," and your food and drinks will be delivered where you are, even if you're out by the pool! Do-do-do-do do-do-do-do—that theme song starts playing in your head.
Be sure to download the app before your cruise. It has a convenient place to upload health documents, pre-book dining and activities, and learn how to use the features. The Medallion can be mailed to your house, or you can pick it up upon embarkation. But that's just another line to stand in, so I had it sent to my address. I also knew I didn't want it dangling from my neck on a lanyard, so I ordered wristbands for each of us in our favorite colors. So now we'll be all set for our next voyage!
The Next Generation for Princess Alaskan Cruise Lines
A sister ship, the Sun Princess, is touted as the Next Generation Ship—I don't know what else they could add. I'm excited to see what this ship offers; after all, Princess has had 50 years of practice and learning what the customer wants. Maybe it feeds you! The Sun has illustrious ancestors to live up to—it will be the third ship so-named under the Discovery umbrella. It will be the new ship on the block when it sets sail on February 8, 2024, which sounds so far off, but it will be here before you know it!
I do know that the Sun Princess will be huge—the largest Princess ship ever built! Twenty-one decks for the enjoyment of more than 4,300 guests. I'm amazed that the staff can clean that many rooms each day. The sheer number boggles my mind. And it will be the first to have a Geodesic Dome and multi-story dining rooms. Depending upon cruise itineraries, ships depart from various ports, so cruise destinations will also vary.
The Original "All-Inclusive Resort"
I admit to being ancient. My first cruise was *ssshhhhh…* 40 years ago!!! Back then, you DRESSED for dinner. And "formal nights"? They meant it! I also remember that the food was non-stop. But, of course, it could be that I was younger then and out and about until the wee hours. Modern sailings have formal nights, too, so pack that LBD!
On the Discovery, the kitchen feeds more than 5,000 people daily. No, there aren't quite that many guests, but the entire staff eats too. That sounds like a lot, doesn't it? But you haven't done the math yet—hint: those 5,000 people don't eat just one meal a day!
But to get back to my topic, cruises must be the predecessor of the all-inclusive vacation. With the beverage package, you can order a drink anytime and not worry about having a wallet or credit card. And the package includes up to 15 alcoholic beverages or glasses of wine a day…enough for anyone, right?
Meals? Anything, any time. A foodie heaven! You can have pizza, buffet, or sit-down and be waited on meals. Or make a reservation for Italian, steakhouse, or gastro-pub dining. In every venue, attentive wait staff serves tasty meals. You can even order your breakfast the night before and have it delivered to your room at the time of your choice. That's what I call service with a smile!
Best Things About My Discovery Princess Alaskan Cruise
A cruise gives you a chance to meet so many friendly people; people who share these new experiences; people you keep in touch with on Facebook; people who send you a Christmas card proudly showing off their exciting year in pictures (and there you are, in their cruise picture! Thanks, Jan—love you too!)
I know, you're thinking, with over 5,000 passengers, you probably don't see anyone twice. So let me assure you, you do!! My travel buddy has allergies and sneezes…often! Traveling in the wake of covid, people tend to back away from sneezers in a self-preservation effort. In her own defense, my friend started following up each sneeze with the announcement, "I'm not sick!" Then, along about the third day, we were in an elevator, and, you guessed it, Audrey sneezed. Before she could say a word, the man behind me (clearly not on his first ride with us) exclaimed, "I'm not sick!" The elevator passengers all chuckled, and off we went on our next adventure.
At-Sea Days
People always ask me, isn't it boring just sailing all day with nothing to see but water? Uhhh…no! First, I'm happy reclining in my bathing suit, looking out at the water, and having a glass of wine on sea days. Second, the inside passage views are beautiful too, since you can see land rising out of the water, mining towns dotting the landscape, and frequently you will spot whales. And third, a list of onboard activities posted in the daily Patter (the Princess Alaska cruise news) each day. You can join everything from Bingo to dance classes, from Yoga to wine tastings. I guess you know where to find me.
Princess Alaskan Cruise Packing List and Tips
What to pack for a Princess Alaskan cruise is a popular question. The dress code is pretty relaxed. Pack both short and long-sleeved t-shirts, short and long-sleeved shirts or blouses, a light jacket, a fleece zip-up, a lightweight puffer or fleece vest, and a warm hat, scarf, and gloves. That way, you can dress in layers. Most of the time, casual attire is perfect. Oh, and a bathing suit (the hot tubs are, well, heated!)
Take along a small backpack or tote. These are useful for day trips to hold extra batteries, water bottles, and snacks. Refilling a water bottle is handy (and cheap!) Since there are many warm days in Alaska, it is also convenient to take off a layer and put it in your backpack as the day warms up.
Princess cruises have a formal night or two, so you will want your LBD (little black dress). You may also want "evening chic" for the nights when passengers are encouraged to go all out. Some will sport tuxes and evening gowns. However, most men choose slacks with collared or button-down shirts and jackets, and women prefer slacks and nice blouses, sundresses, or cocktail dresses. A necklace, scarf, or jacket can dress up that LBD nicely for formal nights. People lean toward lighter packing nowadays when flying, so don't think you have to take along formalwear.
Princess Alaskan Cruise and Rail Tours
It would help if you also considered whether you will leave the cruise for a land-based portion of an Alaska cruise tour. Princess will transport your luggage directly to your next destination or lodge if you do. You will be allowed to carry one suitcase the size of an airline carry-on, plus one backpack that must be small enough to fit by your feet on the train. Packing is my nemesis. I always think, "Well, I might need this!" and put it in. My new year's resolution is to overcome this!
Cruise Tips For Alaskan Cruises
Alaska, the last frontier, the stuff dreams are made of—white nights (when the sun doesn't set), grizzlies and moose in the wild, and gold in the streams. You expect Alaska to take your breath away—and it does! For a private place to take in the view (in your jammies *shhhh!*), the best way is from your standard balcony stateroom, which provides views of spectacular scenery, glaciers, and wildlife. It is so worth the upgrade price!
Tourists and whales enjoy Alaska in the spring and summer when the days are long and food plentiful, making for prime whale watching. The babies are growing but still staying close to mama's side, and the adults feed to pack on fat supplies for the long swim to wintering grounds in the south.
If seeing the Northern Lights is on your bucket list, winter is the best time to see them. Pick a sailing date in late summer or fall, and you may get lucky. The week before our August cruise, Captain Tim woke the ship's passengers with a middle-of-the-night announcement so they wouldn't miss the opportunity to see the spectacle. I had my fingers crossed for a wee-hours announcement, but alas, no such luck.
Sail Away!
As the Discovery cruises out of Seattle, don't miss the sail-ebration. But I warn you, that tune will be stuck in your head! Dancing on the deck is exciting to watch, and the cruise director gets everyone into the cruise vacation vibe! The Princess is the Love Boat, after all!
You may sail from a different United States or Canadian port or on a different vessel. Princess Cruise Line offers a multitude of possibilities. Like picking from a Chinese menu, you select the port, the ship, the cruise length, and the date, and voilà—an itinerary is generated right before your eyes.
First-timer Tips
A first-time visitor may consider packing a small bottle of Dramamine or picking up one of those seasickness wristbands (yes, they do work!) The ship is so big and rides so deep that most people don't feel the vessel's motion. If you are sailing the inside passage, there isn't much wave action, so there is very little "rocking" to cause nausea.
Treat Me Like a Princess
If you need more convincing that crew members know how to "treat you like a Princess," let me tell you about a few unique spots. In addition to waiting on you around the clock, the ship has a spa, adult-only hot tubs, and a sanctuary.
Set up a Lotus Spa appointment when you need a massage (don't we all!?), aroma stone therapy, or a detoxifying ocean wrap. After your deep tissue muscle massage, I'm telling you you will feel like jello! And a great way to pamper yourself before the formal night is by having a manicure and pedicure. If you're feeling adventurous, acupuncture is a possibility!
Another great place ready and waiting to pamper you is The Sanctuary. A luxurious adults-only retreat tucked away on the top deck. You can spend the day surrounded by comfy furnishings, peaceful music, mimosas, special menus, and a massage in your private cabana.
Food on the Princess Alaskan Cruise
Speaking of eating, cruise ships have a well-deserved reputation for overfeeding folks. As if the regular meals in the main dining rooms weren't enough, the Discovery Princess Cruise restaurants include numerous small eateries (think pizza, sushi, bakery) and three specialty restaurants, Crown Grill steakhouse, Sabatini's Italian Trattoria, and Bistro Sur La Mer, a French-style bistro. On our first night, we were served a Pina Colada soup (chilled, of course!) that was lick-your-bowl delicious. You'd better believe I came home with Chef Davide's recipe for that!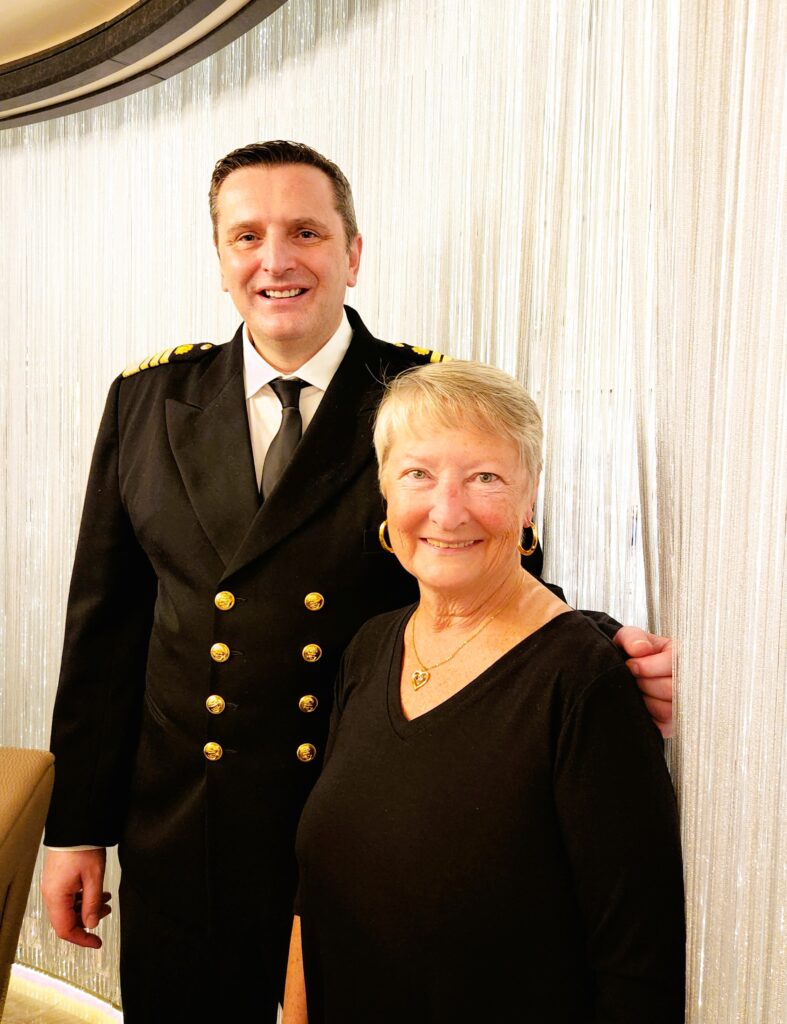 I was one of a handful of guests to receive an invitation to dine at the Chef's Table while onboard. Executive Chef Davide Menabo presided, describing each course. Chef Davide told us how each dish was prepared and what he paired it with (and why). He kept my mouth watering all evening (Southern ladies don't drool!) The Chef's Table is a fantastic experience—like no other—defying description (even from me!) It has been said that a picture is worth a thousand words, so I'll just let you "read" it for yourself. From the moment the beaded curtain closed until Chef Davide presented each lady with a rose, my illusion of being a princess was complete.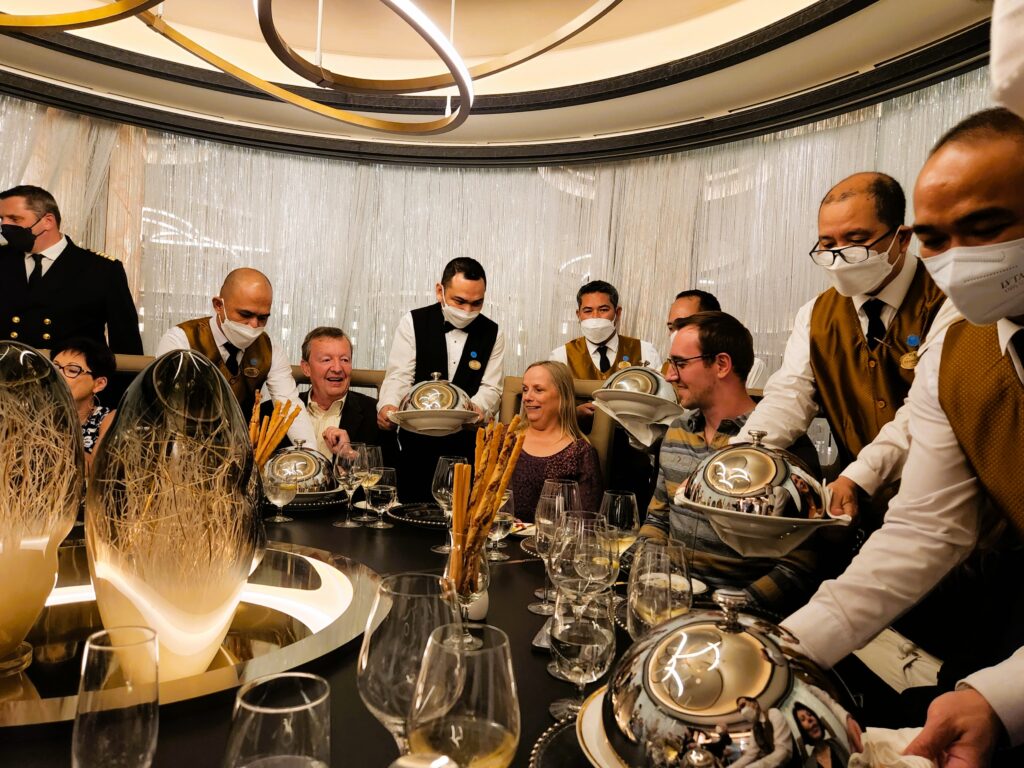 Crown Grill
The Crown Grill…aahhh…memories alone make my tummy growl. My travel buddy and I usually try to order different dishes so we can literally "try it all." Audrey likes to say, "We eat well together." I usually state the obvious "We'll eat anything that doesn't eat us!" This meal was no exception; from soup to dessert, we compared notes and ordered the things we both said, "I can't decide. It's between this and that." Yes, we realize all the food we could want was "free," but we do not want to waste these scrumptious delights. We are proud members of the clean-plate club. *smile*
Using our carefully honed approach at Crown, we ordered both the Shrimp and Pancetta Bisque and the Black and Blue Onion Soup! Then we happily divided Black Tiger Prawns with Papaya Salpicon and Seared Jumbo Sea Scallops topped with Alaskan Salmon Caviar and Herb Beurre Blanc. Desserts were also shared, not that we had room for the Salted Caramel Crème Brulee Cheesecake or the Triple Chocolate Treasure—but our delightful waiter arranged for those to be waiting in our stateroom after we enjoyed an evening's entertainment. They made the perfect midnight snack! We did draw the line at dividing those tender Filet Mignons. Two, please!
Sabatini's
Sabatini's Italian Trattoria offers Italian food created with a rustic flair. The pasta is handmade daily, and authentic family recipes are used to make the sauces, many contributed by Princess' international complement of chefs. However, I still can't decide if the food was outstanding because of the exceptional service or if the service was exceptional because the food was outstanding.
Audrey's dinner arrived ensconced in paper! With a flourish, our waiter "unwrapped" her Mediterranean Seafood Parcel as I happily devoured my half of the Seafood Linguine (okay, maybe a bit more than my half—but don't tell Audrey—I don't think she noticed!) I believe there was some Prosciutto-wrapped Pork Tenderloin on my plate at some point, but I'm not admitting to that. There is, however, photographic evidence of four on one plate. You have to love a restaurant that doesn't make you pick just one! *yum!*
Insider tip: Don't miss the afternoon tea. Just trust me!
Princess Alaskan Cruise Entertainment
After eating all that food, just sitting and listening to live music is a perfect way to end the day. The cast is talented, and you will think they've somehow managed to turn back time when they impersonate famous performers!
Each day's entertainment is different, but it is listed in the Patter. They have musical shows, lectures, dance parties, a casino, and a camp for the kids. There is more to do than time to do it. So you have to narrow it down! One show that wasn't optional for me was Chef Davide's cooking show. He and Francesco kept the audience giggling as they educated and entertained us in the subtle art of Italian cooking!
Princess Alaskan Cruise Excursions
Alaskan excursions range from walking tours of ports to helicopter tours to a glacier for exploration by dog sled. The website lists outings for each upcoming cruise. Scheduling an excursion through the ship is not required, but it does make planning and dealing with cancelations easier. Of course, you can explore on your own in each port.
Insider tip: Don't miss the totem poles – they are so interesting and unique!
Sailing From Seattle
You will likely start your Alaskan cruise from Seattle. Arrive a couple of days early so you can explore Seattle's waterfront. Wandering through Pike Place Market alone can take an entire day. I spent an hour just smelling the flowers! To get the most for your money, pick up a CityPass. The pass will give you access to the Space Needle (both day and night), Chihuly Garden and Glass, the Woodland Park Zoo, and Ballard Locks and fish ladder (don't ask, just go!). There is a great harbor cruise that helps you get your bearings and has the perfect photo ops!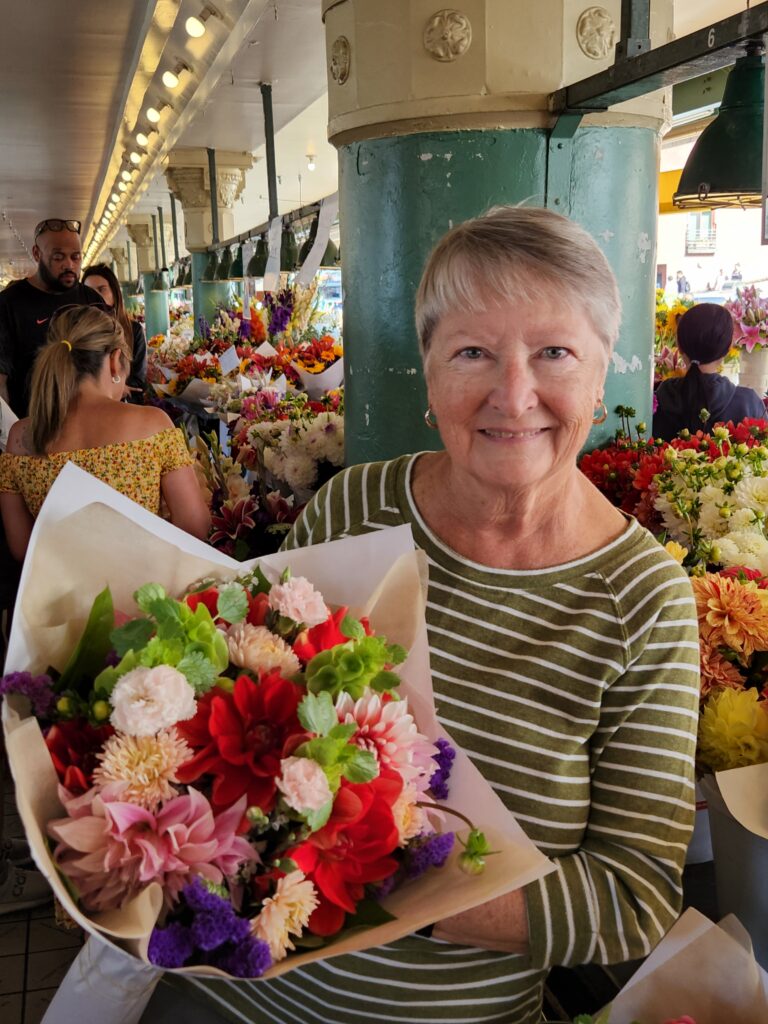 One of my favorite meals was at Buckley's. A local sports bar near the They seated these South Carolina girls under a Clemson flag—without knowing where we were from! Their ribs were falling off the bone delicious. If you miss out on these, it is your own fault! You were told where to find them.
Alaska Bear Adventure & Flight
Bad weather caused our planned float plane and bear "hunt" (with a camera, of course!) to be canceled. I was crushed! It never occurred to me that our shore excursions in Alaska would be weather-dependent! But high winds and fog grounded the flight—and my bear hunt excursion. Fortunately, we received this news while looking at signage for several tour companies on the dock. The tour guide promised waterfalls and bear viewing, so we quickly arranged a small bus tour. So I did get some of the shots I dreamed of, not of grizzly bears but black bears salmon fishing. And I spotted several bald eagles.
Endicott Arm and Dawes Glacier (Princess Alaskan Cruise's Scenic Cruising)
We set the alarm for 4 am, all set to sail through a glacier. The only view was fog when we stepped onto the balcony for our first look at daybreak—thwarted again! Captain Tim sounded almost as disappointed as I when he announced that he had decided to detour around the area due to the foggy weather and the fact that he spotted floating ice. I think what he actually muttered under his breath was, "Oh, no! Not MY new ship!!" Deciding to err on the side of caution was undoubtedly the smart move, but he sure disappointed me!
Dog Sledding & Glacier Adventure by Helicopter Created by Iditarod Musher – Turned into White Pass Rail Tour
At the port of Skagway, once again, the weather conspired against me. The helicopter excursions and dog sledding were canceled. Fortunately, the rail cars had empty seats, so off we went on a scenic train ride through history on the narrow-gauge White Pass Rail. The train returned early enough to allow plenty of time to explore this historic Klondike gold rush town deep in the Yukon Territory.
One of the few drawbacks to cruising is your limited time in each area. More than once on a trip, I've added an extra night (or three) in a place that was just too amazing to leave. Changing plans is impossible on a cruise—that ship is sailing away at 8 pm with or without you!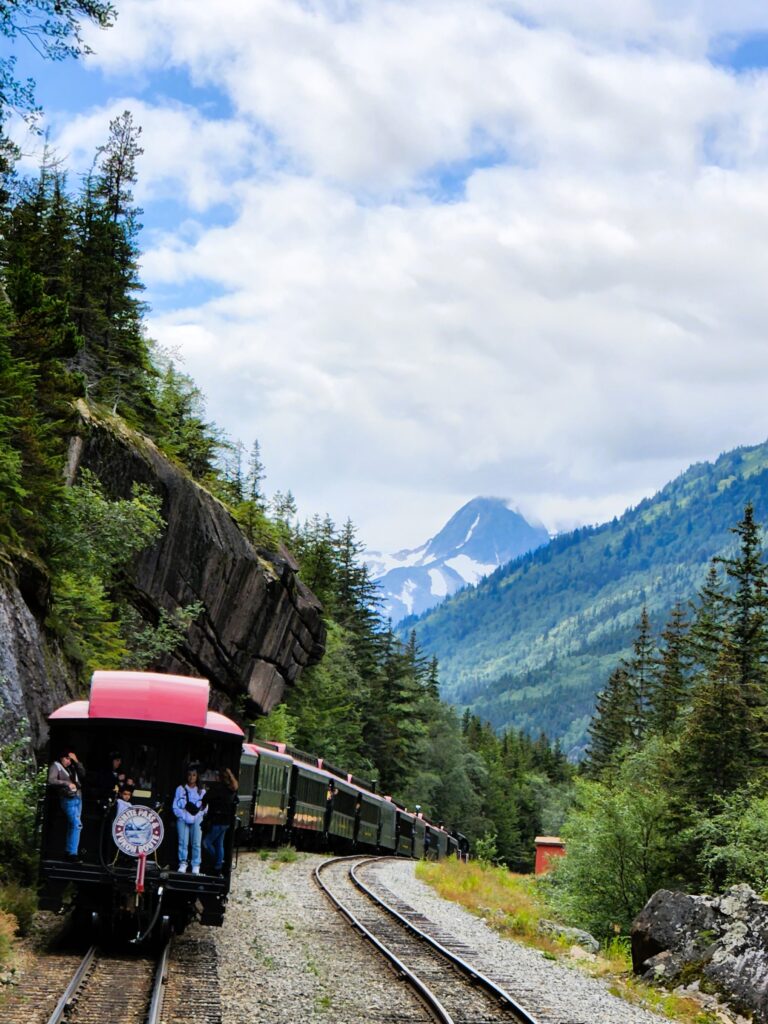 Best of Victoria: Butchart & Butterfly Gardens
Captain Tim made the most of our long-awaited good weather, and we arrived in Victoria several hours early. We enjoyed exploring some of this small town filled with gardens before the scheduled excursion to The Butchart Gardens and the Victoria Butterfly Gardens. Both had stunning displays of blooms, and our timing was perfect for an evening concert on the Butchart grounds, and the gorgeous Rose Carousel at Butchart has 30 hand-carved animals awaiting riders.
How Expensive Are Cruises
People think a cruise is expensive—maybe because it is so luxurious, and they believe it is too costly to contemplate. But—reality check—you could have sailed to Alaska on this cruise for as little as $100 a day. Maybe it's just me, but I don't think I can book a hotel, see a daily show or two, and eat 3 (or 4!) meals a day for less. Oh, and that included being "chauffeured" a few thousand miles while I slept, so that I woke in new ports the next morning!
Do I Need Travel Insurance
The short answer is, "Maybe." My yearly package allows me to relax and not stress (at least about something!) I purchase my travel insurance through Allianz Travel Insurance. Policies vary, but the one that covers trip interruption and lost bags is at the top of my list. There is also a pack 'n go plan for unexpected individual trips.
Comparing Princess to Other Cruise Lines
How do Princess ships compare to other cruise lines? It beats me, but I'm sure willing to find out! Truthfully, it has been 40 years since my first cruise and nearly 20 since my only other cruise. All three were with different cruise lines, but they were so far apart I couldn't even compare them if they had been the same company. So I will say this cruise left me wanting more, and I have already booked a wine country cruise for October! I'll keep you posted!
For more exciting vacations, try these locations! Start planning your next trip! You could travel to Italy, visit Funky Floyd, or jet off to Christmas Island!