In the 1970s, hippies and artists moved to the unique funky town of Floyd, Virginia, to "live off the grid." They made a great choice! This cute town is filled with historic buildings and sits on a magnificent Blue Ridge plateau in the mountains. Floyd holds a Yoga Jam, has a Friday Night Jamboree in the local country store, and, if you know where to look, hides a prohibition-style Speakeasy!
Plus, you can stock up on moonshine—without making a Thunder Road run from the revenuers!! Then, there is that view! All this, in addition to the fact that nearly everywhere in Floyd is just a short walk—and there are no parking meters or garages. Floyd is my kind of town!
Play Me That Mountain Music in Funky Floyd
Floyd, population 450, was established in 1831 and sits on the 330-mile Crooked Road — Virginia's heritage music trail. With its vibrant music culture, Floyd County and the town of Floyd are well known as one of the best places to find country, gospel, and bluegrass music. While it is true that the 'Bama Boys haven't played here, maybe they should—they'd fit right in!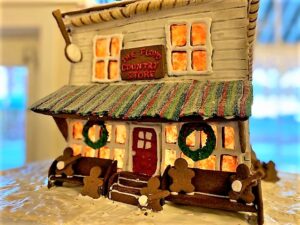 Favorite places for musicians to congregate include the Floyd Country Store and the Dogtown Roadhouse—and both have tasty food choices and great seats for enjoying the music. There are also a variety of breweries and wineries with live music. And, of course, in an area known as a haven of natural beauty, there are numerous outdoor music venues and music festivals. Floyd Fest is a summer spectacular not to be missed!
Where Do I Find This Funky Virginia Town
Floyd, tucked away in southwestern Virginia, is a mere six miles from the Blue Ridge Parkway, exiting at mile marker 165. Not surprisingly, you'll also find Floyd on the National Register of Historic Places! It is a short drive (less than an hour) from Roanoke, Blacksburg, Martinsville, North Carolina, the Shenandoah Valley, and the Appalachian Trail. Folks in Buena Vista, Loudoun County, Richmond, northern Virginia, and even Raleigh, North Carolina, will find it is a scenic half-day drive.
Make Floyd your "home base" for southwest Virginia if you can. That way, you can spend a couple of days exploring nearby areas like the Blue Ridge Parkway, Rev. Childress' beautiful Rock Churches, Cascade Falls, Virginia Tech, and the Great Smoky Mountains National Park. But, of course, the main attraction is Floyd's vibrant culture of music. So do your research when planning a trip and maximize your musical enjoyment during your vacation in one of the best main street towns in the United States!
Spend a few days in the Floyd area, and you'll be ready for more. And you can even take a piece of Floyd home with you. County Sales is a great place to pick up music on vinyl or DVDs. Can't make it to Floyd? I'll bet they will ship right to your house!
Best Things to Do on Day Trips from Floyd
There are lots of exciting places to visit near Floyd. Stop in the Visitor Center and ask for more information. Some of my favorites are: Rocky Mount and Boones Mill, both in Franklin County, the "Moonshine Capital of the World,"; and Ferrum, with a college and their Blue Ridge Institute (Tip: go in October and attend the Blue Ridge Folklife Festival—you can thank me later!)
The Blue Ridge Parkway is a scenic byway that stretches 469 miles, from the Great Smoky Mountains National Park in Cherokee, North Carolina to the Shenandoah National Park in Virginia. Drive part of it near Floyd and enjoy the panoramic views at the overlooks. And if you are near milepost 61, don't miss the chance to visit Virginia's remarkable Natural Bridge.
No drive down the Parkway from Floyd is complete without a picnic and wine (you knew I'd get around to wine, right?) Two award-winning local wineries call Floyd County home: Château Morrisette and Villa Appalaccia. I'm a fan of both vineyards and their products. Stop in for a tasting – and tell them I sent you (you never know, you just might get an extra pour!) (Tip: Villa Appalaccia closes during the winter months, so plan accordingly.)
Chateau Morrisette Winery began in 1978 as a hobby. Nancy Morrisette admits, "it soon got out of hand," Château Morrisette has grown and is now one of Virginia's largest wineries. Nestled in the Blue Ridge Mountains, Château Morrisette features nineteen wines and uses grapes from over 150 acres of vineyards throughout the Commonwealth.
Famous Movie Settings
Are you a movie buff? A Dirty Dancing fanatic? Filmmakers filmed much of Dirty Dancing at Mountain Lake Lodge, just outside Blacksburg in Pembroke. The minute that magnificent lodge comes into view, you'll know you are at "Kellerman's". You can explore eleven movie locations and try out the same outdoor activities Baby and Johnny enjoyed. And what a great spot for a romantic weekend – Virginia IS for Lovers, after all!
Unique Places to Eat and Drink
Eat…
Now honestly—when was the last time you visited an old-fashioned soda fountain with cream sodas, malts, and hand-made-to-order ice cream sandwiches? I can't turn down a treat when The Soda Fountain is right there next to the Country Store. The store serves locally made ice cream, courtesy of hormone- and antibiotic-free happy cows. Sshhh…I think I hear my name…it's a Root Beer Float calling me.
Blue Ridge Diner is up the street from the stoplight (yes, there's only one, so THE stoplight!) Now really, where else can you find BBQ cooked in moonshine? Oh! So good!
There is also a pharmacy on the same street. Now, my hometown apothecary has an old-fashioned Soda Fountain, but The Pha℞m House Café serves up a hearty breakfast with your prescription! You can pick from waffles, pancakes, biscuits and gravy, or breakfast tacos.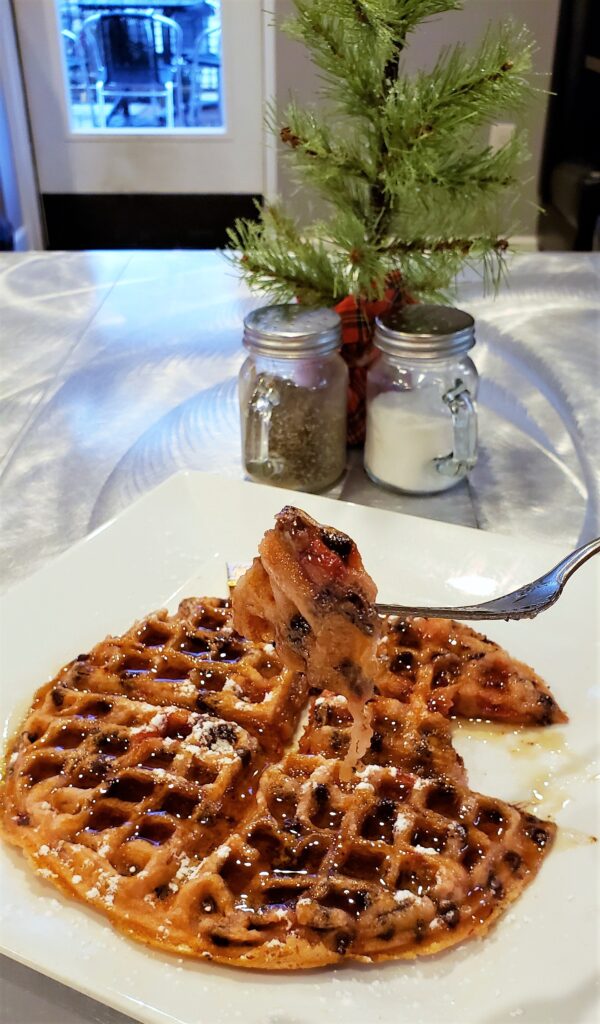 I don't know about you, but I need a chocolate fix when climbing hills. Cocoa Mia to the rescue! The shop is filled with chocolates in every form—from hot chocolate to truffles to an unbelievable Ganache Tart.
Drink…
For an Old Fashioned, drink that is, Prohibition-era speakeasy Lush Lounge has bartenders ready to mix unique concoctions. They rotate the offerings to keep the bar visits fresh. But one staple seems to be Call Me Old Fashioned, served in a smoke-filled dome. So I order that just to see the bartender lift the cloche!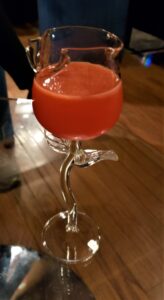 At 5 Mile Mountain Distillery, you can get a bird's-eye view of the county's first post-prohibition distillery. They will tell you the history of Southern spirits and then shake up a cocktail featuring one of their small-batch spirits. Moonshine is a tradition in the South. We Southerners aren't ashamed of this much-maligned liquor—we drink it right out on the porch!
Beer doesn't usually tickle my taste buds, but Buffalo Mountain Brewery surprised me! There may be a beer drinker hiding in this gal after all. I love visiting all the spots in Floyd that have music. Buffalo Mountain has "Pickin' on the Porch,"—where musicians play for tips and beer. You gotta love a place like that!
Eat more…
Buffalo and More, that is! Buffalo and More Restaurant is less than twenty miles up Route 8 in Riner. They have "home-grown" buffalo. You can order everything from buffalo hot dogs with buffalo chili to Buffalo Pot Roast (my favorite!) to a Buffalo Rib Eye. And yes, we all know they are Bison…but tell the truth—when you see one, do you squeal, "Oh, look at the bison!"? Yea, neither do I! (Tip: Save room for dessert. I have to have Carla's Mama's Apricot Nectar Cake every time I visit. And the Cowboy Beans. I'm weak. I admit it!)
A stop at Mabry Mill (just a couple of miles down the road from the wineries on the Parkway) will complete, or maybe start, your day on the Parkway. And, if you visit during "the season" between June and October, you can also enjoy a meal at the mill. They are known for their buckwheat pancakes, but also serve sweet potato, cornmeal, apple, and blueberry pancakes all day—so take your time.
There are so many places to eat in Floyd, I wrote an entire article about where I picked up these extra ten pounds! Read more about Floyd eateries on my friend Nathan's site.
Insider Tip
There is a caveat, though. The Blue Ridge Parkway is a National Park, and as such, it isn't a state highway. Why is this important? Because in bad weather the roads are not plowed! And since the Parkway is along the ridges of a mountain range, that high elevation (6,053' above sea level at its highest point) produces cold, wet, and windy conditions.
Be sure to check the National Park Service website for road closure information when you plan to travel during the winter months. I've been caught off-guard by the weather, and I was pretty surprised to learn that besides the normal tow-truck fee, I also would have been required to pay the fine for that commercial vehicle being on the Parkway, about $500! I'm sure glad I didn't get stuck!
Unique Things to Do
Since my days in graduate school, I've been attending the 40-year-old-world-famous Friday Night Jamboree. A tradition in Floyd, there are Bluegrass, Old-time, Gospel, and Rock musicians in the house. Now that I live 300 miles away, I plan my trips up the mountain to include Friday nights, Saturday (for Americana music), and Sunday (Mountain music) afternoons. Floyd gives you plenty of opportunities to get your fill of music and get out on the dance floor! If you don't know how to clog or flatfoot, local dancers are always ready to give you a quick lesson.
Next door, the Dogtown Roadhouse has an inside stage with performers every weekend, and I love their pizza! An outdoor covered porch overlooks the town's amphitheater. Dogtown lives up to its name, permitting dogs to accompany owners on the deck. Try the wood-fired pizza and wash it down with one of the 14 beers on tap.
I always stop in at the farmer's market for fresh snacks. And be sure to visit the potter's market for a fabulous selection of handmade pottery. It's a great place to meet the local artisans and pick up some unique gifts.
A Unique Place to Stay
The Pine Tavern Lodge was built in 1927 as a motor court – back when motels had a little carport for each motor car. Today, cars have to fend for themselves, but the Lodge has been renovated, with seven remodeled suites and a cozy two-bedroom cottage. The rooms have an individual flair. I stayed in the Beatles' room! The fire pit in the yard was loaded and ready to light each night, keeping my toes toasty as I star-gazed on top of this mountain.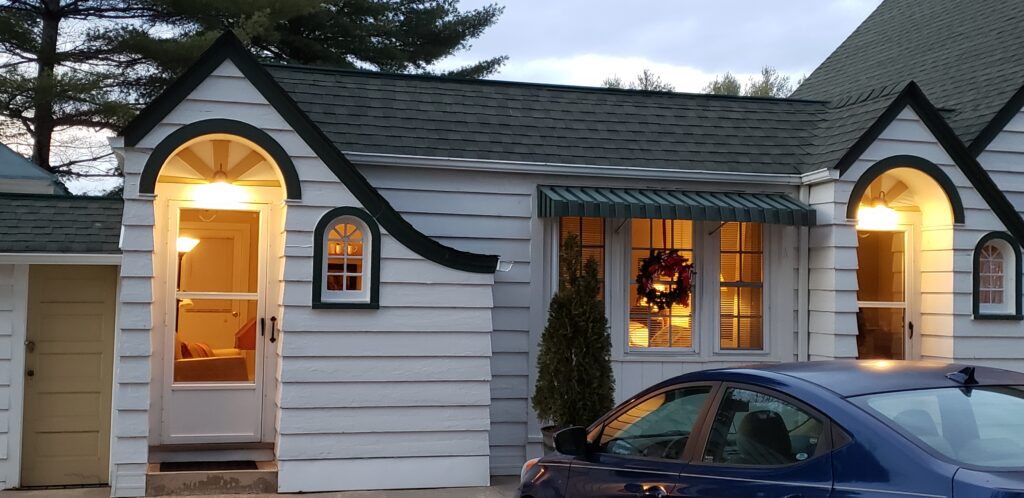 Hotel Floyd is a new lodge just a block from the historic downtown, farmer's market, and cool shops and galleries, filled with creations from local artists. Builders and architects used sustainable materials, furnishings, and the latest green technologies to build the hotel. It is designated a "Virginia Green Lodging" establishment.
Bed and Breakfast Inns, and Air B & Bs are available in the area. To find a place to stay in Floyd, you only need Google.
But remember: Floyd is a small town. Most businesses are closed on Sundays, Mondays, or Tuesdays. So, always check the websites to confirm business hours. Oh, and get here fast! Even the people in Big D (Dallas, Texas) are talking about this gem in The Dallas Morning News!
So, plug in your GPS and set it for Floyd. It's a perfect place for a weekend visit. And besides, when was the last time you pulled a cold drink out of the ice in a country store?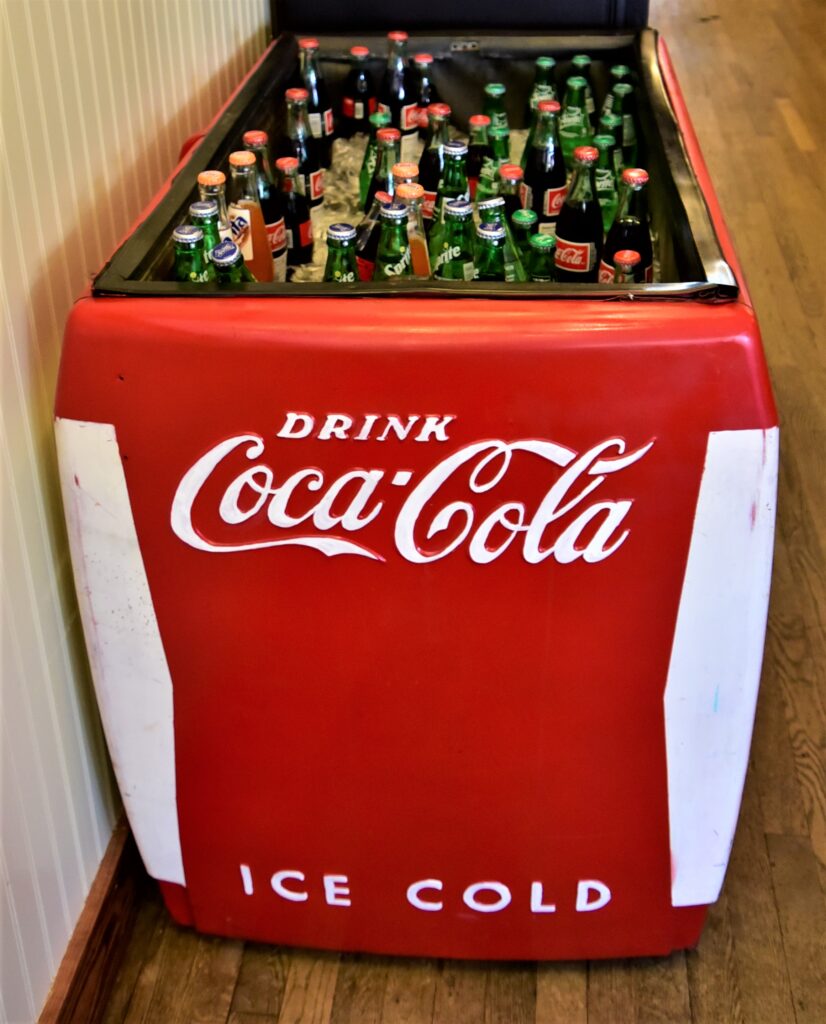 Start Planning Your Next Trip
Read about more amazing trips – and start planning your next vacation! You could cruise to Alaska, travel to Italy, or jet off to Christmas Island!
Jo loves to find 'off the beaten path' places, quietly observing the area and animals, taking photographs, and enjoying the scenery. Jo is an award-winning photographer and loves learning about the history of a place, its food, and its wine! She often says, "I love food and I'll eat anything that doesn't eat me first!"