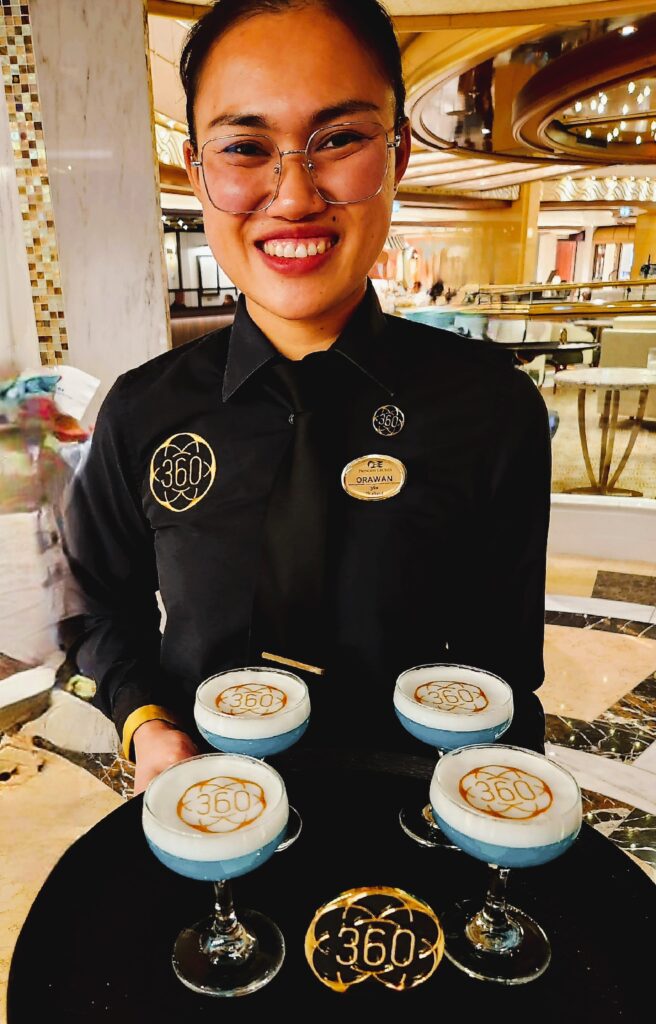 The Discovery Princess 360 Experience is so rare and remarkable that I invited seven other seasoned travel writers to join me and tell you the story of the extraordinary affair! In fact, 360: An Extraordinary Experience is offered exclusively on the Discovery Princess and Enchanted Princess. It was first available last year as a complimentary event by invitation to suite guests. Suite holders receive an invitation to experience this fantastic meal. However, this meal is now available to cruisers who arrange to pay for attendance through Guest Services after boarding. The $149 cost sounds like a lot for a dinner, but this is not just any meal!
This invitation-only event was one of the most memorable dining experiences I've ever witnessed. I say "witnessed" for a good reason. The 360 is a 90-minute celebration of the senses—what you see, hear, smell, and taste will keep you in awe throughout the meal. So join me and fellow writers Tina, Adrienne, Courtney, Kat, Robin, Scott, and Amy as we describe our seven-course gourmet experience! Try not to drool on your keyboard!
The evening began as twenty Discovery Princess passengers followed a two-piece band playing The Love Boat Theme. And, much like the entranced children who trailed behind the Pied Piper, we marched from the grand lobby through a specialty restaurant filled with openly staring diners. We walked right into the kitchen and then passed through a hallway cloaked in secrecy. Finally, we entered a darkened circular room illuminated with an eerie blue light. This cloaked venue held the secret to our remarkable adventure.
Cocktails Delight at the Discovery Princess 360 Experience
The cocktails served as part of Princess Cruise Lines' innovative 360° dining concept showcase the bartenders' thoughtful attention and creative skill, and my friend and fellow writer Tina Walsh's delight showed on her face. With a focus on culinary excellence and immersive ambiance, the cocktails served at the beginning of the experience are a first glimpse at the deliciousness that awaits in this beautifully curated meal.
As our group gathered in the foyer, servers offered us a welcome cocktail. The 360 Cocktail is as aqua blue as the sea, with a mild fruity flavor. It is a mix of blue Curacao, vodka, Riesling, Cachaça, lemon, apple and pear. Interestingly, it is shaking the drink with egg whites that gives the cocktail its light, frothy second layer. Then, the top is stenciled with the 360 Dining Experience Logo using a mild exotic spice mix. The softness of egg whites, combined with fruit and a spicy finish, entices your taste buds for the experience ahead.
Once in the dining room, you are transported to some of the most beloved travel destinations in the world, starting with Greece. The Santorini Cocktail accompanies the first course, a Greek Meza plate. It is a magical peach and pear concoction with a touch of effervescence from Champagne. The bite of vodka and touch of tartness provide a delicious dichotomy tempered by the soothing flavor of rosemary garnish. It is a beautiful compliment to the Greek Meza plate. It teases your palette, hinting at the feast for the senses awaiting you in the dishes ahead.
Wine Flowed at the Discovery Princess 360 Experience
"First, we viewed the vineyard of Pompeii, on Mount Vesuvio, projected on the walls surrounding our table," says our Recipes Travel Culture's editor and writer, Jo Clark. Then, our waitstaff filled our glasses with a delicious dry white Italian wine. The Lacryma Christi Del Vesuvio was perfect with the Buffalo Mozzarella, heirloom tomatoes, and basil pesto of our salad course.
From Mastroberardino Vineyard, making wine since 1878, it is a taste of history. Legend holds that Lucifer stole a piece of heaven and hid it above the Gulf of Naples. When God found the heavenly corner, and where his divine tears fell, the vines of Lacryma Christi grew. The Piedirosso grapes create a wine that Pompeians have enjoyed for centuries, the "Tears of God." Salute!
Center stage, we met Salvatore Aceto, a lemon grower, who said, "The most beautiful thing begins with the lemon seed." In fact, he grows the Almafi lemons used in Nonna Maria's Pasta al Limone (recipe at the end of the article—you're welcome!)
Our small meat and bread plate, as well as the main entrée of Tenderloin, paired perfectly with Grenache. The wine arrived in barnacle-encrusted bottles from aging under the sea off the coast of Spain. Mariona and Gergö explained that the incomparable Elixsea Underwater Wine is sealed into bottles and lowered to the sea floor. There, bottles rest under high pressure, constant temperatures, and the movement of the tide.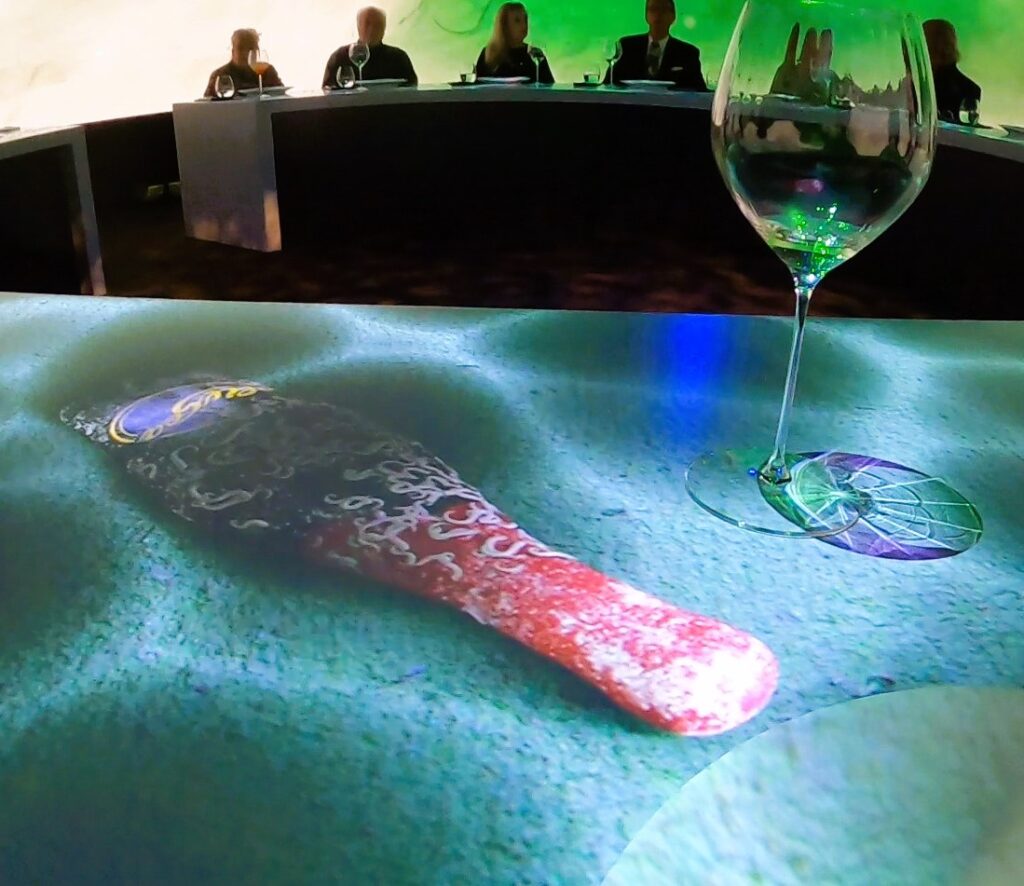 Undersea Bonus:
The wine ages faster than it would in a cellar, and, unbelievably, becomes more complex!
For six months, the wine cages become an artificial reef, sheltering sea creatures and providing a place for octopuses and fish to lay their eggs. After the eggs hatch, workers raise the wine cages from their watery resting place. This unique Spanish wine is not available for purchase on cruise ships; it is only available at the 360 dinner (if they would sell it to you, you'd need a crisp $500 bill!) And every bottle is numbered! Now that's what you call a limited edition!
Finally, the dessert course arrived, and servers filled our champagne flutes with 100% Pinot Noir Champagne from Drappier. The House of Drappier was founded in 1808 and produced the refreshing unsulfured Champagne Brut Nature Zéro Dosage Sans Souffre NV. This Blanc de noir complemented our lovely lavender honey dessert, and provided a delightful ending to our Experience.
Appetizers at the Discovery Princess 360 Experience
My fellow travel writer and friend, Adrienne Cohen, was thrilled by the drama, food, and drinks of the 360 Experience. I'll let her describe it to you!
Once we took assigned seats, holographic images of blue and yellow pottery appeared at each place as strains of Greek music reached our ears. Johannes was part interactive guide with a fusion of master storytelling. He instructed us to "play with your plate." Then, "Opa!" he exclaimed as he playfully slapped the table and urged us to do the same. The images before us broke into pieces, then magically reappeared whole as we sipped our cocktails.
Servers presented appetizers with a flourish on glistening white china as a visual feast of Greek scenes danced on the LED screen surrounding us. This first of seven courses included black Kalamata and green Chalkidiki olives marinated in crushed garlic, aromatic herbs, and citrus zest. A handful of handmade mini pita rounds accompanied the olives. Tasty traditional tzatziki—yogurt with chopped cucumber, dill, and mint—and golden extra virgin olive oil were the perfect dipping sauces.
Immediately, I was drawn into the story, enthralled by the special effects, music, sights, and menu. Our smiling servers performed a perfectly choreographed ballet in this theater in the round. They captured the joy of travel and lured us into the unfamiliar as appetizers prepared our palates for what was to come.
Summing it Up
The 360 Experience is a celebration from beginning to end of all that is memorable about good food and travel! Lively, fast-paced, and surprisingly delicious, it evokes a sense of being an honored guest at a unique family dinner! More than fine food, more than a creative performance, 360 does not disappoint!
Seafood at the Discovery Princess 360 Experience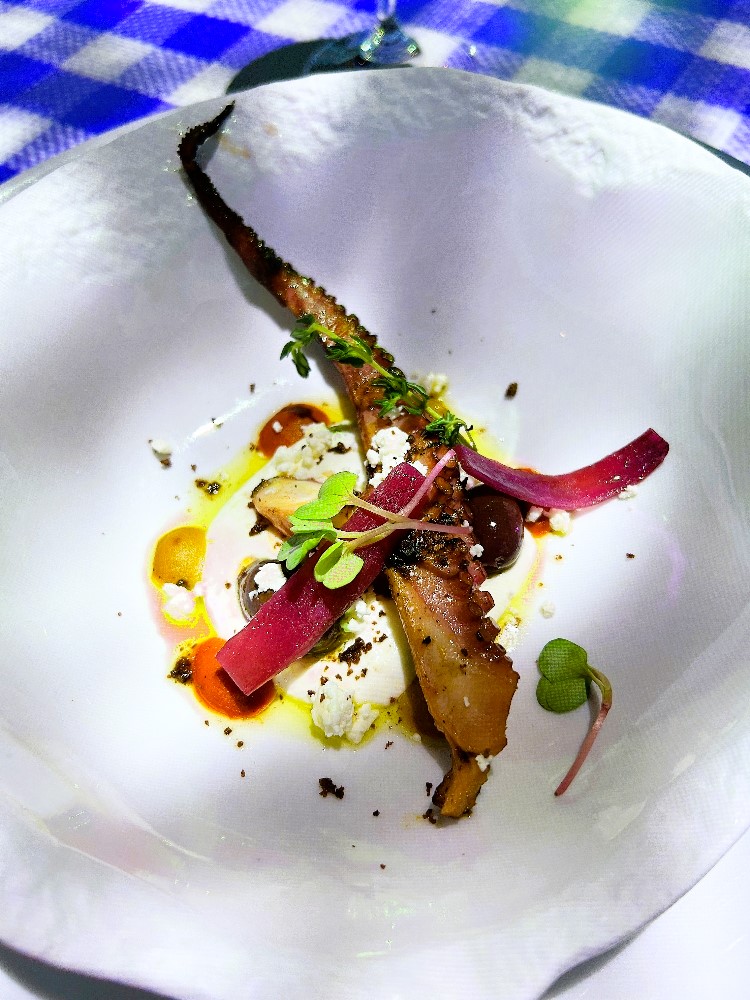 The sensory journey and culinary exploration of Greek Mezze continued as actress and model Brooke Shields led us seaside to the fresh catch of the day – octopus! Honestly, seeing tentacles on a plate, complete with "suckers," can be off-putting to some. If fact, a couple of people dining with us at the 360: An Extraordinary Experience opted out of this course. Travel writer and editor of Real Food Traveler Courtney Drake-McDonough feels they missed out on something extraordinary.
After recovering from what Courtney calls the "freak out factor," she says that from her experience, octopus is a treat when prepared correctly. She's eaten raw, grilled, and roasted octopus and states it can be rubbery and dry when not cooked right. The Princess chefs prepared the octopus as a Greek Island chef would prepare it. First, chefs marinated the octopus in olive oil (which undoubtedly adds moisture and tenderness), crushed garlic, herbs, and smoked paprika. Then, the cooks grilled the octopus precisely the right amount of time. Servers delivered the octopus atop local Greek ingredients—Manouri Parnassou cheese, black Kalamata olive powder, feta cheese, plus a pop of color and acidity from pickled red onion.
The octopus was tender, flavorful, and "meaty" in texture and impressive in appearance and taste. In short, in the expert hands of Discovery Princess chefs, the dish was excellent. We could easily imagine sitting in a Greek tavern at sunset, overlooking the Mediterranean Sea, while relishing the flavors, sights, aromas, and sounds.
Pasta Course at the Discovery Princess 360 Experience
My friend, and fellow travel writer and blogger, Kat Anderson, raves about the lemon pasta dish served during the Experience. Here she is to tell you all about it.
While it is almost impossible to pick a favorite dish during the seven-course gourmet Experience, I will admit that the Pasta al Limone stole the show for me. Long, thin, freshly-made spaghetti noodles were perfectly cooked and enveloped by oven-roasted lemon sauce, lemon zest, and Italian parsley. The fresh lemon flavor was bursting in my mouth with every bite.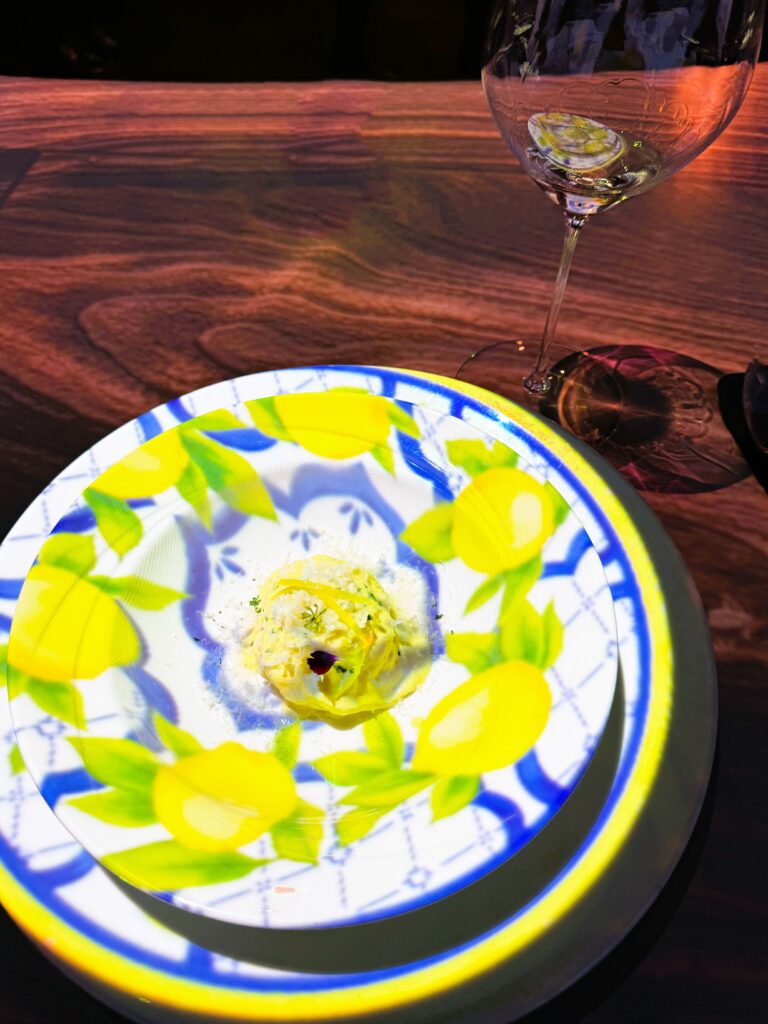 Pasta al Limone paired well with Lacryma Christi del Vesuvio wine. The wine's aromas of pear, apple, and citrus were a perfect complement to the creamy and zesty lemon pasta.
The 360 Experience is aptly named for its 360-degree screen that displays imagery that accompanies each course. Servers set plates of pasta in front of us; meanwhile, we watched scenes from Salvatore Aceto's lemon farm in Amalfi. Suddenly, a pleasant citrus scent filled the circular dining space. Then, when the aroma of fresh lemon merged with the flavors we were tasting, it was a match made in heaven. The combination of sight, sound, taste, and smell elevated my enjoyment of the meal.
The food, service, and ambiance rival Michelin-star restaurants and make this one of my most memorable dining experiences. I highly recommend it to anyone who has the opportunity to participate. It will be an evening you'll remember forever.
Main Course at the Discovery Princess 360 Experience
Let me introduce my friend and fellow writer, Robin O'Neal Smith. She raved about the entree served during this 90-minute celebration of the senses almost as much as I did! We're both meat lovers, so this was no big surprise!
I invited Robin to share her thoughts with us, and she said: I loved the extraordinary experience and would repeat it in a heartbeat! I wasn't sure what to expect, but the ground-breaking technology used to create a sensory journey for our pleasure blew me away! The spectacular images projected while we sat in a circular format created one of the most memorable immersive dining experiences I've attended.
I loved how projectors transformed the table before our servers presented the entree. First, it was a forest floor with twigs and grass that covered the plates. Then, a truffle hunter appeared to show and tell diners how to forage for truffles. Rubbing the projected twigs made truffles appear. Then we had truffle butter with our beef.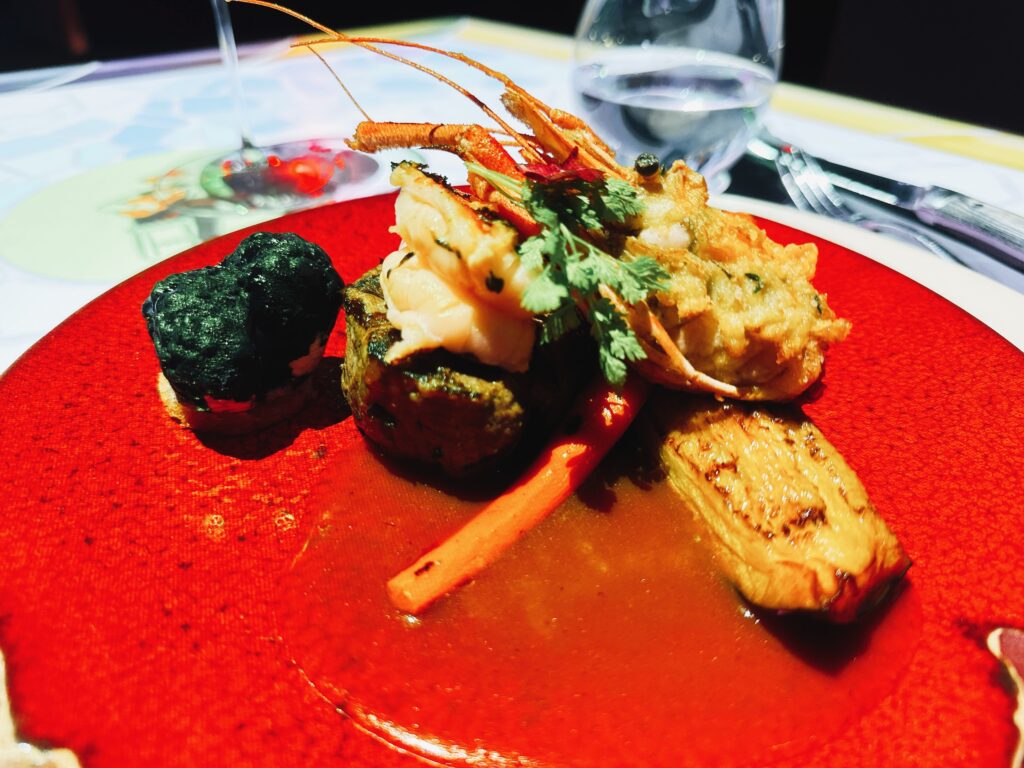 I enjoyed all the delicious flavors of the Mediterranean served during the exquisite meal. But the highlight was the succulent grilled filet of beef tenderloin dressed with a demi glaze and topped with a savory grilled prawn. This flavorful featured masterpiece is a culinary tradition of Spain. The perfectly seared meat was so tender you could easily cut it with your fork, and it melted in your mouth. Chefs heaped our plates with crispy fried eggplant slices, roasted baby carrots, and a dollop of rich truffle butter alongside the beef.
The spectacular multimedia and dynamic balance of scrumptious flavors and various textures left Robin's tastebuds longing to return and enjoy the 360 Experience again.
Dessert at the Discovery Princess 360 Experience
After a fantastic array of appetizers, main courses, and fabulous wines during the 360 Experience, we were winding down this amazing event. My friend, Scott Kendall, Play Stay Eat editor, was filled with anticipation, wondering how Discovery Princess would end this experience with a finale dessert. As Scott puts it, "The Princess chefs did not disappoint!"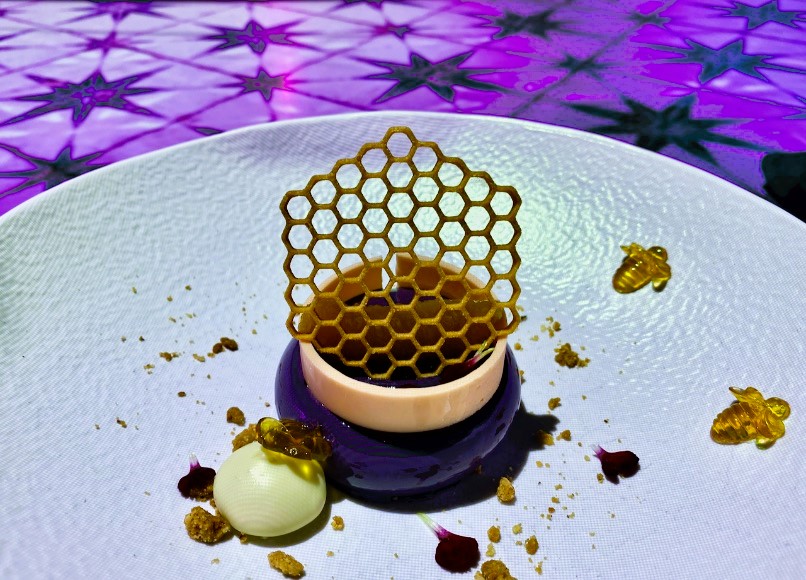 First, we were treated to a visual wonderland of lavender fields surrounding us on the 360-degree screen, accompanied by lively French tunes. Then, we saw a beekeeper taking care of his hives. Suddenly, thousands of industrious honeybees were crawling and flying across our table, now covered in a virtual honeycombed tablecloth. Virtual honey poured from my hand into my waiting plate.
At last, our fantastic servers brought out the lavender honey dessert. The visually stunning masterpiece consisted of a delicious honey lavender mousse with a honeycomb wafer and white chocolate soaked in honey. It was so good I wanted to lick my plate after I finished! To top things off, Johannes, our Master of Ceremonies, said, "And you can eat the bees—and they won't sting you!"
Read Scott's article, telling even more about Discovery Princess at Play Stay Eat.
The Technology That Creates the Discovery Princess 360 Experience
My colleague and fellow travel writer, Amy Piper, has over 35 years of experience in the Information Technology industry. She was excited to see how Princess Cruises applied technology to this unique foodie adventure.
According to Princess President John Padgett, "360 is a fusion of master storytelling, world-class cuisine, visual entertainment, and ground-breaking technology that manifests in what can only be described as an Extraordinary Experience. 360 is a remarkable adventure that immerses our guests into the compelling cultures and flavors of the Mediterranean in a 90-minute celebration of the senses."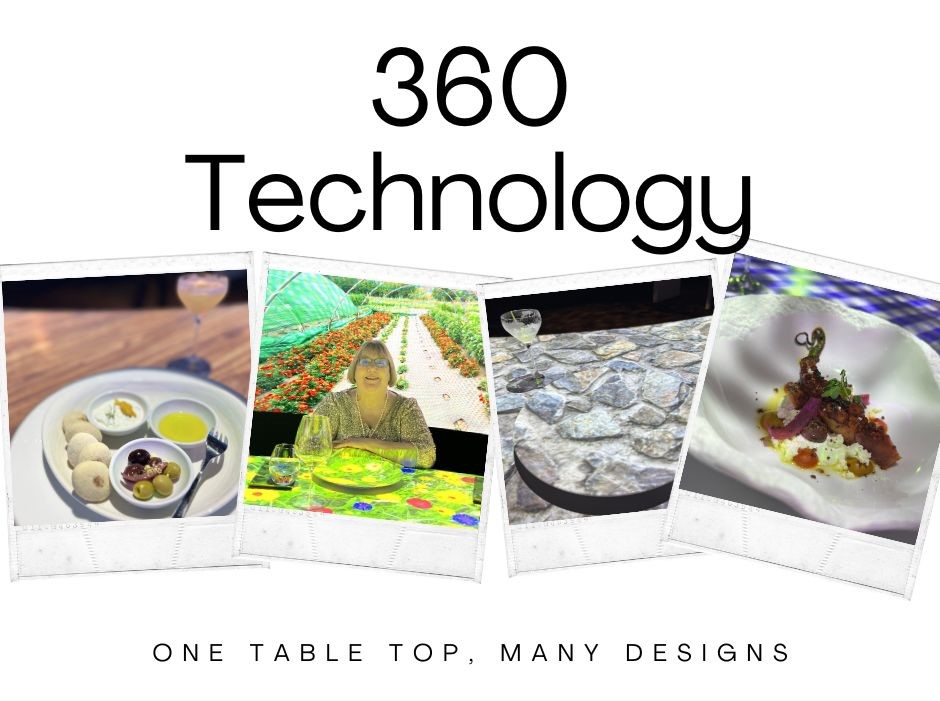 The sensory journey relies heavily on technology to make the 360: An Extraordinary Experience fully immersive. The walls surround guests in a circular format. The adventure begins by "placing" guests into featured destinations using magnificent 4K cinematography.
Not only are there visuals on the screen, but the tabletop display changes throughout the program. It begins with a woodgrain look, welcoming each participant by name. As the story progresses, it morphs into a blue-and-white checked tablecloth, cobblestones, a field of flowers, and a honeycomb. Then, occasionally, animated objects, such as buzzing bees, appear.
In Spain, a flamenco dancer seems poised and ready to dance. The dancer performs using the Internet of Things platform, with a touch from the diner. In another vignette, bells toll when touched.
The sensory journey continues when technology adds aromas to the experience. You'll smell the aroma of citrus when they serve the lemon pasta. The floral scents of lavender emanate during the lavender honey mousse dessert—all thanks to technology.
This technical journey transports you to Santorini, the Amalfi Coast, Barcelona, and Provence. The 360: An Extraordinary Experience is configurable and adaptable to keep it exciting on repeat cruises. Who knows where you'll find yourself on the next 360 Experience?
The Love Boat
When you sail away on your Princess cruises, I know you'll remember the memories of a fellow traveler and her friends. Through our story of each destination on this experience, you will soon be planning your future Princess Cruise Line adventure. Remember that booking suite accommodations ensure an invitation to a "sweet experience." This voyage within a voyage will take you from Santorini to the Amalfi Coast to Provence and Barcelona—all in 90 minutes!
Just like the song lyrics say, "The Love Boat promises something for everyone…" And let me tell you—the real Love Boat, the Discovery Princess, delivers! Is the Discovery Princess 360 Experience Worth the Money? I think you know our answer – "Yes, indeed!"
---
This article was a collaborative effort of "The RTC 360 Team":
Adrienne, Amy, Courtney, Jo, Kat, Robin, Scott, and Tina. I'm sure you're wondering how eight travel writers came to be aboard the same cruise ship. Well, we're all part of a larger group called IFWTWA–International Food Wine Travel Writers Association. IFWTWA leaders had the brilliant idea of holding our annual conference on board the Discovery Princess! All meetings should be this much fun!
---
Nonna Maria's Pasta al Limone
INGREDIENTS
8 ounces spaghetti pasta
2 tablespoons unsalted butter
2 cloves garlic
1 Amalfi lemon, zest and juice
½ cup freshly grated Parmesan cheese + more for garnish
Kosher salt
Fresh grated black pepper
INSTRUCTIONS
First, add butter to a large saucepan and heat over low to medium heat for 1 to 2 minutes.
Next, add ½ the lemon zest and cook for 2 to 3 minutes to help release the lemon flavor. This pasta has big, bright, bold lemon flavors.
Pour in ½ the lemon juice and cook for 2 to 3 minutes to concentrate the flavor even more, then set the pan aside.
Drop pasta into a large pot of boiling salted water and cook until al dente (about 7 to 8 minutes if dry pasta)
Next, drain the pasta, then add it to the lemon butter saucepan.
Immediately add ¼ cup of hot pasta water, remaining lemon juice, lemon zest (reserve a little bit for garnish), cheese, salt, and pepper.
Finally, toss pasta repeatedly and vigorously to melt the cheese and emulsify it with hot pasta water to make it creamy. The sauce should not break or be stringy. However, if you fear the sauce will not come together, sprinkle half of the cheese. Toss with the pasta. Once it's mixed, toss it with the remaining cheese.
Add the pasta to a bowl and serve it with additional cheese and lemon zest.
---
Plan Your Next Trip!
For more exciting vacations, try these locations!! Try planning a trip to Georgetown, or plan a cruise on the Discovery Princess, or even follow my Wine & 'Shine Trail through North Carolina's Yadkin Valley! You know, it's never too early to start planning your next trip!