I set out to explore the Yadkin Valley Wine AVA (American Viticultural Area.) The Yadkin Valley AVA consists of seven counties in western North Carolina, with the Yadkin River as its Southern border. Nearby towns are Elkin, Dobson, Mount Airy, Pilot Mountain, and State Road (yes, that is the town's name!) Believe me, visiting the Yadkin Valley is a real treat! Plus, it is a short drive from Charlotte or Winston-Salem. In less than four hours, you can easily drive to Elkin from points along the east coast like Charleston, Charlottesville, Myrtle Beach, Augusta, or Roanoke.
You can jump on the Yadkin Valley Wine Trail for a day trip or a long weekend getaway! Yadkin Valley wineries and vineyards appear here mostly in the order we visited them–it just seemed like the best way to honor them all!
Where Did We Go?
Frequently, I say, "So many wineries, so little time." That was certainly true on this trip! I mean, who knew – 44 wineries!! And, all for me! *sigh* But, we had only four days to taste them all. My travel buddy, Audrey, and I are over-achievers, but even we couldn't manage it! We did visit many fabulous wineries, most in Surry County, and the Elkin area. We stayed in historic cabins in vineyards; sipped sweet wines on the porch, and watched the sun as it sank behind grape vines in North Carolina's wine country. And, all along, we just kept telling ourselves, "This gives us an excuse for another trip along the North Carolina Wine Trail."
The native grapes of the area are Muscadines, which include scuppernong. These are the same grapes that grow throughout the South, especially in the coastal area near me. You'll hear wine industry people talk about Carlos and Noble and other varieties used to make muscadine wine. Still, all are large grapes full of flavor and fruity. However, other grapes do well here, especially the European style and French-American Hybrids from France, such as Chambourcin, Petit Verdot, Petit Manseng, and Traminette (more on those later!)
Yadkin Valley Wine at the Golden Road Winery
Chad and Crista at Golden Road Winery are such a welcoming couple; one of the first things they said to us was, "If you're drinking, I'm pouring!" We certainly weren't turning down a glass of wine, and we kind of took that as a challenge for the week!
Chad and Crista haven't owned the winery very long, but somehow, they found this hidden gem and made it their own! Their tasting sheet has the requisite wine names and descriptions, and additionally includes notes on what palate tastes to expect and where on the palate you will achieve it. In addition, it has pairing recommendations, so I'm happy to have it as a cheat sheet at home. Have some smoked gouda or a pizza? Open that Bumping Holler (a Merlot aged in bourbon barrels)! Spicy Asian food? Better uncork that Traminette!
The Cabernet Franc was my favorite, with a peppery finish. I found myself wishing for a nice, thick steak to go with my tasting. And tasting the whites left me wanting more Mountain Park Mist, their refreshing porch wine made from Traminette grapes.
Grassy Creek Vineyard
Grassy Creek Vineyard is an old winery, they pour their tastings in an old barn, and they make their wines in an even older barn! Owner Jim Douthit was an amiable host, sharing wines, barns, stories, and cabins with us! His wife Cynthia was off on an adventure when we visited, but Jim and Red Barn Tasting Room server Carisa took great care of us! Grassy Creek was originally Klondike Farm, a dairy farm home to Guernsey cows (notice the names of wines and even the water bottles.) This winery was the 23rd North Carolina winery; now there are over 100! Sherman's Travel ranked Grassy Creek the #1 winery in NC–for good reason!
The 2019 Barbera has three international medals dangling around the bottle's neck, and the Red Barn Blend of Merlot, Syrah, and Sangiovese took first place in 2005. Red Barn was one of my favorites, but so was To the Max, which is an equal blend of Cabernet Sauvignon, Merlot, and Syrah, which happen to be a few of my favorite things.
The tasting bar also has North Carolina food products for sale, including Ashe County cheese, San Giuseppe Salami, and Accidental Baker's crackers.
After the Tasting Yadkin Valley Wines
In addition to the health benefits of red wine drinking, you can also amble down the trail in the nearby forest or wander down to the gorgeous lake on the property to get in a bit of exercise. Take a bottle along—that's what we did!
When traveling, you can count yourself fortunate if you stay in a cabin like this! The Playhouse Cabin was built in the 1930s. The cabin was very comfortable—as a matter of fact, I slept like the proverbial "bug in a rug"! Grassy Creek's partner at Klondike Cabins handles the cabin bookings.
The fire pit on the patio had fire logs stacked at the ready and overlooked the winery. That bottle of Grassy Creek wine and a mesmerizing fire might have contributed to my sleepiness!
Tasting tips:
Mix some Guernsey Red (moooooo) with Sherry or Bourbon!
Haze Gray Vineyard on the Yadkin Valley Wine Trail
At Haze Gray Vineyard, you will enter a building painted the color of a Navy ship (haze gray!) Deane Muhlenberg, a 30-year naval veteran, and his wife, Becky, founded HGV. Of course, Haze Gray is one of North Carolina's certified Homegrown by Heroes farms! HGV has nine acres planted with nine different grape varietals.
Remarkably, all the wine at HGV is estate bottled, meaning that they grow the grapes, make the wine on the property, and bottle it on site, all the while using only their grapes. Oh, and by the way, stainless aged means the Chardonnay is not aged in an oak barrel, but instead it is allowed to rest in a stainless steel tank, which keeps the wine from being flavored by oak..
Haze Gray Vineyards is one of the Yadkin Valley's newer wineries on the Surry County Wine Trail. HGV honors veterans with a wall covered in photos of family, friends, and customers who served in the United States military.
Military honors appear in the names of HGV wine blends, too. Award-winning Boot Camp Red, Two Bells, Aces, Aviator Red, and White Glove are sure-fire crowd-pleasers (pun intended!) And, HGV believes in giving back–still serving our country, the vineyard donates one dollar from every blend sold to veteran organizations like The Headstrong Project and the USO! Thank you for your service, even after retirement!
Becky shared some scrumptious recipes with me, which happen to feature Deane's wines! One is relatively easy—when making a Devil's Food Cake, use Black Cherry to brush on the cake after baking, and add a bit more to the frosting. Yum!
Tasting tips:
Ask Becky for her Parmesean Risotto and Cajun Shrimp recipe (or check at the bottom of this article!) and buy a bottle or two of the Stainless Steel Chardonnay to take home (like I did!!) And be sure to ask about the wine and BonBon pairings…just sayin'!
Yadkin Valley Wine at Stony Knoll Vineyards
What do you get when you combine mountain roads, vineyards, and a cabin built in the 1860s? The perfect Stony Knoll Vineyard weekend in North Carolina's Yadkin Valley! Spend a few nights in the historic family cabin, with your head resting in a brass bed. Sip some wine and rock on the front porch, while you listen to the crickets chirp. Watch the stars come out in the inky black sky. Sound like heaven? It's not; it's the Yadkin Valley!
Our visit with Jonah at Stony Knoll Vineyards was fun, tasty, and educational (my favorite combination!) Oh, my! What a great personality for a winemaker and vineyard owner! Jonah is the passionate and articulate son-in-law of vineyard owners Van and Katy Coe. He quickly tells you that the goal at Stony Knoll is the future generations. Lucky for him, his ancestors had the same goal! He and his wife have already done their part; now, if those children just grow up to be farmers…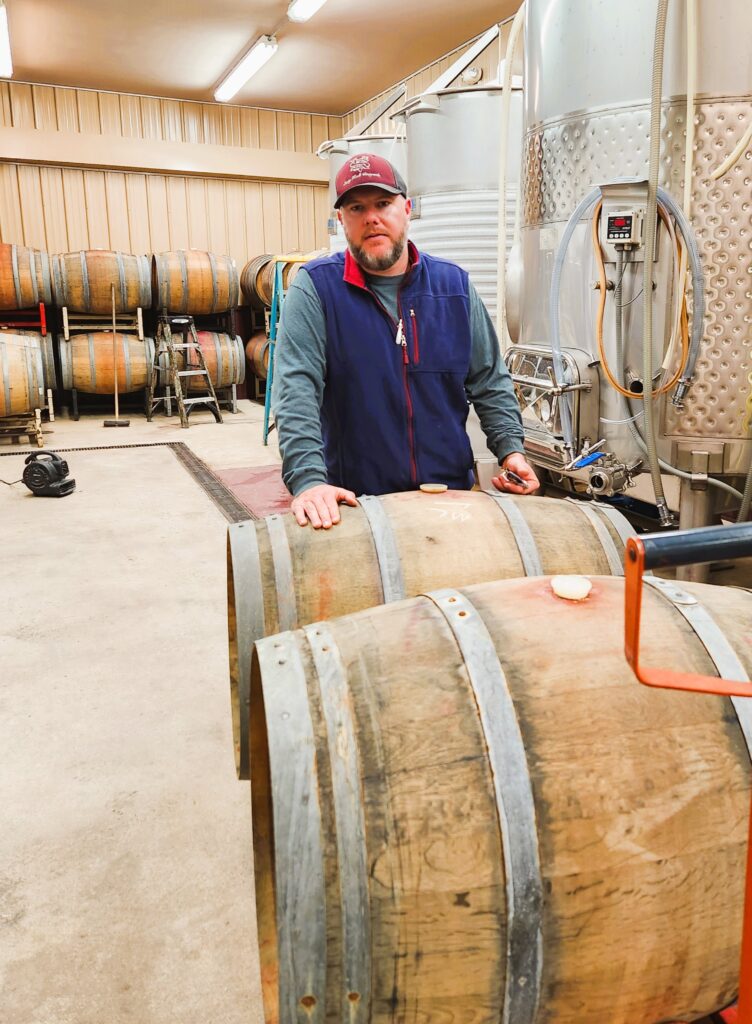 Stony Knoll makes a luscious stainless steel Chardonnay to taste-test against their barrel-fermented Chardonnay. Don't be shocked…but I liked both! (Usually, I'm not a fan of oaky Chardonnay, but Stony Knoll could make a believer out of me.)
But I am a huge fan of Chambourcin. When you visit Stony Knoll, try the Master Exquisite Black Oak Stick Chambourcin. It is on the Reserve list—I say it is reserved for real winos—like me! An additional taste treat we enjoyed was comparing two different versions of Chambourcin. One Chambourcin was aged in a neutral oak barrel; the other aged in Hungarian and neutral French oak barrels, then blended. This Chambourcin was the winner in my book, but I'd love to hear which one is your favorite!
Yadkin Valley Wine – Farm History
Jonah can tell you WHY the grapes (and, as a result, the wine) taste the way they do. And, he loves to share the vine and wine story and educate his visitors. Stony Knoll also plants grape varieties developed in cooperation with Cornell; grapes like Corot Noir and Arandell are mildew-resistant, high-yielding varietals. Jonah explains that by growing grapes suited to the area, he can use fewer pesticides, which also means less expense and less labor!
Stony Knoll is a certified NC Century Farm. This designation means this tobacco farm has been in the same family for over 100 years. Now remember, Jonah is the son-in-law…but he is the son of a local family with agricultural roots, and owners of a NC Century Farm! Jonah certainly has farming in his blood. And his degree in Business isn't wasted, either!
Interestingly, Syrah is a grape Jonah says, "wants labor. It is thin-skinned and doesn't stand up to hurricane rains." What he's saying is, growing Syrah grapes is labor-intensive, and you risk losing the entire crop if you have nasty weather, which we often do in the late summer.
Another thing we learned is that "Chemically, wine naturally wants to go toward vinegar with an influx of oxygen—so keep the tanks/barrels topped off, or you'll have a great deal of vinegar—or a great nail polish remover!"
Tasting tips:
When you go, ask Jonah to tell you how he met his wife! (I'm not tellin'!) #lovestory!
Yadkin Valley Wine Made Organic-style at Carolina Heritage Vineyards
Established in 2005, Carolina Heritage is North Carolina's first USDA-certified organic vineyard and winery. They grow organic French-American hybrids and muscadines to make dry and sweet organic wines.
Pat and Wendy McNabb purchased the winery in 2022 from founders Clyde and Pat Colwell. They continue operating the vineyard with a passion for the environment and organic farming.
Our tastings included the Cynthiana Rose, Magnolia, the C-C Blend (Chambourcin and Cynthiana), and Glogg (a traditional Scandinavian spiced red wine). Of course, we wrapped up with a glass of Apple Pie! And yes, wine made from fermented apples, mulled with almonds, cinnamon, and raisins, really does taste like your Mama's Apple Pie!
Shelton Vineyard
Shelton Vineyards is North Carolina's largest family-owned estate winery. This 1,000-acre estate spreads across the rolling hills of Dobson in Yadkin Valley—on Cabernet Lane, of course! Unbelievably, there are 136,000 vines on the farm. The Sheltons planted the first vines in 1999. With over 20 wines, everyone should find tempting tastes to take home! And I don't mean just wine; the candy counter in the tasting room would put a candy store to shame!
While you're there, take a guided winery tour; the history of Yadkin Valley wine is fascinating, and you will enjoy a behind-the-scenes view of the barrel room. Plus, there is a rich history here because the Yadkin Valley wine region was designated North Carolina's first AVA in 2003, primarily due to brothers Charlie and Ed Shelton, the driving force behind that first AVA designation.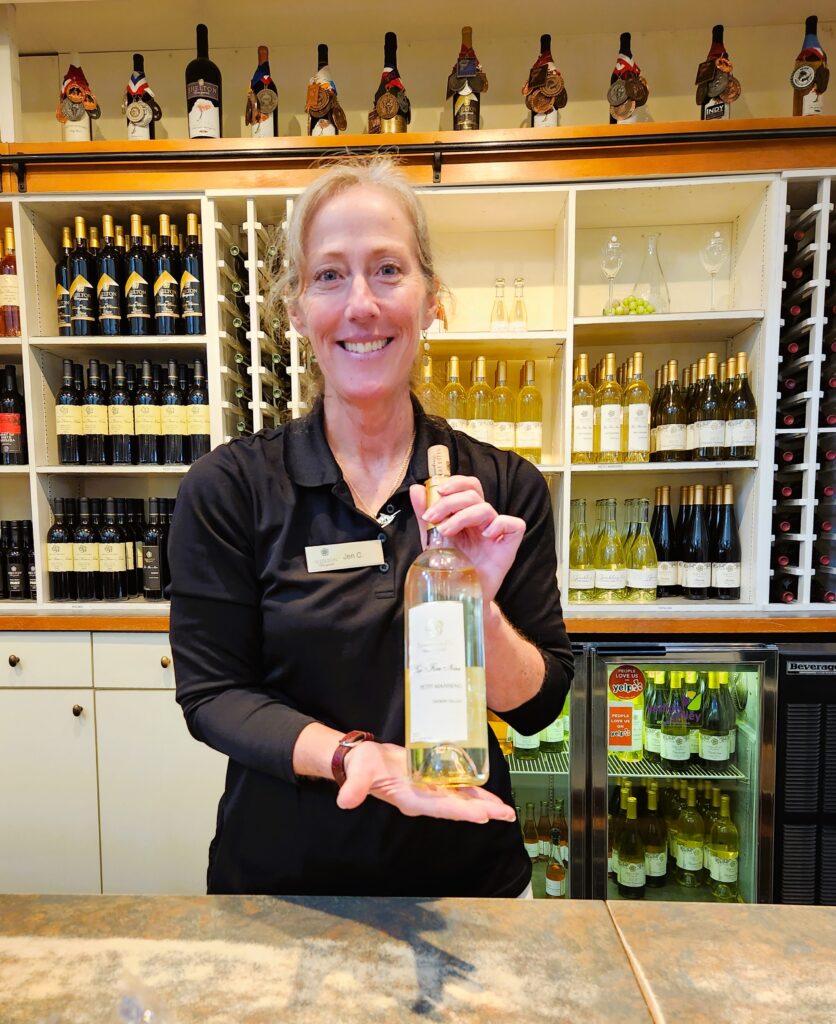 The on-site Harvest Grill restaurant will pack a picnic to enjoy in the vineyards. So you don't miss out on this treat, plan and pre-order! Not many wineries boast a gourmet restaurant on their property, but this one does. In addition, Shelton has a variety of events throughout the year, from chef and winemaker and murder mystery dinners to New Year's Eve celebrations and concerts on the grounds.
JOLO Winery and Vineyards
Okay, you know I had to try the winery with my name in it – JO LO – in Pilot Mountain (yep, the namesake for Mount Pilot on the Andy Griffith Show.) And, I love the size of the glass, too!
JOLO Winery and Vineyards is north of Winston-Salem, in the foothills of the Yadkin Valley. It is veteran-owned and family run. JOLO has an excellent restaurant, with both indoor and outdoor seating, and a variety of wine tastings. You can have a traditional tasting, or a vertical tasting (sampling different vintages of the same wine), or even a reserve tasting (the best of the best.)
JOLO creates wines in the dry style, as well as luscious dessert wines. In Africa, I fell in love with Meritage wines, and JOLO has their own version of a blend—JOLOTAGE—that has been winning awards nationwide and internationally since 2015!
Roaring River Vineyards
One of the unique features of the Roaring River Vineyards is the river out back! The Vineyard offers an oaked Chambourcine-Norton blend of that hybrid and native grape combination that is perfect for an evening by the fire pit!
A more picturesque spot would be hard to imagine: with a rolling riverfront, a waterfront winery, and blue skies above! You can enjoy sampling wines on the riverside porch or in the tasting room. And beer drinkers will find a selection of artisanal local beers for their drinking pleasure. A bonus for those visiting with campers is the Roaring River RV park.
Elkin Creek Vineyard & Winery
Visiting Elkin Creek Vineyard & Winery was a delightful way to end our Yadkin Valley Wine day. The cute names for their wines will put a smile on your face. I especially appreciated the Adequate Red, a blended table wine that is MORE THAN ADEQUATE when paired with food or to serve when celebrating any occasion! The vineyard grows Sangiovese, Cabernet, and Merlot grapes, and uses local sources for other grapes.
Their Vin Doux is a port-style dessert wine made from Cabernet Sauvignon and aged in French Oak for three years. It was a Double-Gold Medal Winner at the Mid-Atlantic Wine Competition.
The winery is at the intersection of Big Elkin Creek and Grassy Creek. There is a lovely waterfall at the site of the grist mill, just a short walk from the tasting room. And you will find house-made sourdough bread on the menu, along with Bacon Brie, and Brick Oven Pizzas!
Linville Falls Winery
In the Blue Ridge Mountains, Linville Falls Winery was a fabulous find! A tour of the acres of vines, complete with wine tastings as we walked—was on tap for us–what could be a better start to an afternoon?
The owner, Jack Wiseman, is that handsome gentleman posing with me in front of the fireplace; his daughter (a good wine witch–only because we visited on Halloween weekend) kept the cauldron stirred, and his charming granddaughter led our tour. Linville is a three-generation family-run winery…another granddaughter was away the day we visited. You could almost call it a five-generation vineyard since his Grandma Ida taught him how to make wine when he was just a child, growing up in these same North Carolina mountains.
Jack was living in California near Napa after the Korean War and thought…why not? He moved to Charlotte, married, started a family, and eventually loaded up the truck and moved the family to Linville Falls…in the Appalachian High Country, that is! First, he grew Christmas trees, then after adding grapes, he found his calling—growing two things guaranteed to put a smile on people's faces!!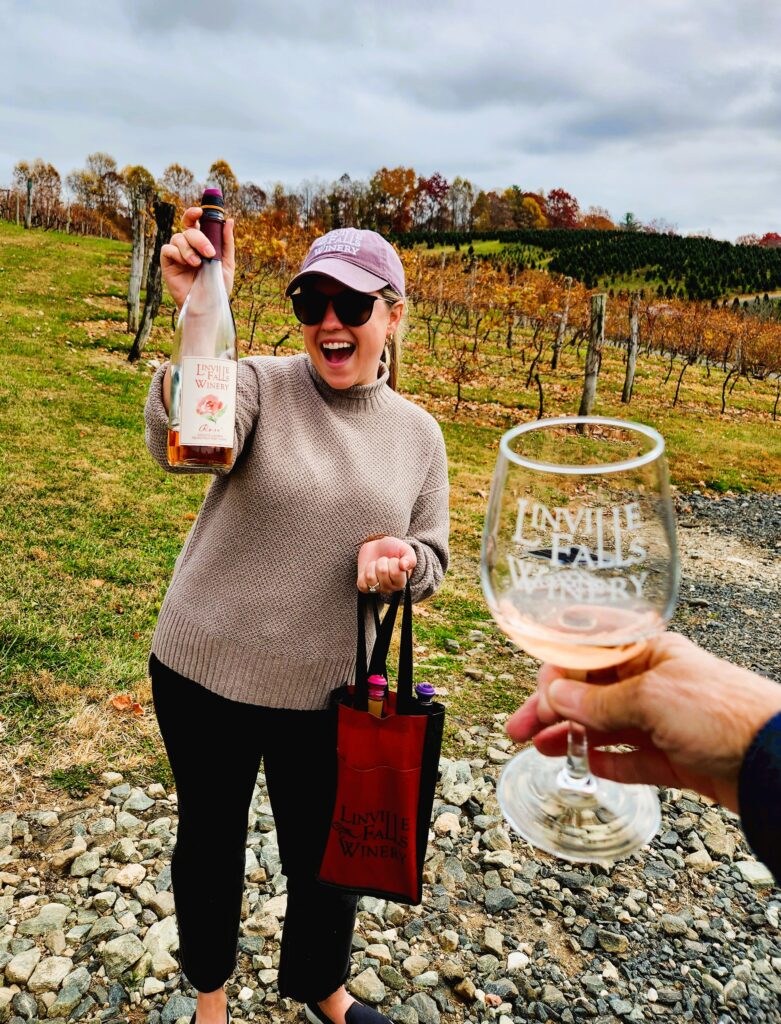 Jack's Cherry Bounce is a drink dating back to the Revolution! It was found in the pockets of many freedom-fighting "Overmountain Men," warming them as they marched across these rugged mountains.
Insider tidbit:
Rumored has it this cherry wine was our first president's favorite—clearly a man of discriminating taste! Enjoy yours with a piece of dark chocolate by the fire. Oh, and by the way, if the Lobster Dogs food truck is at the winery–get in that line!
Tasting tips:
More tasty treats await you at Linville Falls Winery, like their Merlot, Brandy Barrel Aged Cabernet Sauvignon (how could that not be delicious?), Rieslings (both sweet and dry), and Cascade, a blend of estate Seyval Blanc and Yadkin Valley Pinot Gris grapes. It is dry but crisp, with a hint of apricot, and very refreshing, like its namesake, nearby Cascade Falls. One of my favorites was the Trillium (maybe because of the name—I do love the wild Trilliums that bloom on the mountainsides every spring!) And with a vineyard sitting 3,400 feet above sea level, their slogan "Elevate your taste" is quite apropos!
It was a perfect day! *sigh* We were treated to live music, dancing, three birthday girls enjoying a game of Scrabble, food, local chocolates, and a two-handed pourer for our tasting! And, we learned that you can even travel by trolley car instead of driving!
The Winery Hopper was pulling into Linville Falls Winery as we did. My first thought was, HOW FUN!! Shuttle owners Shannon and Denny Lazar say, "We want to move people to happy places." They're onto something here! Hauling passengers to wineries and breweries certainly fits that bill. The couple owns Elkin Vine Line and runs the Winery Hopper, transporting guests to 18 wineries and breweries throughout the Yadkin Valley.
The Vine Line offers four different routes: through Surry and Wilkes County and to Jonesville. Visitors can hop on and off the Hopper *giggle* at will, and each route has a planned food stop. Plus, the Hopper supplies water and snacks onboard. On my next visit, I plan to leave the driving to them! And, believe me, I intend to make it there for the annual Grape Stomp!
Skull Camp
In downtown Elkin, Raechel and Ken made sure we had plenty of treats to try. Named for nearby Skull Camp Mountain, Skull Camp Wines range from their dry white Anticipation to the winery's Sweetest Thang. A unique selling point here is that the wines are canned! Now, before you turn up your nose, give them a try. The cans were designed just for wine, with a lining that keeps the wine from reacting with the can. And cans are light and easy to tote along while keeping out sunlight and oxygen (both natural enemies of wine). So North Carolina's first canned wines are welcome poolside and while boating.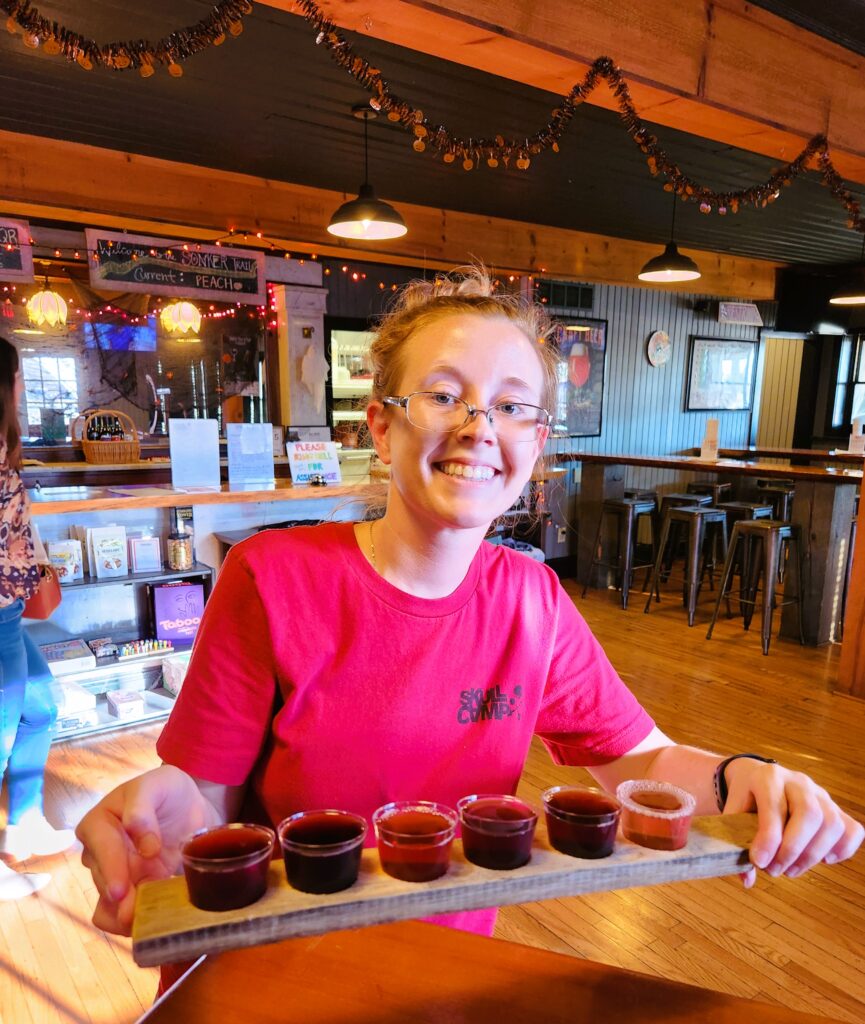 Skull Camp Social House has a beer menu that will keep beer drinkers smiling. The first page lists all Skull Camp beers, and the second page has German beers, light, dark, pale, IPAs, hard ciders, and seltzers. I prefer wine, but I happily downed my beer samples before moving on to the serious job of wine tasting! Apparently, I was in the mood for cherries since three of the six I chose were Tart Cherry, Sweet Cherry, and Blackberry Cherry!
The owner of Skull Camp also owns Round Peak Vineyards in Mount Airy (yes, think Andy Griffith and the Snappy Lunch), one of the many spots on the list for our next trip to Yadkin Valley. When you go, be sure to pose for a selfie with Andy and Opie at the TV Land statue!
Lodging Available
An additional bonus at Round Peak are the two cabins available to rent. Each sleeps eight, plus the cabins have screened porches perfect for viewing the spectacular Blue Ridge sunsets. The 33 acres of vineyards and woods will also provide plenty of space for wandering.
I guess they did too good a job, since Scull Camp is currently in negotiations to be purchased by Locally Minded Brewing; be sure to check their website before you visit.
Old Nick Williams Distillery
To put the "shine" on this trip, we had an adventure ahead of us. Being a Virginia country girl, I thought distilleries would be easy to find. Well, not so much! I couldn't find a distillery anywhere! Finally, near Winston-Salem, we found Old Nick Williams Distillery, and the Busted Barrel Cocktail Bar.
The Williams family started making whiskey in England—well, okay, in North Carolina when it was a British colony. Over 340 years ago, John Williams was born in Wales and settled in York County, Virginia, in the 1690s. (I knew Virginia would turn up in this bootlegging story!) Anyway, he was involved in distilling whiskey. He died before the American Revolution, but not before moving his wife and eight children to North Carolina.
Fast-forward to 1766, and Col. Joseph Williams proudly served his country with General George Washington. Fast-forward again, and we find Nicholas Lanier Williams (Old Nick) in 1851, moving the distillery to a location along Panther Creek and building a cabin for his family. Today, his great-great grandson resides in that same two-story cabin.
While Nicholas Lanier Williams and his son Joseph ran the distillery, it was still called the Joseph Williams Distillery (fighting with GW, remember?) Young Joseph introduced the whiskey "Old Nick" in honor of his father.
Always staying true to their history, when North Carolina made it legal to have a bar inside a distillery, much thought went into the name of this new venture. Back when prohibition started in 1919, revenuers busted all the whiskey-filled barrels—dumping 28,000 gallons of liquor. Now that distilled liquor has come full circle, the Busted Barrel seemed the perfect name!
The Busted Barrel & Distillery Libations
Tastings of the distilled products are close at hand, and the cocktail bar serves up whiskey and bourbon cocktails like a Spicy Old Fashioned, Peach Fuzz, and Pumpkin Pie Martini. They have shots, mocktails, local craft beers, as well as local and not-so-local wines. Plus, snacks are available, so you needn't worry about starvation!
Other Adventures Along the Way As You Explore the Yadkin Valley Wine Trail
Don't miss the farm stands you see. Especially the Gonzales Produce stand in Dobson, a family-run farmers market. They have plants, produce, decorative items (like pumpkins, gourds, and Indian Corn), hard candy (and I mean the old-fashioned real hard candy), fatback (if you have to ask, well…), in short, they have it—even if you don't know you need it!)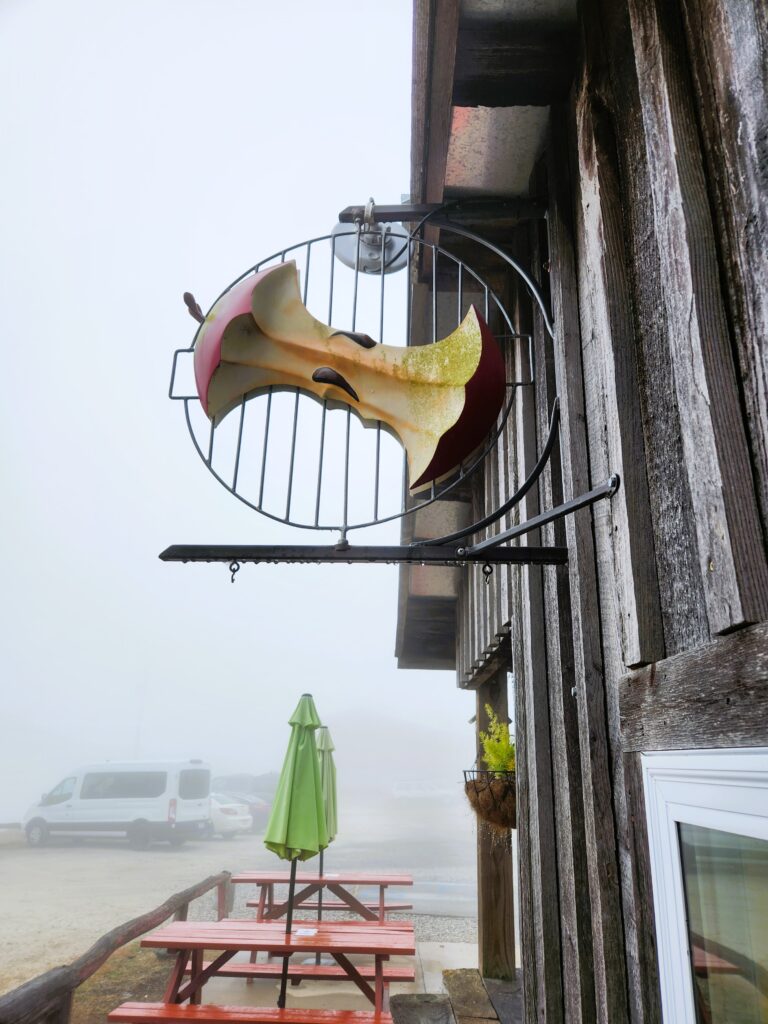 And you definitely need to visit Linville Caverns, North Carolina's only show cavern, which is located a mere four miles from Linville Falls. I suggest visiting both before you visit the Linville Falls Winery.
For over a quarter-century, Altapass Orchard has been an education center, heirloom apple orchard, heritage music venue, and a restaurant, all rolled into one! Throw in an entertaining host, and you'll be there all afternoon! Oh, and let me tell you, I earned my bumper sticker, "Honk if you survived a dance with Ben Carson!" *grin* They are working hard to "save the good stuff." Please stop by and support their efforts!
The Reeves Theater provides local and touring bands a place to perform in the region year-round. It also serves dinner and drinks Wednesday through Saturday.
Or you could go to Switzerland! Little Switzerland, that is, and the Switzerland Inn. This inn is located directly on the Blue Ridge Parkway, and accommodations range from casual hotel-style rooms in the Main Lodge to rustic cottages. There is fine dining on the property and a variety of shops. More shops are just down the road, and you should visit the bookstore. I warn you, though, you'll need a map to get out of that place, or a helping-hand from Harry Potter!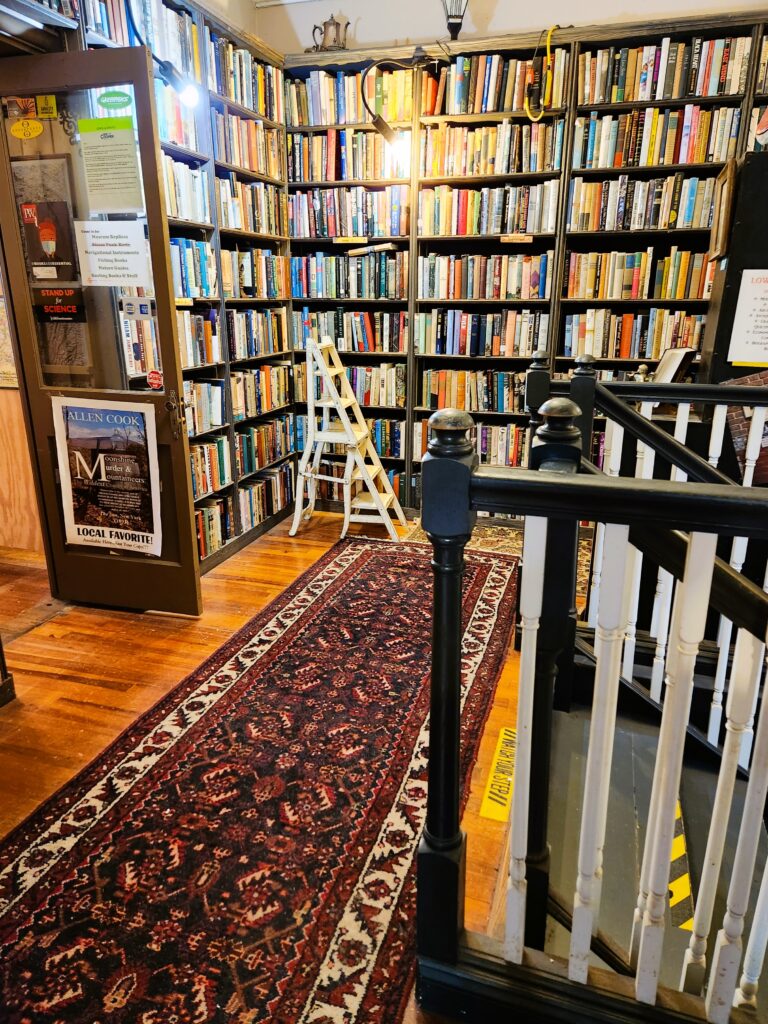 Looking for the Trail?
Yadkin Valley has the trail you want. Besides my Yadkin Valley Wine and Shine Trail, the Blue Ridge Craft Trail is something new in Surry County, taking you to meet artisans while discovering handmade crafts you will want to take home. There are also Trout Fishing Trails boasting 36 miles of trout rivers. Then, too, you will find hiking and biking trails and a map of cycling trails. Elkin even has access to the Mountains-to-Sea Trail.
And what about festivals? The area is home to a Harvest Festival, Grape Festival, Pumpkin Festival, and Autumn Leaves Festival—and that's just on the Yadkin Valley fall calendar!
Before you think the valley is all drinking and eating, let me tell you about Rio Doce Gem Mine. You can prospect to your heart's content in Spruce Pine, and they offer lapidary instructions in week-long increments to make up the six-week course in gemstone jewelry making.
Are frescos more your thing? The Rockford Methodist Church was built in 1914. In 1989, Tony Griffin painted the fresco "Come Unto Me" for Rockford's Bicentennial. Griffin was born in Monroe, NC, but attended school in Florence, Italy, from the time he was twelve. After finishing the American School of Florence, he apprenticed under internationally known fresco artist Ben Long, who happened to be his brother-in-law.
Hikes (and waterfalls)
Woodland hikes are calling your name, and some will even lead to waterfalls! The shortest Carter Falls hike is from the Carter Falls Trailhead. This trail shares parking space with the Powerhouse Trailhead. The lot holds about 30 cars, but it quickly fills up on a busy day.
The trail begins on the right side of the parking lot and takes you down a shady path. There are a couple of switchbacks; then you reach the trail along the top of the falls ("Upper Falls"). This trail provides the most picturesque view of Carter Falls, and the best view is to follow the steep descent to its base. Proceed with caution on this path, remembering that proper footwear is a bonus here.
Are You Hungry Yet?
You're sure to work up an appetite, so it's good to know that there are plenty of places to pull up a plate. There is Yellow Door Café, a-not-to-be-missed treat! French cuisine, meets Soul Food!! Time it right, and you can have brunch on Friday or Saturday. Yeah, you know where I was…drinking wine!! But I turned up in time for dinner, and that's what counts. *smile* This Southern girl was happy I didn't miss dipping the Collard Green Wontons in that Thai chili sauce!
Be sure to end your night at The Wisdom Table for desserts and a glass from the wine bar. The Wisdom Table is a wine bar, but they also have a retail shop with 100 local wines and even more choices from the international winemaking community. Six available wine flights change weekly, so you can go often and not be bored! In addition to wines, they also carry North Carolina craft beers.
Boards, small plates, a daily entree, and unique desserts are available, too. If I had known that, I'd have gone hungry! *grin* But I made room for their Apple Tart! Since it came with an apple cider glaze and a helping of house-made apple butter, you know I wasn't saying "No!"
You Can Cook Like Our Chef!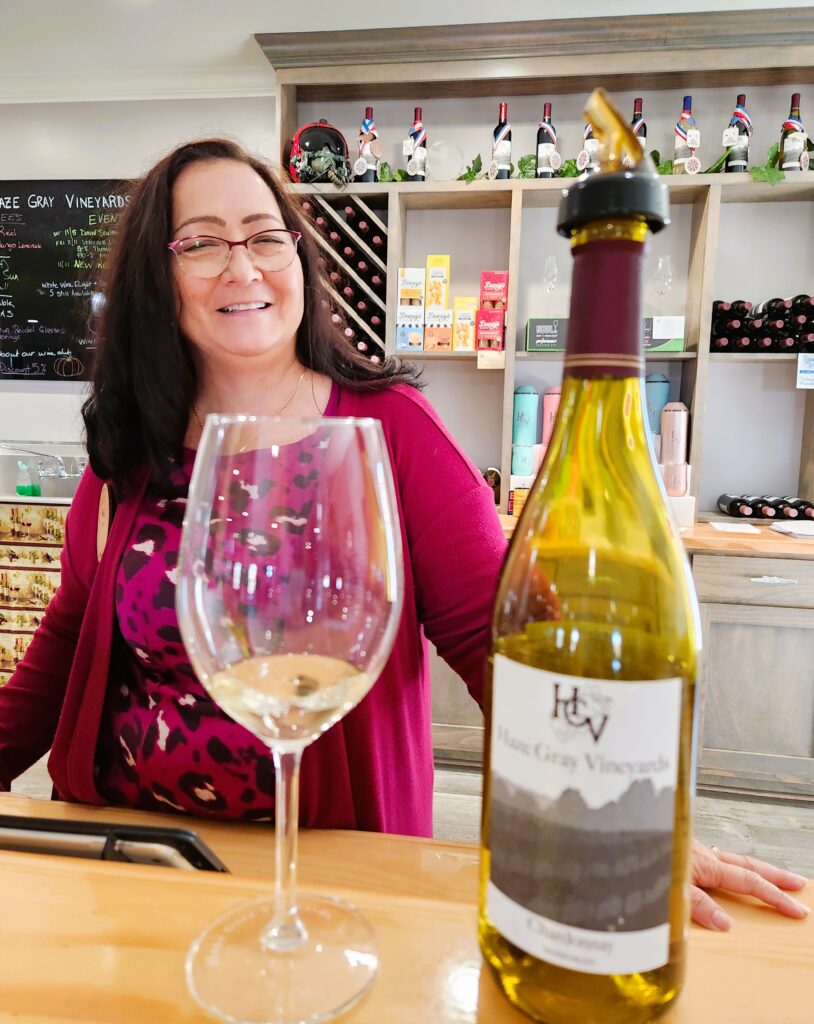 Becky's Parmesan Risotto with Cajun Shrimp with Yadkin Valley Wine
Recipe should feed 4 people
You will need:
½ medium onion, finely diced
4 cloves minced garlic
1 T olive oil
1 T butter
4 C stock (I use chicken, but you could use vegetarian)
¼ C dry white wine (Haze Gray Vineyards' Stainless Steel Chardonnay)
(and pair that with dinner, so you'll need a couple of bottles!)
1 C Arborio Rice
1 C Parmesan cheese grated plus extra for serving (not the canned)
3 T Parsley, chopped (in a pinch you could use dry, but then just add 2 T)
Instructions
Heat stock and keep warm on stove
In large skillet, melt butter and olive oil over medium heat
Add the onion and cook until tender (do not let brown)
Then, add garlic and cook 1 minute longer (do not let brown)
Finally, add Rice and toss to coat
Stir in wine until it is absorbed
Add 1 ladle full of stock and stir until absorbed until you have used almost all the stock. Make sure you are continually stirring
Repeat this until you have used almost all the stock.
Should be about 17-25 minutes
When you add the last ladle of stock, also add the parsley. * This is the perfect time to start cooking the shrimp!
When stock is absorbed about ½ way, add the cheese. Let it absorb until creamy and thick, but not soupy.
Serve and arrange the shrimp on top. Sprinkle with fresh parmesan.
*For the Shrimp, peel and devein about 24 large shrimp (large is 16 to a pound). Warm 1 T olive oil over medium heat in a skillet, and add shrimp. They only take a few minutes to turn pink, and they're ready to eat! Sprinkle with a bit of Cajun spice.
Ready to Plan Your Next Trip?
For more exciting vacations, try these locations!! You could travel to Georgetown, visit Funky Floyd, or cruise off to Alaska! Then, of course, there are Chocolate Tastings in Tofino, on beautiful Vancouver Island!