There are many enjoyable tourist attractions in Charleston, South Carolina, which, unsurprisingly, places Charleston among the most beautiful cities in America. Charleston, South Carolina, is a vibrant cultural hub known for its rich history, which spans over 300 years.
Charleston's birthplace is the Ashley River. Charles Towne Landing was the first settlement on the Ashley River in 1670. Eventually it became the city of Charleston.
"I don't think you ever think of a big city as sweet or community, but there are cities that I think of as charming and particular and interesting cities. I live in one now, Charleston."
Charleston, South Carolina — a National Historic Landmark District
Charleston, SC was one of the first cities to be named a National Historic Landmark. You can visit over 2000 historic buildings and monuments, many dating back to the 18th century.
The most popular tourist attractions are within walking distance of the city center. Known for its historical places, it uses the past to provide an authentic glimpse into what life was like in South Carolina in the 1670s.
Most of the tourist attractions are centered around downtown Charleston, but there some outside of downtown you shouldn't miss.
Charleston, South Carolina, and The Civil War
If you're a history buff, visiting Charleston is a must. The Siege of Charleston was one of the longest sieges during the Civil War.
In this event, violence and gunfire were exchanged between union soldiers and confederate soldiers for over three months. The siege itself has been turned into an entire section within the National Park Service.
Many people visit Charleston, South Carolina, for this reason alone. From 1861 to 1865, a standoff between the North and South divided a nation and cost many lives.
You can tour the battlefield and see the buildings used during those years and relics of the civil war from both sides. It is a very moving place for those interested in civil war history.
Fort Sumter National Monument
The American Civil War began when the first shots were fired from Fort Sumter.
To begin, visitors staying in downtown Charleston may start their tour at the Charleston Harbor and go to Fort Sumter. They'll see Confederate and Union artillery batteries used during the war.
If this is your first time, the Fort Sumter National Monument Visitor Reception Center is a great place to start. You can relax there before heading out on the guided tour.
If you're looking for something a little more adventurous, why not hike to the top of one or two of the Confederate artillery batteries. You'll learn about the soldiers that once occupied these positions and how they used them during battle.
The National Park Service has spent years converting these sites into historical landmarks and museums that anyone can visit for free. And while visiting Fort Sumter National Monument isn't free, visitors will be pleased to know that the National Park Service operates it.
Fort Moultrie National Historical Park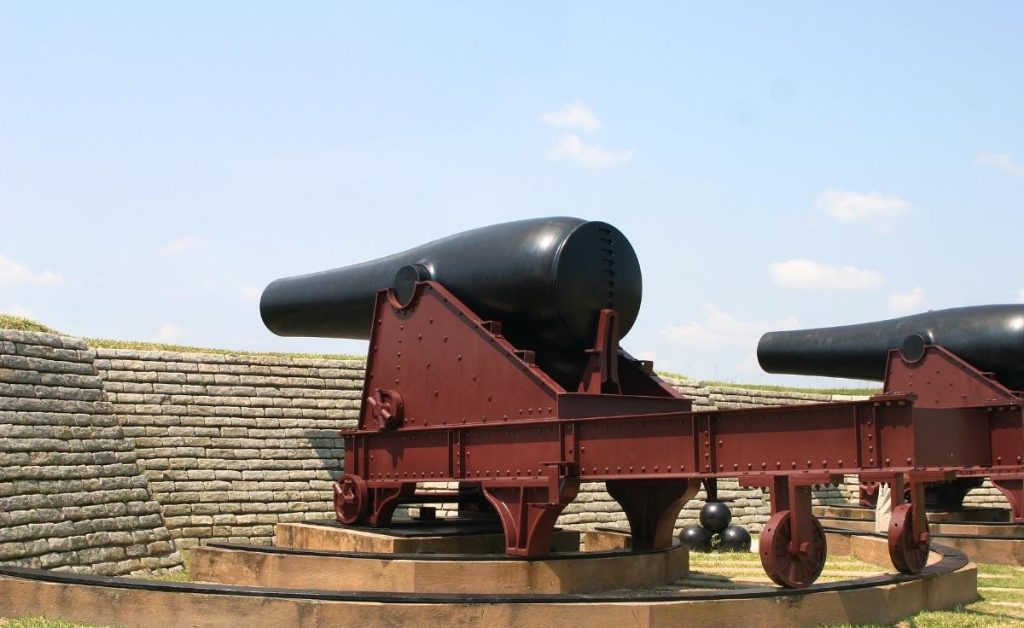 Located on Sullivan's Island, Fort Moultrie is one of the best-preserved coastal fortifications of the Revolutionary War. The National Park Service offers tours and exhibits that tell more about the history of South Carolina and how this area was important during the civil war era.
The entire island tour can be self-guided, but you'll get more out of it if you take a guided tour. That way, you won't miss all of the hidden spots mentioned in the guide.
White Point Garden
At the intersection of Murray Boulevard and East Battery Street is a lovely garden filled with beautiful foliage, trees, and flowers. It's the perfect place for you to take some time to relax after touring so many historical landmarks.
At White Point Garden, you can enjoy the outdoors by sitting on one of the benches or walking through it on your way to somewhere else downtown.
The local farmers market their potted plants, flowers, and sod to make this space even more beautiful. It's the ideal place to sit down and enjoy an excellent book or picnic lunch before continuing your tour of downtown Charleston.
Shem Creek Park
This park is on Shem Creek, which runs through downtown Charleston. It's located right on the water and has a plethora of amenities.
It is a 2,200-foot boardwalk/fishing pier that extends from Coleman Boulevard to the creek's entrance at Charleston Harbor. Fish or crab for fun, observe birds, take a sunset cruise, as well as rent in private charters!
Cooper River Veterans Park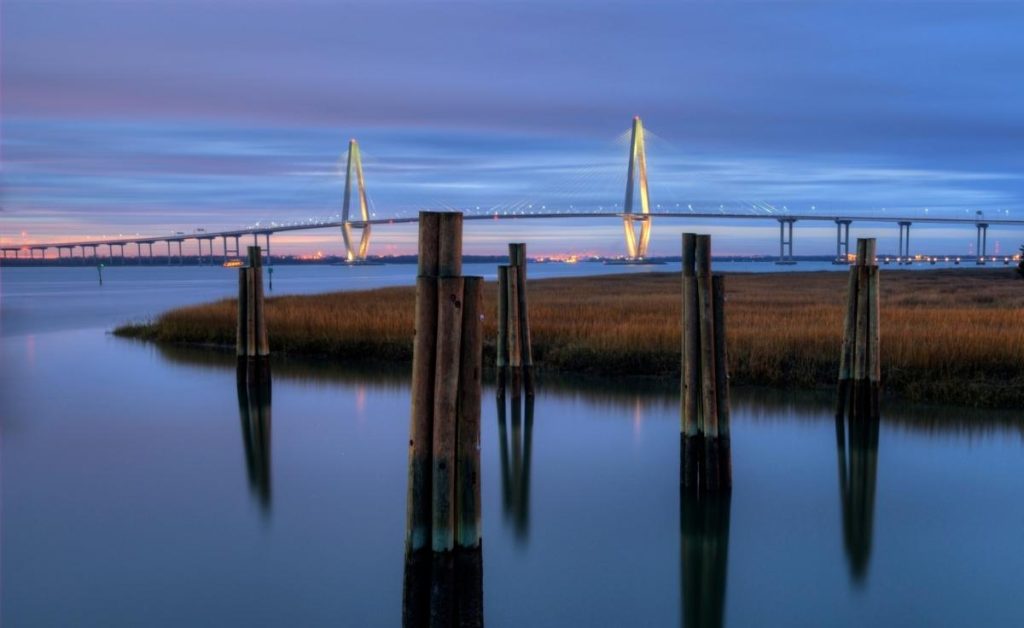 Located along the Cooper River, this park stretches from near Concord Street to just before the bridge to Mount Pleasant.
It has several amenities, but it's probably best known for boat ramps and a fishing pier. The views here are amazing!
Plus, there is free parking on East Bay Street!
Arthur Ravenel Jr. Bridge
Arthur Ravenel Jr. Bridge spans the Cooper River and connects downtown Charleston to Mount Pleasant.
The third longest cable-stayed bridge in the Western hemisphere, the Arthur Ravenel Jr. Bridge is a beautiful sight to see from below or from above.
Johns Island County Park
This is the largest park in the Charleston County Park system. Johns Island County Park opened in 1991 with an area of 2,000 acres. State and county bonds purchased the land for this park.
Its main attractions include a nine-hole golf course, tennis courts, bicycling trails, fishing piers, picnic shelter with grills, as well as a playground.
Sullivan's Island
While not technically a county park, Sullivan's Island is still worth visiting. It was the Fort Moultrie day-long battle site, which ended with a fleet of British ships retreating from the Charleston area. They continue to celebrate its rich history by hosting an annual reenactment on Independence Day.
Plus, if you're looking for something different, Sullivan's Island has plenty of restaurants to try and a gift shop. Don't miss out on the pier; it is one of the biggest attractions!
Sullivan's Island is a great place to cast your line and enjoy watching boats arrive and depart from Charleston Harbor.
Best of all, it is only about 5.5 miles from the city center.
Waterfront Park
For those who want to experience history more intimately, why not walk along Waterfront Park?
The Waterfront Park is located near the South Carolina Aquarium and next to The Battery. It's also very close to the USS Yorktown.
The Waterfront Park is a 12-acre park with all kinds of amenities, including playgrounds for children, walking paths, water fountains, a picnic pavilion, a public boat landing, restrooms, and more.
There are about 1,000 feet of waterfront at Waterfront Park with old-fashioned park benches! The landscaped boardwalk is a great place to walk, jog, run, as well as relax.
Battery Park
Located right along the Charleston Harbor, Battery Park has a lot to offer. It's great for strolling around and enjoying the fantastic views of downtown and the Fort Sumter National Monument.
The scenery is spectacular: walk among some of the oldest live oaks in North America. These trees have been there long before the American Revolution and Civil War.
This is also home to many historic homes, art galleries, and nearby White Point Garden.
Just north of Waterfront Park is a new addition to the park family. It's called The Water's Edge Promenade, and it runs from approximately 33rd Street to 37th Street.
The promenade offers a walkway, green space, public art, and so much more for South Carolina's visitors of all ages to enjoy.
Morris Island Lighthouse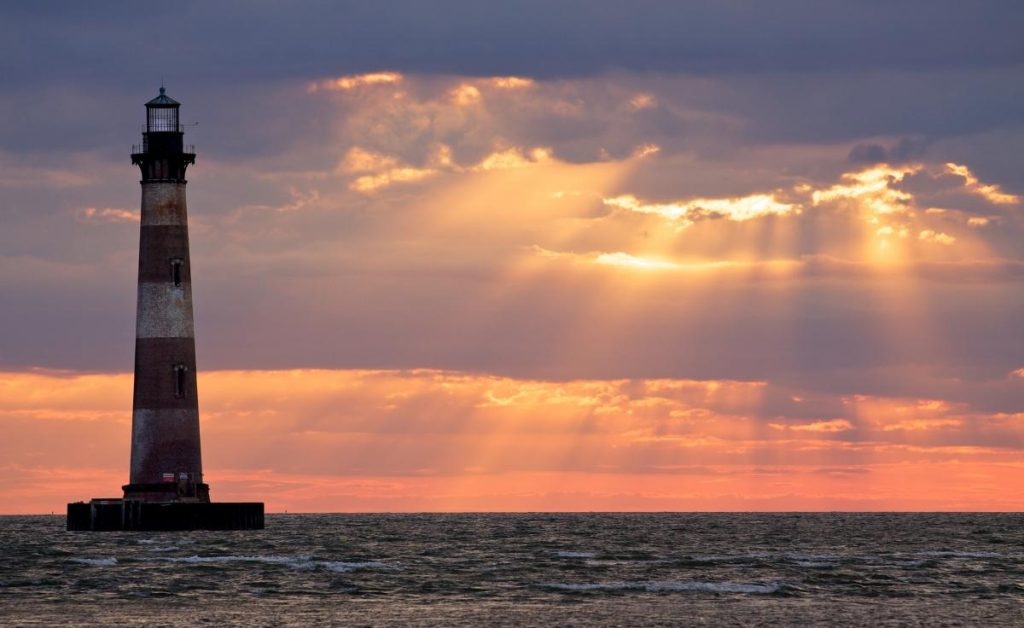 From East Ashley Ave. on Folly Beach, take a short ferry ride to the Morris Island Lighthouse.
This is one of many attractions in the Folly Beach area that will help you get ready for what's to come during your Charleston, South Carolina getaway.
It was built back in 1876 at an impressive height of 162 feet. While it may not be very tall by today's standards, keep in mind that it was built long before the advent of high-rise buildings.
It's also one of five working lighthouses in the state.
Be sure to do some shopping, dining, and other touristy things at Folly Beach! You can even go surfing or take an off-road tour!
Charleston Harbor
The center point of all tourism in Charleston, the river itself, makes for a fascinating tour. Experience the best in Charleston sailing, sightseeing, and attractions from Charleston Harbor.
Since so many historical attractions surround it, you will want to make time to enjoy this harbor where the famous Arthur J. Ravenel Jr. Bridge connects Charleston with Mount Pleasant.
South Carolina Aquarium
The South Carolina Aquarium is located in the historic city center. One of the more popular attractions on the Charleston Harbor, it is a great place to take the kids.
The South Carolina Aquarium has exhibits that recreate various habitats, including a coral reef tank with many kinds of colorful fish. The aquarium also has daily shows, which you won't want to miss.
USS Yorktown
The USS Yorktown aircraft carrier served during WWII, the Vietnam War, and several other conflicts.
It took 12 years to complete this massive naval vessel, and it was used by presidents such as Eisenhower and Reagan.
Taking a tour on this ship, which has more than 3,800 compartments, is a fantastic trip through the United States military history.
After retiring from service, it was delivered to Patriots Point Naval and Maritime Museum in 1975.
You won't have far to go since it's conveniently located in the city center.
Charleston Museum
The Charleston Museum is an inspiring place to take children and adults alike. The museum itself dates back to 1773, and it is one of America's oldest museums still in operation today.
The Charleston Museum houses a wealth of prehistoric relics dating back to 3500 BC. You'll find fossils and minerals as well as military dinosaurs from the civil war. It is a great place to learn more about Charleston's history.
Avery Research Center for African-American History and Culture
Avery Research Center is a museum that explores the history of African-Americans.
It features exhibits dating back to 1619, the first year of slavery at an English settlement in North America. The center offers exhibits about slavery, emancipation, and freedom in the US.
The Avery Research Center is located on the campus of the College of Charleston at 125 Bull St.
Charleston City Market
When you visit the Charleston area, don't miss out on seeing the City Market. It was constructed in 1841 in the Greek revival style. It is one of the nation's oldest public markets.
The market is where you'll find a variety of souvenirs, presents, and items of local interest.
The Charleston City Market has a variety of specialty shops that have items ranging from vintage clothing to handmade soaps and leather accessories.
Many of the items sold at the Charleston City Market are locally made by artisans, which means you can find outstanding gifts for your friends and family.
Many people consider the Charleston City Market one of the top five historical landmarks in the whole city.
This makes it another excellent attraction for history buffs and those who love unique architecture.
It is located right in Marion Square in the city center — very easy to find!
Charleston Music Hall
Music is a big part of the culture in Charleston and is evident when you come to visit.
The Charleston Music Hall has an impressive schedule that includes live music, from jazz and blues concerts to comedy shows and musical theater.
There are always several up-and-coming acts and veteran performers here, so check out the Charleston Music Hall schedule to find what you are looking for.
Historic Homes of Charleston, SC
Middleton Place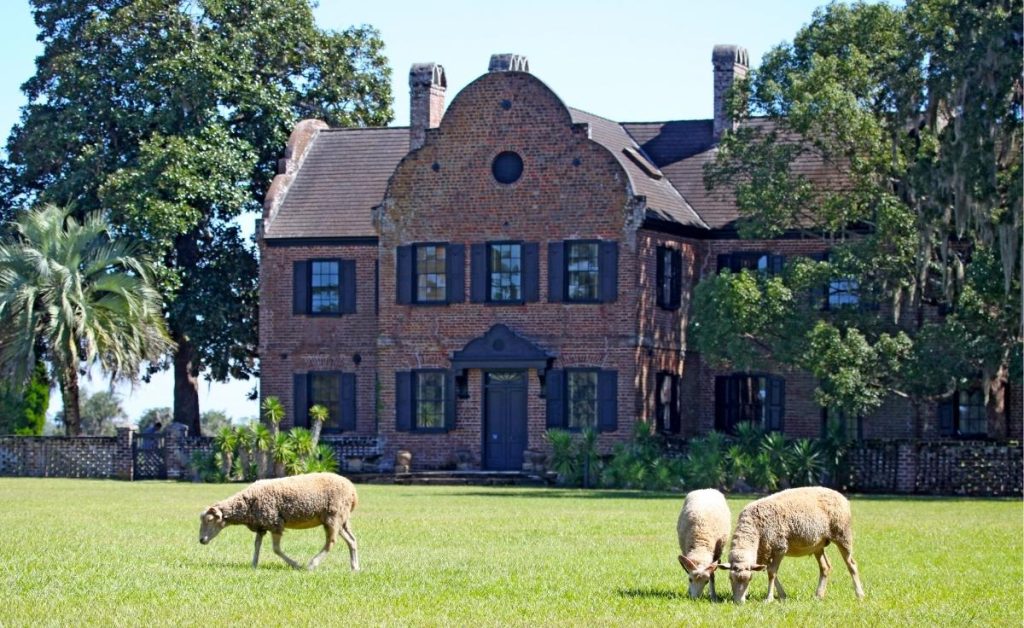 Middleton Place is a beautiful plantation home built in 1755. It overlooks the Ashley River and has one of the finest gardens in America.
It is home to America's Oldest Landscaped Gardens. Open to visitors, it is also available for weddings and events.
One of many historic homes in Charleston, South Carolina, Middleton Place has been visited by 4 US presidents, and it maintains its original George Washington furniture collection.
There are several other attractions at Middleton Place that will give you a glimpse into how these plantations used to function.
The home has remained under the same family stewardship for more than three centuries!
Magnolia Plantation
One of Charleston's most famous historic homes, over 600,000 people visit the Magnolia Plantation annually.
A sweeping live oak avenue leads to the world-renowned garden by Reverend John Grimké Drayton. He was the rector of St. Andrew's Parish church from 1851 to 1891.
You can go on a guided tour of Magnolia Plantation, see an antebellum cabin, go boating, view exhibits, and stroll through the gardens.
Take the younger kids to play with the animals in the nature center, petting zoo, and more.
This Ashley River landmark in Charleston, South Carolina, holds several attractions within its walls, including a nature center, tropical conservatory, and butterfly garden.
The gardens at Magnolia Plantation are also beautiful and well maintained, along with an herb garden reminiscent of ancient times.
Magnolia Plantation is open year-round, and it is a great place to spend the day with family or alone.
Drayton Hall Plantation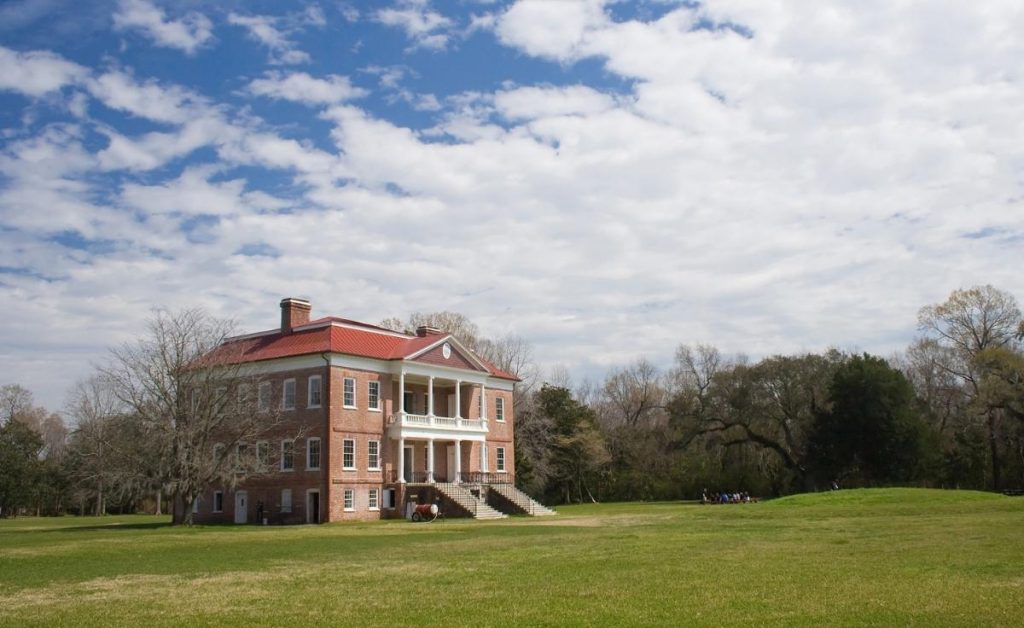 Drayton Hall Plantation is the oldest unrestored plantation house in America.
Built after 1746 by John Drayton, this Charleston, South Carolina house has 34 rooms with beautiful original antiques.
Drayton Hall belongs to the National Trust Historic Site Program and was declared a National Monument in 1960.
It also overlooks the Ashley River, and it is surrounded by 26 acres of gardens from the 18th century.
Boone Hall Plantation
Another great plantation in the Charleston, South Carolina area is Boone Hall Plantation. This plantation dates back to 1681 and has several attractions that explore cotton growing.
Boone Hall Plantation is a 19th-century southern plantation with walking tours of the house, old slave cabins, a cotton gin, and fields. It is approximately 20 miles from downtown Charleston, South Carolina.
It is also home to a farmers market that sells produce during the growing season and handmade items created by local artisans.
Aiken Rhett House Museum
One of Charleston, South Carolina's most famous historic homes, is now called the Aiken Rhett House Museum.
John Robinson, a Charleston merchant, built the house in 1820. William Aiken Sr. subsequently owned it in 1827
It has been well maintained throughout the years, and it's well worth visiting, especially if you are interested in historic homes.
Heyward-Washington House
The Heyward-Washington House is another famous historic home in Charleston, South Carolina.
Built-in 1772, Thomas Heyward Jr., one of the signers of the Declaration of Independence, owned this house. It was also used as a hospital during the war between the states.
Joseph Manigault House
This landmark in Charleston, South Carolina is a lovely example of Gothic Revival architecture completed in 1850. It was declared a National Historic Landmark in 1973. It is the only existing antebellum Gothic Revival house with authentic cast-iron verandas.
The grand hall of the Joseph Manigault House home features 14-foot ceilings and access to the bedrooms on both floors of this three-story structure. Picture a Carolina belle at the top of the stairs, dressed in her hoop skirt!
Nathaniel Russell House
Another city center tourist attraction is the Nathaniel Russell House, a beautiful example of architecture from the mid-19th century.
This home, constructed in 1808, has been restored. However, many original furnishings remain today after being preserved using a specific restoration process.
The Nathaniel Russell House is a true treasure in the city's history!
This landmark in Charleston, South Carolina, features six rooms for visitors to explore and an exhibit on 19th-century furnishings, as well as the museum shop.
Charleston Tea Garden
A completely different side of Charleston is the Charleston Tea Garden. You can see how tea is harvested and processed.
Learn about the history of their family home and take a tour of the plantation.
This plantation has everything you need to put together your tea blend too. Several tour options range from 40 minutes to two hours long.
Charleston Culinary Tours
South Carolina's culinary industry is flourishing, with over 20 different companies offering tours to tourists.
Charleston, South Carolina, is the epicenter of this food revolution. World-class chefs are opening up restaurants that put a unique spin on traditional southern meals.
Charleston Culinary Tours is the most well-known tour company here, and they offer several specialty culinary trips.
Charleston Culinary Tours will take you to some of these establishments so you can eat like an insider. Exploring downtown Charleston with a small group is more intimate and thus preferable than other options.
There are several things to do and see in Charleston, South Carolina. The plantations, old homes, and museums are major attractions for tourists interested in learning more about the city's history.
A visit to the farmers market and the shopping districts will please those interested in unique local items.
Charleston visitors also love their access to South Carolina cuisine and culture with various things to do in the downtown area. Overall, Charleston, is a can't miss city when exploring the south USA.