California has a lot to offer for both residents and tourists. California trips are always a great idea, whether you're looking to explore a new city or enjoy some of the state's natural beauty. From San Diego to Los Angeles and everything in between, there's something for everyone in California.
The state also has vast farmlands which grow fresh fruits and vegetables. While California is world-famous for its movie stars, beaches, theme parks, and beautiful people, it also has great places to take your annual family vacations (or even weekend getaways).
What vacation packages are good for California right now?
A good California vacation package includes accommodations, flights, and hotel packages to the desired destination and activities for families or small groups.
Several hotels offer great California vacation packages. For example, the Wyndham is located in Mission Bay, near Sea World and other local attractions. The hotel has a free shuttle service and great deals on California vacation packages.
California prices for food, attractions, and other activities vary significantly by city. However, most prices are reasonable when compared to other popular tourist destinations. So a dream vacation for two (with airfare and accommodations) can start at less than $1,000 per person. And a vacation package even includes a car rental! The price goes up, however, when you have tours.
If you're on your own, the flight price per person depends on which city you're flying from, however the hotel price per night can be as low as $100. (Save money and search under "lowest nightly price".) Keep in mind that hotel rates may vary, but the bottom line is that California is an excellent place to vacation on any budget.
San Diego, California Trips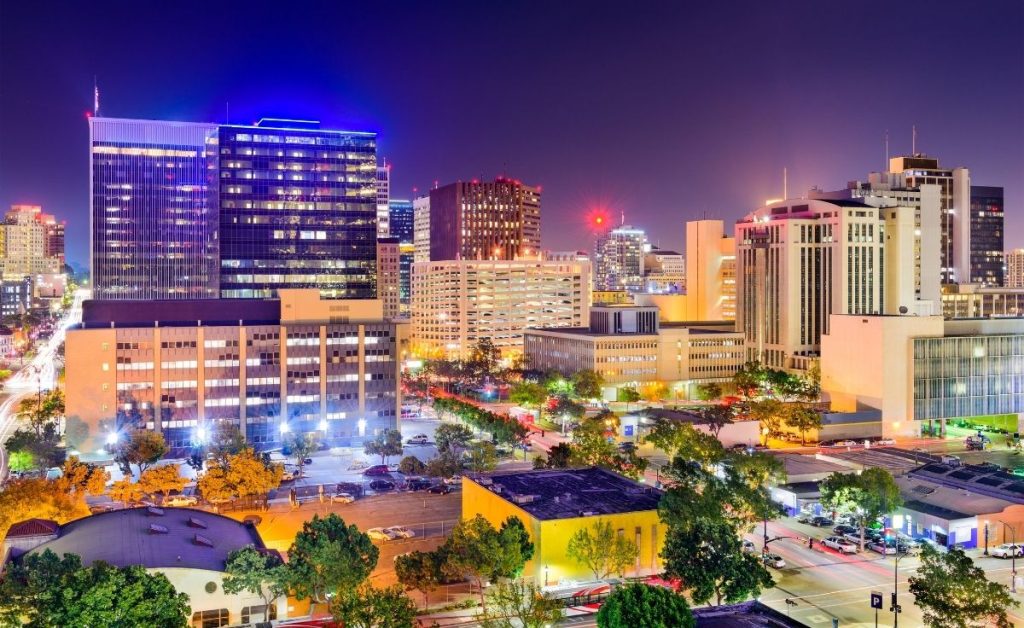 San Diego is the largest city in Southern California. It borders Mexico to the south, which gives you the option to explore some culture and history of the Mexican people.
San Diego has a vibrant city center area and unique attractions that include arts, crafts, as well as delicious cuisine, echoing its rich diversity. The bayfront is a fantastic place, especially during sunset; there are also great hiking trails along the cliffs overlooking the Pacific Ocean.
Flower Fields at Carlsbad Ranch
The Flower Fields at Carlsbad Ranch is a must-see during the springtime. The Flower Fields offer a picturesque landscape of colorful blooms.
Afterwards, try dining in Carmel by the Sea, a quaint town north of San Diego that is worth a visit. Artists will love this historic and whimsical city filled with white sandy beaches, high-end shopping, and dramatic coastal cliffs.
Legoland California
Legoland, a theme park in Carlsbad, is especially great for children. It is a smaller park in size, but it offers as much excitement as larger parks, at a fraction of the price. There's a water park on-site and plenty of LEGO-themed rides and attractions.
San Diego Zoo
The San Diego Zoo is world-famous and should be a definite stop on your trip. The zoo is massive, with over 4,000 animals from all over the world. The San Diego Safari Park is an excellent option to see more animals in a more open environment.
The park is home to over 1,500 animals and has a monorail and tram tour to get around. You can also pet and feed many of the animals there.
A California vacation is not complete without a trip to the San Diego Zoo!
Sea World
Sea World is a marine animal theme park where you can enjoy the scenic beauty of San Diego while watching attractions like Shamu show, Dolphin Discovery, and One Ocean.
Balboa Park
Balboa Park is a splendid place to spend an afternoon and features lovely gardens, the San Diego Museum of Art, and the Fleet Science Center.
If you're on the lookout for a place to get some shopping done, head to the Gaslamp Quarter, which is full of trendy shops and restaurants.
Gaslamp District
If you're in San Diego, you can't miss out on the city's infamous Gaslamp District. The area has undergone massive renovations to make the district what it is today. Now, it's one of the trendiest places Downtown where people go to eat, drink, and dance into the night at any one of its bars or music venues. There are also some great museums in San Diego like The Natural History Museum, Reuben H Fleet Science Center, and the California History Museum.
The USS Midway Museum and Surrounding Beaches
The USS Midway Museum is a decommissioned aircraft carrier turned into a museum. It's located in the downtown area of San Diego and is worth a visit if you're into military history or aviation.
The souvenir shops and specialty grocery stores in the area offer a chance for you to pick up some unique souvenirs and snacks.
Pacific Beach and Mission Beach
After the Midway, try walking to the nearby beaches! The scenery is beautiful and offers some great photo opportunities. Pacific Beach, Mission Beach, and La Jolla are great places to watch, sunbathe, and enjoy the ocean views.
Long Beach
RMS Queen Mary
Do you want something slightly different to do in California? I recommend visiting the RMS Queen Mary. This retired ocean liner is now a hotel, museum, and attraction in Long Beach, California.
The Queen Mary is located about 25 miles south of downtown Los Angeles.
Anaheim, Orange County
Another great place to visit near Hollywood is Anaheim. This city is home to the original Disneyland Park and Disney California Adventure Park, both of which are great places to stay with your family.
Disneyland
Disneyland Park is the original Disneyland Park founded by Walt Disney in 1955. The park is based on fairy tales, movies, and cartoons and features several different themed areas like Adventureland, Critter Country, Fantasyland, Frontierland, Main Street USA, and Tomorrowland.
Los Angeles, California Trips
After touring San Diego for a few days, you can catch a flight down to Los Angeles or continue your California road trip in your rental car. Los Angeles LAX International Airport has been the first stop to many, many amazing attractions and fabulous California Vacations!
Los Angeles is one of the most diverse cities in the world, and there's something The City of Angels is probably most known for its entertainment business which is why they have a lot of theme parks.
Every street in L.A. is an unique and unforgettable experience. Although its not known for its landmarks, the Hollywood Bowl, has been a renowned gathering spot for live music in Southern California since its inaugural year of 1922.
The beaches in Los Angeles are more popular since they are some of the best hangouts you can find, especially during sunset when everyone comes out to walk the pier or layout at their favorite Los Angeles beachfront restaurant.
The Los Angeles Hollywood Sign
Los Angeles, or the City of Angels, is the largest city in California and the second-largest in the United States. It's known for its sunny weather, growing industry, and world-famous Hollywood sign (which you can hike to the top of if it's not too soggy).
The Staples Center
Located in the business district with towering skyscrapers in downtown Los Angeles is The Staples Center. It is a sports and entertainment complex home to the Lakers, Clippers, Kings, and Sparks.
Beverly Hills and Hollywood
Beverly Hills and Hollywood are known for their high-end shops and celebrity residents. The largest municipal park in the U.S., Griffith Park is also an excellent place for hiking, horseback riding, and checking out the Los Angeles Zoo.
Los Angeles has endless beaches, outdoor adventures along its many hills, world-class cuisine and shopping, and some of the best theme parks in the country.
Los Angeles vacations must also include some of California's best attractions like Universal Studios Hollywood (great for roller coasters) in Universal City, Hollywood Walk of Fame, Venice Beach Boardwalk (it's popular with tourists and locals), Rodeo Drive (a famous street for shopping), Santa Monica Pier, and many more.
Santa Monica Pier
A historical landmark, Santa Monica Pier, is located in the city of Santa Monica. It's one of California's most popular tourist destinations and was once called "The People's Pier." The pier dates back to the early 1900s when it served as a railway pier.
Hollywood Walk of Fame
When you visit Hollywood, you can't miss the Hollywood Walk of Fame. This is a popular tourist destination and features more than 2,700 stars embedded in the sidewalks along Hollywood Boulevard and Vine Street.
Universal Studios Hollywood
Are you looking for a theme park to visit while in California? Universal Studios Hollywood in Los Angeles is always a fun time. This theme park is based on the movies and TV shows made by Universal Pictures, and it offers a great mix of rides, shows, and attractions.
Some of the popular rides at Universal Studios Hollywood include Revenge of the Mummy: The Ride, Jurassic Park River Adventure, The Simpsons Ride, Transformers: The Ride-3D, and Despicable Me Minion Mayhem.
In addition to the rides, Universal Studios Hollywood also offers several shows like The Blues Brothers show, Animal Actors on Location, and Waterworld: A Live Sea War Spectacular. This California vacation package will keep you on your toes!
Six Flags Magic Mountain
If you're looking for a theme park that's a little bit more thrilling, Six Flags Magic Mountain is the place to be. This amusement park is in Valencia, California, in Los Angeles.
Six Flags Magic Mountain is about 30 miles north of Los Angeles.
One of the most visited roller coasters at Six Flags Magic Mountain is the X2. It's a 4-D roller coaster that reaches up to 85 mph and features a vertical loop, a zero-g roll, and a corkscrew. Talk about a thrill!
Santa Barbara
Not too far from Los Angeles is Santa Barbara which is a great place to visit if you want to get away from the city. Santa Barbara is a charming town located on the Central Coast of California.
Some things to do in Santa Barbara include visiting the Santa Barbara Zoo, going on a wine tour, taking a stroll down State Street, and checking out the Spanish architecture.
Palm Springs
Palm Springs is an excellent option if you're looking for a desert escape. It's merely a 2-hour drive from Los Angeles, and you'll find plenty of resorts and golf courses to enjoy.
There is no better way to end your day than with a cocktail at the bar at The Palm Springs Aerial Tramway. The tram takes you up to the top of Mount San Jacinto, where you'll find a restaurant, bar, and observation deck.
Santa Cruz
If you're looking for a more laid-back beach town to visit, I'd recommend Santa Cruz. This town is popular with surfers and is home to incredible beaches and restaurants.
One of the most popular California vacation attractions in Santa Cruz is the Santa Cruz Beach Boardwalk. The boardwalk features an amusement park has a variety of rides, games, and restaurants.
Yosemite National Park
If you're looking for a more outdoorsy option, I'd recommend visiting Yosemite National Park. This park is located in the Sierra Nevada mountains and is home to some of the most beautiful scenery in the United States.
Yosemite National Park is a little over 300 miles, leaving you a ton to explore!
Some of the popular attractions in Yosemite National Park include Glacier Point, Half Dome, Tuolumne Meadows, Yosemite Falls, and Mariposa Grove.
Yosemite National Park is open year-round, but the best time to visit is typically from May to September.
San Francisco California Trips
Los Angeles' sister city to the north is San Francisco, or St. San Francisco CA as it is lovingly called by the locals. It is one of the most iconic cities in the world. It's known for its steep rolling hills which make up its famous neighborhoods like The Mission District, Pacific Heights, Haight-Ashbury, and North Beach.
To get the most out of your trip, try to catch an early flight so you'll have the whole day to explore. San Francisco is relatively compact and easy to walk around or take public transportation like the BART (Bay Area Rapid Transit).
San Francisco has such a rich history as well as arts and culture. There is tons of fantastic architecture throughout the city, like Victorian-style homes and modern high rises with plenty of shopping markets and art galleries worth checking out on your next visit.
Little Italy
Little Italy in North Beach is popular for famous pizza spots and Italian food — and it's just one of the many neighborhoods in San Francisco that you'll love to wander around!
The cable cars of San Francisco are a unique transportation system. A ride on the world's only mobile National Historic Landmark is worth taking if you want to spend an afternoon shopping at Union Square.
Union Square
Union Square is one of San Francisco's main attractions in Downtown San Francisco. The square is bordered by Geary, Post, and Powell streets and is a great place to start your day. You'll find numerous high-end stores.
Golden Gate Bridge
If you're feeling adventurous, you can walk or bike across the Golden Gate Bridge, one of the world's most famous suspension bridges. The views from the bridge are unique, and it's a must-do if you're in San Francisco.
Alcatraz
For an extra thrill, don't forget to visit Alcatraz, the infamous former prison located in San Francisco Bay. It's only a short ferry ride away, and I recommend purchasing the tickets in advance because they often sell out.
The island is now a museum that tells the story of its inmates, guards, and staff. It's eerie and fascinating to see the cells and learn about the prisoners' lives.
Fisherman's Wharf
Another popular spot in San Francisco is the Fisherman's Wharf, home to various seafood restaurants and souvenir shops.
You can watch the boats as they come in and out of the harbor, and there are often street performers nearby. It's a fun place to wander around, and people watch.
Visit California for a trip you'll never forget. California trips offer something for everyone, whether you're looking for a city adventure in San Diego or Los Angeles, a romantic getaway in San Francisco, or a family-friendly vacation in Palm Springs. No matter what you choose, California vacations are sure to be memorable!