The best way to have the most fun in LaGrange Georgia is to stay downtown and be able to walk everywhere. LaGrange, Georgia, is a fantastic place to visit. It's a small town in western Georgia with plenty of history and charm. Halfway between Atlanta and Chattanooga, LaGrange is sometimes called the "City of Elms and Roses," the historic homes and neighborhoods are filled with both–so, take time to smell those roses! There is a Downtown Walking Tour with 26 stops–I told you it had plenty of history!
The people are friendly and laid-back, but they know how to have fun! LaGrange is a park-it-and-forget-it town. So, stay at the Lafayette Square Marriott, park your car free, and safely walk everywhere.
Some Facts About LaGrange
If you're unfamiliar with LaGrange, it's a small town in Troup County, Georgia, near I-85. LaGrange is the perfect place to stop for lunch on your way anywhere. LaGrange has so many exciting places to eat and shop it can be challenging to decide where to go first.
The town proudly boasts museums, historical sites, and a vibrant downtown. LaGrange has a population of 31,239 (at the 2020 census). The city is home to LaGrange College (a private liberal arts college) and to many Georgia Southern University (GSU) students. Oh, and restaurants, LOTS of restaurants! I promise LaGrange has something for everyone!
My travel buddy, Audrey, and I recently spent a long weekend in LaGrange. Here are some of our favorite discoveries!
Best Ways to Have the Most Fun in LaGrange Georgia Includes Where to Eat
Dining options in LaGrange are many and varied. It is an exciting city, and some of the best places to eat are in easy access in this county seat of Troup County.
Café Brûlée and Dessert Bar
Café Brûlée and Dessert Bar quickly became one of our favorite spots. This small local bakery has fresh coffee, pastries, and desserts any day and until 9 pm on weekend nights! And, you can even pick up something to go if you feel like cooking at home but don't want to worry about what ingredients to buy. I would love one more bite of Café Brûlée's Orange Almond Danish!
Charlie Joseph's
Charlie Joseph's is one family making hot dogs for 102 years. Yes, that makes Charlie Joseph's one of the oldest hot dog stands in the United States. Why have they lasted so long? They're still making delicious dogs! You can get them grilled or boiled, with chili or mustard, or both! And fresh-baked cookies! Insider Tip: Order an ice cream sandwich. They'll take two cookies mentioned earlier and put a chunk of ice cream between them. YUM!
Crave Cookie Company
Crave Cookie Company, a woman-owned bakery on Lafayette Square, is appropriately named. I say that cookies call my name, and I only eat them to shut them up. But that's a lie. I crave cookies, and I'm still craving those tasty treats! Crave Cookie is a gourmet bakery with delectable Lemon Delights that melt in your mouth. Also in the case are snickerdoodles and sugar cookies. And a Salted Peanut Butter, Pretzel, and Chocolate Chip cookie that is, as they say, smack your Mama good. I mean, they had me at sweet and salty! Those Molasses Spice Crinkles are to-die-for good. Then there are S'more Cookies. Just what I needed–another addiction!
Oh, and they didn't forget Fido… he'll be begging for the Peanut Butter Bacon Dog Treats! The shop was established in 2018 in Tami Weissert's home kitchen. Tami is a cookie-making whirlwind. But, thankfully, her hubby is in the kitchen to help.
Gus's Grill
Gus's Grill is family-owned. Gus's has been around since 1949, serving up breakfast and lunch every day except Monday. Stick-to-your-ribs gravy and biscuits, eggs with bacon and pancakes, and daily breakfast and lunch specials keep locals and visitors coming back for hometown food to start the day off right.
Mare Sol
Mare Sol has been filling LaGrange tummies for over a decade. We visited on the night of the Mardi Gras parade. The Condon Bleu-trained chef created a special menu that included NOLA (New Orleans, Louisiana) Fried Oysters with Cajun Sauce and Cajun Crawfish Alfredo. Our excellent waitress was from Myrtle Beach and had worked as a waitress there, so we enjoyed comparing notes! Mare Sol has plenty of locally-sourced items on their regular menu, over a dozen craft beers, 100 wines to choose from, and a Bacon Jam Smash Burger with my name on it, just waiting for my next visit.
Taste of Lemon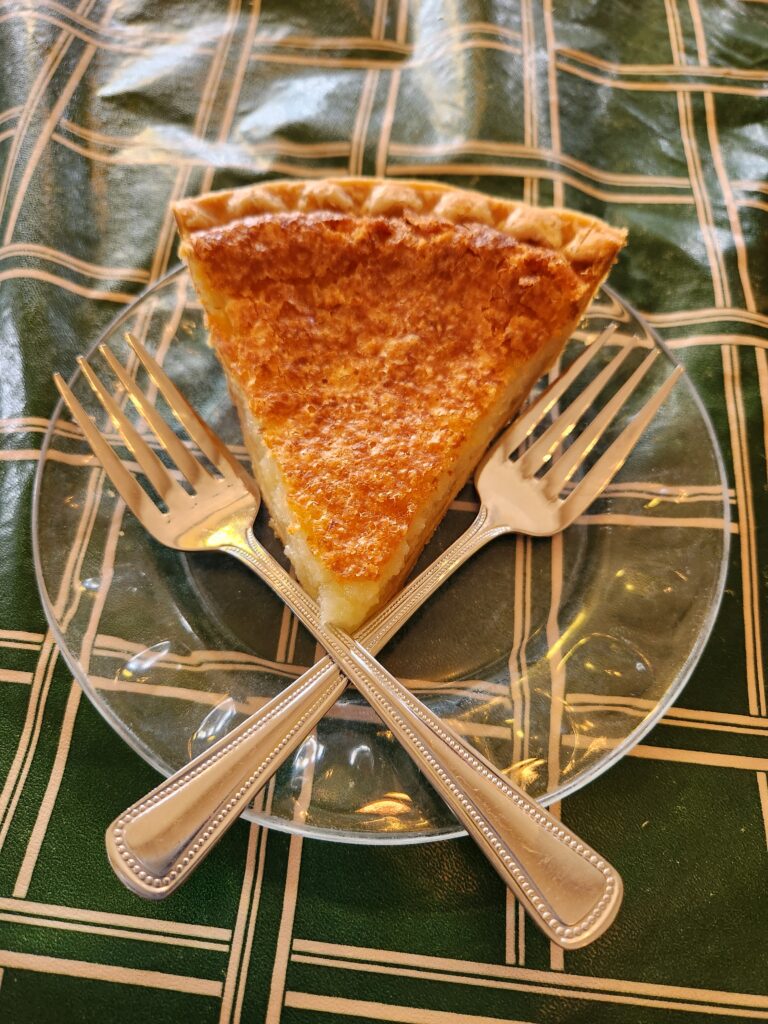 More than once, I've been accused of worshiping food! I don't exactly agree with this, but Taste of Lemon is in a sanctuary! The restaurant feeds folks from 11-2 during the week in a renovated church. Famous for their poppy seed chicken (that I didn't get to taste!), they sold out early the day we went. They claim to be LaGrange's best-kept secret—but I think the word is out! The day we went, there were seven entrées on the "meat-and-two" menu, and we had only two left to choose from at one o'clock. And there was only one empty parking spot in the lot.
Insider tip: Beat the downtown lunch crowd and eat before noon! Oh…and order the buttermilk pie. Trust me!
Venucci
Venucci serves authentic Italian cuisine like spaghetti & meatballs, chicken parmesan, and seafood linguine! Our server started us off with fresh bread and olive oil with herbs—a must at Venucci. Along with the wine, I could make a meal out of just that! Audrey and I shared an Artichoke Franchaise appetizer, lightly battered artichokes sautéed in lemon butter and wine sauce. Then we moved on to a delicious Pan Fried Grouper with shrimp and scallops over angel hair pasta.
Karvelas Pizza
Did someone say, "pizza"?? Yum! Sign me up!! Unfortunately, we picked a busy night to eat at Karvelas Pizza and had a wait. But it was sooooo worth it! And their wings? All I'm saying about that is place that order!
Two other local hot spots are The Cart Barn Grill (closed during my visit) and Beacon Brewing Co. (sadly hit by a tornado during our time in LaGrange—happily, the sounds did not even awaken us!) The Cart Barn has been around for over 30 years, serving pulled pork, burgers, and fried green tomatoes from a golf course cart barn. Beacon Brewing is known for its standard pub fare, sammies, and bowls. And, of course, its beer selections! Plus live music every Sunday afternoon.
So you know I'll have to return! Too many things to explore and too little time!
LaGrange Georgia's Amazing Places to Drink
The Medicine Cabinet Soda Shoppe is well-known for having the best ice cream in town. Stop in for a milkshake or malt at the old-fashioned soda counter. Or does a float "float your boat?" No? Then the sundae will tickle your taste buds for sure. Insider Tip: Don't go in too early; the soda fountain doesn't open as early as the pharmacy.
Nutwood Winery is located in one of the oldest wine regions in this part of the world. Visit Nutwood for tastings, appetizers, soup and quiche, desserts, and live music. You will have a beautiful view of the 1833 historic manor and 200-year-old pecan tree, giving Nutwood its name. You'll probably meet Jolene, the winery dog. She likes her ear scratched. And, be sure to try the wine slushies, especially if they make the Jolene slushy the night you visit.
Wild Leap Brew Co. is within walking distance of Lafayette Square. So you don't have to drink and drive. You can walk home! Wild Leap Brew Company creates over a dozen beers, vodka, premium cocktails, and wine-based cocktails. And, they throw a lively Mardi Gras party! As they say, "If you don't do wild things when you're young, you'll have nothing to smile about when you're old." *smile* And, the secret is out about Wild Leap. USA Today named Wild Leap America's Best New Brewery in 2019, and Beer Connoisseur magazine named them the 2021 Brewery of the Year.
Unique Places to Shop
Unique shops and galleries fill LaGrange. Some of the places I found that are worth visiting in this popular destination LaGrange were:
Best Ways to Have the Most Fun Exploring and Learning in LaGrange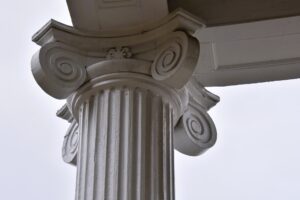 If you do it right, learning is fun! When you can walk through the rooms of history, it brings history alive more than words on a page ever can. Step back into history in LaGrange.
Bellevue
Bellevue is a historic antebellum home in LaGrange. Statesman Benjamin Harvey Hill built the Greek Revival Bellevue between 1852 and 1855. It was a gift for his wife, Caroline. The home holds massive cornices over windows and doors, intricately designed lighting fixtures, and marble mantels.
In 1942, The Fuller Callaway Foundation presented the house to the LaGrange Woman's Club. Now, Bellevue is lovingly cared for and filled with original and period pieces. It is a National Historic Landmark and should be at the top of your must-see list. Bellevue is a great place to learn about local history.
Hills and Dales Estate
Another must-see is the gorgeous Hills & Dales Estate ! But you need to allow at least half a day, and more if you can; believe me, this is not "just a house tour." Hills & Dales is a magnificent Italian-style villa on a hilltop, overlooking beautiful gardens and terraced landscapes to explore. Three generations of the Callaway family have tended the estate and gardens. Throughout the house, you will see memorabilia and family photographs. Our guide, Rose, knew the story of every table, lamp, and portrait. Her love for the place showed quite clearly.
The grounds have been continuously cultivated for over 180 years. Hills & Dales is one of the most widely acclaimed gardens in the United States. The garden holds a concrete bench with a true love connection. As a young lady, Alice Hand was invited to a party with an orchestra in the garden. Alice was sitting on this curved bench in the cool of the evening when a handsome young man approached. She was smitten with Fuller Callaway (Junior), and within the year, they were married. The bench in this small garden remained her favorite place to sit for the rest of her life.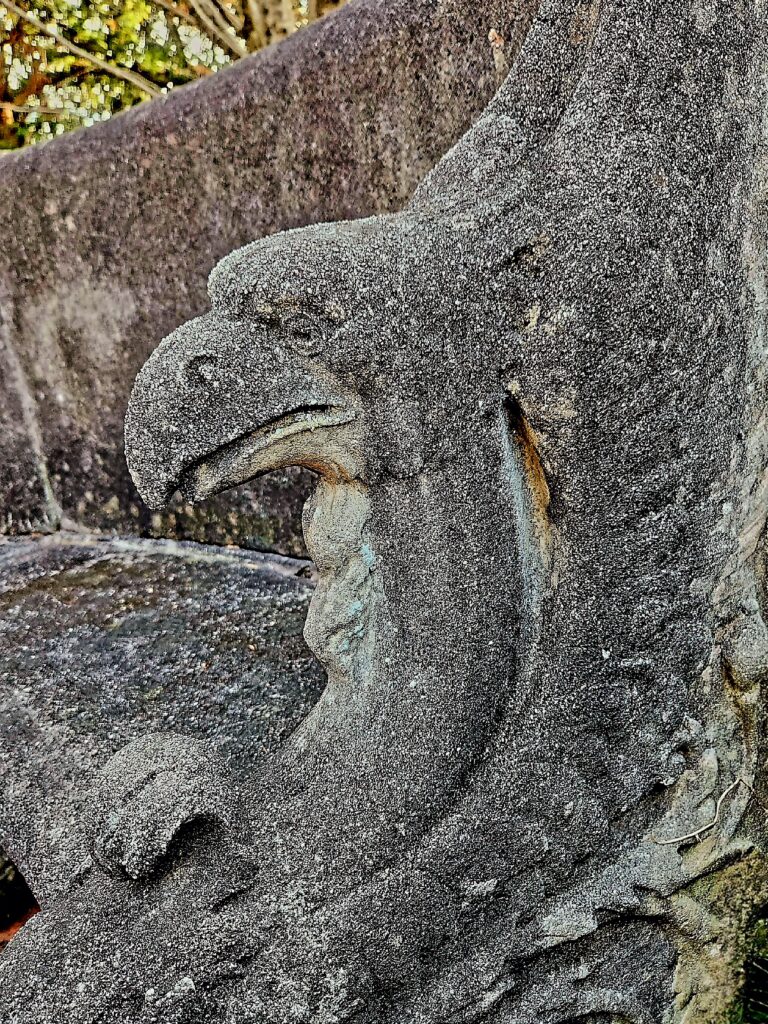 Living History in LaGrange Museums
The LaGrange Art Museum began life as the Troup County jail. The Victorian beauty was donated to the Chattahoochee Valley Art Association (by the Callaway Foundation). The focus on local artists took root in 1963. Nationally-known hometown boy Lamar Dodd donated a painting to the newly created LaGrange Art Museum. This year they celebrate 60 years of providing education and culture to area children and adults. The current exhibit includes several pieces by Andy Warhol.
And, right next door is the education center for the Art Museum. They offer classes and lectures. I met local artist, Charlie Warner, who told his story of creating a painting a day for 70 days–just like Van Gogh did during the last 70 days of his life! Charlie paints local scenes, and paints from the heart.
Legacy Museum on Main has free entry for the public, thanks to the Callaway Foundation. Yes, you've heard that name several times now. The textile magnate Fuller E. Callaway and his family have been strong community supporters. They believe in "giving back" to their community. The Legacy Museum is a part of the Troup County Archives; the museum has an exhibit of the all-female Nancy Harts Militia and the oldest cotton bale in the world. Also, they have a replica of a covered bridge. The Legacy is located downtown, and there is an app for a walking tour of LaGrange.
One of the Best Religious Museums is Located LaGrange
The Biblical History Center is a short drive from downtown. USA Today readers named the Biblical History Center one of the ten best religious museums. The center offers hand-on experiences like digs and indoor and outdoor exhibits depicting the ancient world during the Biblical era and artifacts (some on loan from international museums). In addition, there are seasonal events, like the current Empty Tomb Tour.
Best Things to Do to Have Fun Outdoors
Lafayette Square is peaceful, despite being in the center of town. In addition, the fountain drowns out the traffic noise, and the walkways and bordering gardens are lovely.
Sweetland Amphitheatre is yet another surprise in LaGrange. Just when you've seen the town and all it offers, you discover a 2,500-seat amphitheater. Performers such as comedian Jeff Foxworthy, The Commodores, Tracy Byrd, and Jo Dee Messina are on the 2023 schedule. Check the list and see which date you need to be in LaGrange!
Troup County maintains numerous public parks with walking trails, nature trails, playgrounds, tennis courts, and various sporting event fields for outdoor activities. These are conveniently located throughout neighborhoods. I visited Pyne Road Park and Southbend Park for Pups and Wheels (with a fenced dog park, a skate park, a gazebo, swings, and picnic tables).
The Thread is a 13-mile network of multi-use greenways. The trails weave like a thread through cloth, tying together the city neighborhoods, parks, schools, and businesses. Eventually, the network will consist of 29 miles.
For a more adventurous day in the great outdoors, visit the drive-thru animal park, Wild Animal Safari, in nearby Pine Mountain. The park is 300 acres and has a central lake. Plus, there are walkabout encounters and enclosed exhibits. Arrive early; animals are active in the morning as they wake up and eat, and they are more likely to nap during the heat of the day.
Insider Tip:
When they offer to rent you a park safari vehicle? Say, "Yes, PLEASE!!" The vehicles are encased in bars, so you can have the windows down and feed the animals without them being practically able to climb inside! And believe me when I say they will try!!
Timing is Everything
If you have good timing (like me!), you can enjoy Mardi Gras in LaGrange . Restaurants have special menus, live music, parties, and a parade. I caught lots of beads, cheered for the floats, had a beer with the Grinch, and met local celebrity April Ross, owner of BeeTV. April is a vibrant personality, always dressed in black and yellow, and flits around town like the bee she loves. You may spot April's dazzling smile anywhere! She doesn't miss much!
Where to Stay
The best way to have fun in LaGrange Georgia is to stay in town and be able to walk everywhere. The streets are one-way, well-lit, and filled with friendly locals. Courtyard Marriott on Lafayette Square allows you to park in a covered garage and walk where you want.
If a Bed and Breakfast is more your style, and you don't mind driving to town, consider Hogan House at Rose Hill. The house was built in 1895, and the photos are stunning. Next trip!!
What is Close By?
There are lots of fun side trips near LaGrange. So, consider making it your home base and venturing out to these nearby destinations:
Places to visit (or to visit from) less than 3 hours from LaGrange
Atlanta, Buford, Braselton, Columbus, Fayetteville, Madison, Pine Mountain, Zebulon (Georgia)
Birmingham, Camp Hill, Daviston, Ladonia, Montgomery, Ranburne (Alabama)
Chattanooga (Tennessee)
Best Ways to Have the Most Fun
What could be more fun than a Farmer's Market? The LaGrange Farmer's Market is open Saturday mornings from 8:30 am until noon (May through October). And, admission is free!
Stop in at the Visit LaGrange Visitors Center for even more suggestions!
Ready to plan your next trip?
For more exciting vacations, try these locations!! You could travel to Italy, visit Funky Floyd, or cruise off to Alaska!