Get Your Fright On!
You have to try Halloween candy wine pairings. Wait. WHAT??!! Halloween candy and WINE?? Yep, that's what I said! It will rock your world! Halloween was fantastic as a kid, but now I enjoy the adult version of Hocus Pocus Fright Night even more!
Halloween night arrives at that time of year when the air is filled with the odor of dry leaves. My favorite Halloween traditions were to walk with my trick-or-treating friends under a full moon while shuffling our feet in the leaves and digging out a favorite candy to munch as we walked between houses. In an instant, the sound of crunching leaves underfoot can immediately transport me back to those fright nights as we begged door-to-door for classic Halloween candies.
Suppose you are smuggling the kids' Halloween candy or stocking up for an adult Halloween party. In that case, I have some recommendations for that glass of wine. Halloween candy wine pairings just add to the allure! These tips are gleaned from Vivino and other spots on the Internet, as well as personal experience—yes, I admit it! I'm a candy junky wino!
And I know you are, too. Confess. You've had wine with dessert, and it was good. Also, I'm sure you've had a magical wine shop tasting where they gave you a piece of chocolate before trying that red wine. Remember, there isn't much difference between that and Halloween candy pairings! Besides, it's a lot of fun tasting your way in search of the right wine for a perfect pairing with your favorite Halloween candy!
Check out Vivino's complete list, which includes the reasons behind each pairing! Coastal Living adds even more pairings to their list, including one of my personal favorites, Butterfingers! (However, I won't be handing those out at the door!)
The Short List of Halloween Candy Wine Pairings
I'll list some of the top candies in alphabetic order to make it easy for you. Just trying to be helpful over here!
Almond Joy + Sherry (now we're talking!)
Butterfinger + Chardonnay
Candy Corn + Prosecco (also delightful with a white blend)
Hershey Bars and Hershey's Kisses + Zin (you've already tried this at tastings, right?)
Kit Kat + Pinot Noir
Nerds + Riesling
Pink Starburst + Moscato
Reese's Peanut Butter Cups + Lambrusco
Reese's Peanut Butter Cups + Gamay
Snickers + Syrah
Starburst + Rosé
Swedish Fish + Lambrusco
Whoppers + Cabernet
Whoppers + Pinot Noir
Reese's (who doesn't love that creamy peanut butter and chocolate combination) is so good it gets not one but two Halloween candy wine pairings. So do Whoppers, but I'm at a loss for an explanation on how that one rates twice (unless you spring for the dark chocolate variety sold in specialty stores—then you really have something!) Granted, I have combined two different lists, but still…Whoppers??
Halloween Candy Wine Pairings – Witching Hour
No, your tasting doesn't come filled with dry ice, but Christa and Chad at Golden Road Vineyard sure know how to cast a spell! How fun is this!
Almond Joy
Oh my goodness! The perfect wine to pair with milk chocolate, sweet gooey coconut, and almonds is Sherry—it's not just for cooking anymore; and, as an added bonus? Not only are medium sweet sherries one of the wine world's best values, but an open bottle can last up to two years in your fridge (that is, if you run out of Almond Joys!)
Halloween Candy Wine Pairings – When It Comes to Candy Corn
And as for Candy Corn? You'll be glad to know it pairs perfectly with, well…everything! Red, white, or pink—candy corn worked with all of it. Candy corn is sweet, but it is also a little buttery, with notes of vanilla. The wine cuts some of that; having something with some crispness and high acidity makes it very pleasant. A bubbly white or white blend also works especially well. Other delicious pairings are rich whites like a buttery Chardonnay, Viognier, and sparkling whites like Prosecco or Cava.
Chardonnay is also a complimentary pairing for popcorn, especially when you find the Halloween version of popcorn drizzled with melted candy corn. Think about it, salty and sweet, what more could you want from Halloween candy wine pairings? But…full disclosure here…I'm hording my bottle of Haze Gray Chardonnay for use in Parmesan Risotto with Cajun Shrimp, a recipe from that vineyard's owner!
Hershey's Milk Chocolate – for the Ultimate Halloween Candy Wine Pairings
Remember when you were a kid and found the houses handing out full-size Hershey bars? Pair those babies with Syrah or Merlot. It needs a wine that can cut through the cocoa but still enhance it with hints of black pepper and black fruit. A sweet white is another excellent choice, so try a glass of Riesling or Gewürztraminer.
I make a milk chocolate bark with pepitas and cranrasins; that is my favorite treat to serve with Merlot! However, that is my Christmas present for lots of my friends, so I can't share the recipe quite yet!
Kit Kat
Variations of Pinot Noir can have a red fruit quality. This variation can make the milk chocolate and wafer combo taste like a raspberry dipped in chocolate—yum! While terroir-driven Pinot Noirs from Sonoma or Burgundy bring out earthiness and tannins, a mild chocolate can mellow the tannin. And, those earthy flavors create a mushroom-flavored effect that adds interest.
A sparkling wine pairs nicely here, too, so open that bottle of Champagne, Cava, or Prosecco. And I know you're already singing in your head, "Break me off a piece of that Kit Kat bar." So go ahead and admit it—I'll wait!
M&Ms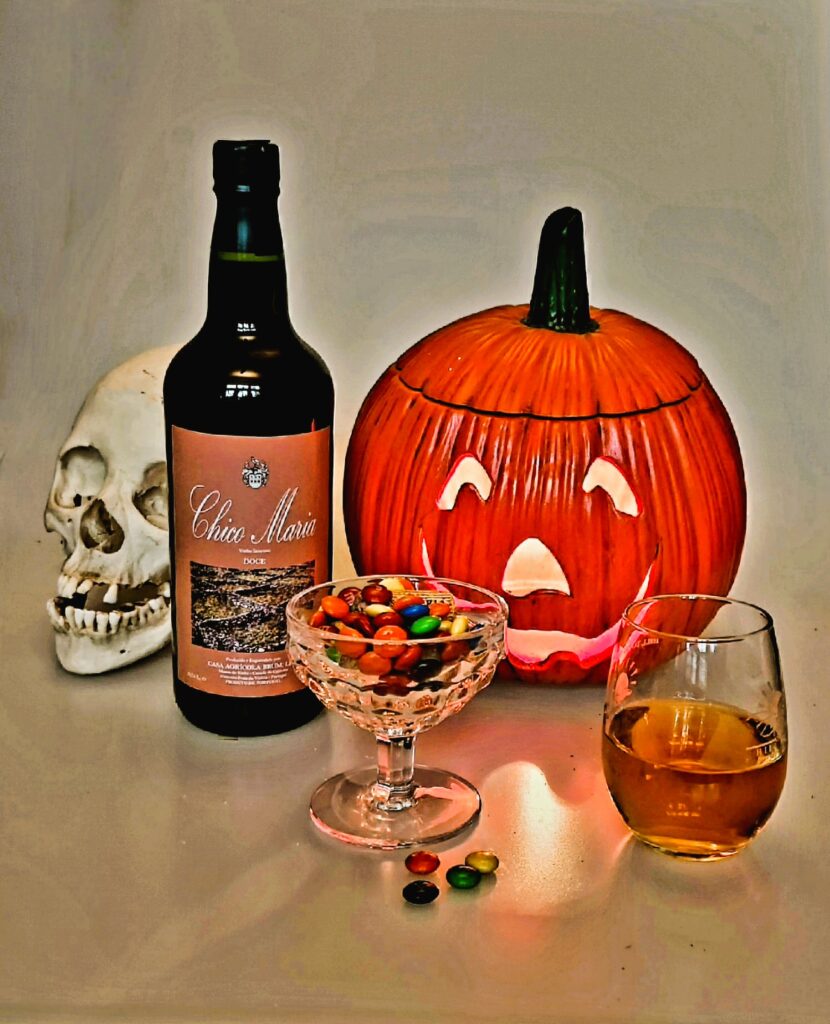 Karen MacNeil, the author of The Wine Bible, chose port for a delicious pairing, stating, "The dark, sweet, black fig and dried fruit character of Port is a great counterpoint to the milk chocolate in M&Ms. The hard crunch of the candy shell is perfect with the soft pillow of lavishly textured Port." Okay, this gets my vote. I mean, she had me at "port!" You may not know that port is a type of wine that must be made in Portugal to carry the name "port." Fortunately, I have an excellent port I lugged back from Portugal's lovely Azores Islands last month. I'll soon find out if Karen is right!
Mounds
Mounds are that delicious treat of shredded, sweetened coconut covered in dark chocolate. It pairs with sparkling wines or with dessert wines. Think Cava, Prosecco, or Champagne; pour a glass of ice wine, an Amontillado Sherry, or Port. Pairing with a Tawney or Ruby Port is equally tasty.
Reese's
Gamay is the grape used to make Beaujolais wine. It pairs with peanut butter and chocolate because of carbonic maceration, a unique fermentation process. Grapes are oxygen-deprived and burst from the inside rather than being mashed, imparting a wild-cherry jam, banana, and even bubble gum aroma. How perfect is that? Pairing perfectly with peanut butter and chocolate, think PB&J! And of course, there is Lambrusco—a little sweet, a little bubbly—seriously, what more could you want? Or, you can try a light red or a bold red like Cabernet Sauvignon, Malbec, or Syrah. The candy's sweetness can stand up to either style of wine.
Witching Hour (how apropos is that!) Red Blend is a blend of my favorite wines: Cabernet Sauvignon, Cabernet Franc, Malbec, Merlot, and Petit Verdot. The combination creates a wine that is a little bit medium and a little bit bold, making this special wine a clear winner to pair with your Halloween favorite. Dan the Man, my wine host at Total Wine & More, sells more Witching Hour than anyone would believe. When you taste it, you'll understand why! And, Witching Hour makes a Sweet Red, a Primitivo, which is another name for Zinfandel. It is a big, jammy, wine with a sweet finish, also falling into the medium red category.
Skittles
A lovely New Zealand Sauvignon Blanc will bring a pleasant balance. The tropical fruit notes from the Skittles and wine pair well. Still, plenty of citric acid from both also gives a refreshing boost. Try either dry whites or sweet whites as a foil for the citrusy candies. Remember, you're looking for something sweeter than they are. Pour a dry Albariño, sweet Riesling, or maybe a glass of Gewürztraminer—you don't have to wait for Thanksgiving!
Snickers
The combination of peanuts, caramel, and nougat begs for a wine with depth to not be overpowered. In fact the tannin and fruit in Cabernet Sauvignon will hold its own when paired with Snickers. Other medium reds pair with this combination candy bar. Some excellent choices include Tempranillo, Sangiovese, Grenache, and Merlot. Those favorite bite-sized chocolate candies are ideal for pairings, providing just a bite or two of chocolate goodness. YUM!
Starburst
Starburst pairs with Moscato d'Asti. In fact, Sommelier Laura Burgess said this pairing will become an all-time best pairing! Seriously, I couldn't make this up! I do have a soft spot for Moscato d'Asti. It is one of those wines that, after one sniff, makes me lean my head back, close my eyes, smile, and sigh. The fragrance goes to my head! A Rosé also pairs well with Starbursts, as do light reds like Gamay or Pinot Noir.
In case you didn't know, Starburst released a limited edition "Pink Ones Only" offering, so you can stick with pink because the wild honey and lively pink strawberry acidity of the wine dovetail marvelously with the pink candy!
Halloween Candy Wine Pairings with Other Goulish Treats
Tootsie Rolls? Of course, you can just reach right for the dessert wines to find the perfect match! An off-dry Riesling will be just plain tasty with kettle corn. And, if caramel corn is your jam, then a Vidal Ice Wine will put a smile on your ghostly face.
Butterfingers pair nicely with Chardonnay or rich white wine such as Roussanne or Viognier if they make it home from the store. Or you can follow me and jump the line, going straight for a dessert wine. *smile*
A Twix is crying out for a bold red or a dessert wine. And that Heath bar (another of my favorites) is an invitation to pop open a dessert wine.
Desserts, and sweets in general, are tricky wine pairing partners. But use this as a rule of thumb: the wine needs to be sweeter than the food to avoid the perception of bitterness or, even worse, acidity. In an article about popcorn pairings, Wine Enthusiast says a sip of chilled bold Chardonnay after a mouthful of warm buttered popcorn will land you on cloud nine. I think they're onto something!
Unsure of which Halloween candy is "you"? Take advantage of the November half-off candy sales and try your own pairings.
Ready For Your Next Wine Adventure?
For more exciting vacations, try these locations!! You could travel to Georgetown, try Chocolate Tastings in Tofino, on beautiful Vancouver Island, or follow my Wine & 'Shine Trail through North Carolina's Yadkin Valley!