St. Augustine downtown historic attractions provide visitors an opportunity to experience a portion of the city's rich history, which was established by Spanish admiral Pedro Menéndez de Avilés in 1565 – making it the oldest continually inhabited city in the US.
Founded by a Spanish admiral, the colony of St. Augustine is the oldest of the Castillo de San Marcos forts, the first European settlement in Florida, and one of the oldest permanent European settlements in the continental United States. St. Augustine is the only city in the United States that retains its historical city walls, and it consists of four National Historic Landmark Districts.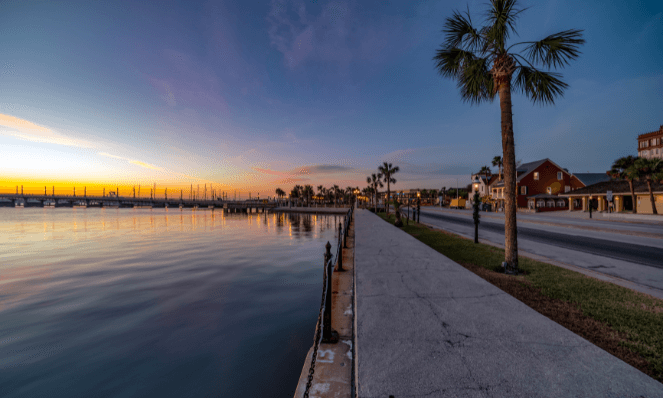 With a history dating back more than a few hundred years, St. Augustine, Florida's historic downtown gives a window into the city's colorful past.
"St. Augustine things to do" – is this also something you'd usually search for either when planning a trip there or as soon as you get to your hotel in St. Augustine? Can't blame you, I almost always do it too. This guide will help you discover St. Augustine's historic gems, so you can make sure not to miss out on any and fill up your itinerary with something memorable.
Historic Downtown
As the nation's oldest city, St. Augustine has many buildings dating back to 1700 and some streets that are even as old as the city itself. In the heart of the city, you will find the historic downtown that can easily be walked on foot everywhere – make sure to bring some comfy shoes with you!
Imagine yourself strolling down the Matanzas River during a fiery orange-red sunset, taking in the bayfront and breathtaking views of the bay and the Castillo de San Marcos.
An enticing stroll down the Matanzas River, from the Castillo de San Marcos to the old 16th-century Jesuit monastery that currently serves as the Florida National Guard headquarters, may be enjoyed from downtown's gorgeous bayfront and stunning views of Matanzas Bay.
Flagler College provides public tours of the historic Ponce de Leon Hotel twice daily at 10:00 a.m. and 2:00 p.m. Admire this historic site's European Renaissance architecture and soak in this piece of history built by Henry Flagler in 1887. His vision of St. Augustine as an American Riviera was a driving force behind Flagler College's rich aesthetic – a must for anyone visiting St. Augustine!
While strolling around the courtyard, you'll see a variety of flowers and scenery that have been meticulously chosen. Next, you will enter the lobby, greeted by eight oak hand-carved women, all identical but for minor variances, supporting a 68-foot domed ceiling. Are you able to spot the differences?
Lastly, take a look at the dining room, which is surrounded by 70 Louis Comfort Tiffany Stained Glass windows, as well as stunning hand-painted artwork on the walls and ceiling. Gaze at the handmade Austrian crystal chandeliers and immerse yourself in the grandeur of the clock that includes the biggest piece of intact white onyx in the western hemisphere within the Flagler room. This room used to be the Women's Grand Parlor and still houses the original Flagler family furnishings, making you feel like you've traveled back in time.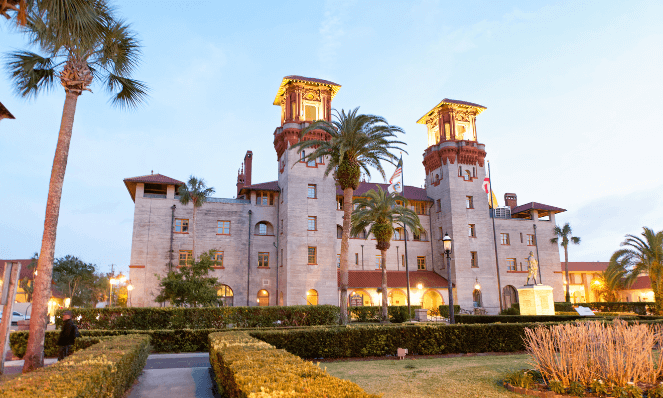 In addition to being a visionary and entrepreneur, Henry Flagler constructed many remarkable hotels in St. Augustine, one of which is the Alcazar hotel, which is also situated in the heart of St. Augustine. Another stunning landmark that has been converted into a museum is bordered by historic artwork and architecture – immerse yourself in art, history, design, and architecture.
Who said museums are boring? If you think so, think again! This museum is interactive and immersive, which means it's more than just looking at art.
Find out what it was like to be a guest at this opulent Gilded Age hotel and Henry Flagler's role in the estate's history. If you'd rather be engulfed in nature, consider the museum's yoga morning flow in the Radzinski Family Garden – namasté while taking in the rich history around you. You may also participate in their art workshop, which focuses on the finishing details of a picture while painting with experts together, for those who like the hands-on approach.
Visitors to this hidden gem will get to see hundreds of years of colonial Spanish and British history in action on two acres. Explore the history of St. Augustine's, beginning with a port, working yourself through the dozen of restaurants, buildings, and streets. Then ending with you climbing a 17th-century replica watchtower. Finish your tour at either the Bull and Crown or the Taberna Del Caballo, which are both 18th-century-style restaurants – stay for a while in the 18th century and explore the historic downtown of St. Augustine.
Within the historic downtown that encompasses the colonial quarter, you will find many tours, historic restaurants, and a detailed history of the city – a must! Buy your tour tickets at 43 St. George Street for the main colonial quarter tour and see how they used to blacksmith their tools, watch live 17th-century Musket demonstrations of showing off their drills and maintaining guns and weapons, and end off with the watchtower replica overlooking downtown and the Castillo de San Marcos.
Tip: Make sure to check out their free local concerts showcasing local talent!
With the erection of St. Augustine, you get to experience where it all started – right when you step foot into Castillo de San Marcos. As the oldest masonry fortification, you get to wander through over 450 years old history.
Best part? Take advantage of their virtual tour where you can learn more about their exhibits without having to stroll with a group or wait in line – all from the comfort of your phone. Want to make some memories with historical figures? The park rangers and volunteers would happily pose for photographs with you in their costumes, just ask nicely!
Now, you may consider just taking the virtual tour instead of going there in person – but reconsider. Here's why you shouldn't miss out on this experience:
At the heart of this fort lies a clash of cultures: the Spanish, who built it to defend their settlement from pirates, American Indian tribes, and other external forces of empirical powers – without ever losing.
Without ever losing the fort – Castillo de San Marcos, the oldest masonry fortification in the United States, is both aesthetically spectacular and culturally important since its stone walls are a tribute to the persistence of this nation's Latino history and the other ethnic groups that have played a part in its tale.
As it signifies the Latin influence – observe the significant construction that provides strategic defense against outside forces, built by Juan Ponce de León, who built it in 1513 and declared North America a part of Spain. However, shortly after, King Phillip II of Spain chose to hold off on expanding Spain's territory into Florida soon afterward. Not long after the French attempted to take over the territory by establishing Fort Caroline at the St. John's river, King Philip II commanded to have them removed from the region and recapture Florida for Spain.
The fort hasn't always looked this way – To resist cannon fire, a bastion system was devised in Italy in the 17th century, and only then was the fort extended to appear like a medieval castle or Castillo. While you're there, try to identify the original fort and the newly built bastion – can you spot the differences?
Curious to learn more about this one-of-a-kind national site? Make sure to visit and get your virtual tour to get all the facts without standing in line.
Tip: Go early and as soon as the fort opens. With COVID, they started to limit the number of people who could enter, resulting in huge queues and wait times of up to two hours — while you're cooking in the sun.
Ancient City Baptist Church
Surprise surprise, it was also built in 1894 by Henry Flagler and is located at 27 Sevilla St. in St. Augustine. Henry offered the church, which merely consisted of 18 members, a deal in which they would get free land to construct their church on, with the condition that it would be finished within two years and that they would never place a bell tower on it because of the dangers it posed to the congregation. The Romanesque Revival-style church was finished in April 1895 and has a cone-shaped turret atop the tower, showcasing its proud, and majestic beauty.
Enjoy this beautiful sanctuary as you walk among the ghosts of the past and the stained window glass.
The Plaza de la Constitution
There is just one monument like it in the world, and that is the Plaza de la Constitución. To honor the Constitution of 1812, the plaza was erected in 1573 by the Spanish Royal Ordinances and named after the Spanish constitution through the obelisk. To encourage harmony, it was arranged in a rectangular shape with equal lengths of 1 – 1/2 times the width, according to the compass points.
A public market that dates back to the 15th century, where fish, vegetables, and meat were exchanged, is only a few feet away from the site. Now you get to enjoy local vendors showcasing their products. There is also a memorial to World War II, the Korean War, the Vietnam War called American Revolution Prisoners, and the civil rights movement in St. Augustine (Foot Soldiers Monument) within the same park.
Make sure to check with St. Augustine's event page, as they also host events and concerts at this plaza, such as the summer concerts or the Nights of Lights during the holidays, making it a one-of-a-kind experience that you can't miss.
Want to have a memorable picture? Check the gazebo in the center of the plaza. With the large cannons in the background, you will not only keep memories but also breathtaking pictures.
St. Augustine Fountain of Youth
Up for an adventure? Visit St. Augustine's Fountain of Youth, where you can learn about the city's rich history, take in the beautiful scenery – and just maybe, get some of that eternal youth.
Here's why it's significant and why you should visit it (besides capturing eternal youth):
Visit the site where Ponce de León, the Castillo's originator, discovered medicinal waters that he believed could restore youth to the skin. People say that if you drink from the spring, it will give you eternal youth – but is this true? 
I went to try it, but at 27 years old, I'm not sure I've noticed a difference. If you went and are older now, tell me whether you did!
The 15-acre Fountain of Youth Archeological Park has several interesting attractions, besides the possibility of everlasting youth. Visit their Discovery Globe, Planetarium, Timucua Indian Exhibit, Spanish Cannons, and Native Christian Burial Ground Exhibit to immerse yourself in more history.
Some Last Thoughts…
Whether you're just looking for St. Augustine things to do or you're a history nerd, this city has something for everyone. From experiencing a romantic sunset walk by the bay and the Castillo to live shows with Musketeers and hotels that outlasted the world for hundreds of years.
One thing is clear: This city will steal your heart with its charm.
I hope you enjoyed this mini-history lesson and you can add some of these rather hidden gems to your itinerary as you're prepping for a St. Augustine trip!
---
ANNA DYKEMAN
Anna Dykeman is a traveler, blogger, and entrepreneur who can't keep herself still. She's always on the move, whether working hard on a new passion project or exploring a new city as a part-time digital nomad. Learn more about her adventures on her website The Tatted Nomad!
---