The New River Gorge National Park and Preserve, and Adventures on the Gorge, are nestled between West Virginia's Appalachian Mountains. Adventures on the Gorge abuts America's newest national park, overlooking the New River. The second oldest river in the world continues to carve its way northward through the Appalachians, deepening and widening what is already the deepest and longest gorge through the Appalachians.
The railroad first brought visitors through West Virginia to the New River Gorge in 1873. Today, visitors can get a bird's-eye view by driving the scenic 83-mile roads surrounding and crisscrossing the park. The drive will take about three hours unless you hop out for photo-ops every quarter mile like I do! The New River Gorge and National Park are filled with natural beauty, so have that camera ready!
Things To Do at the New River Gorge
White Water Rafting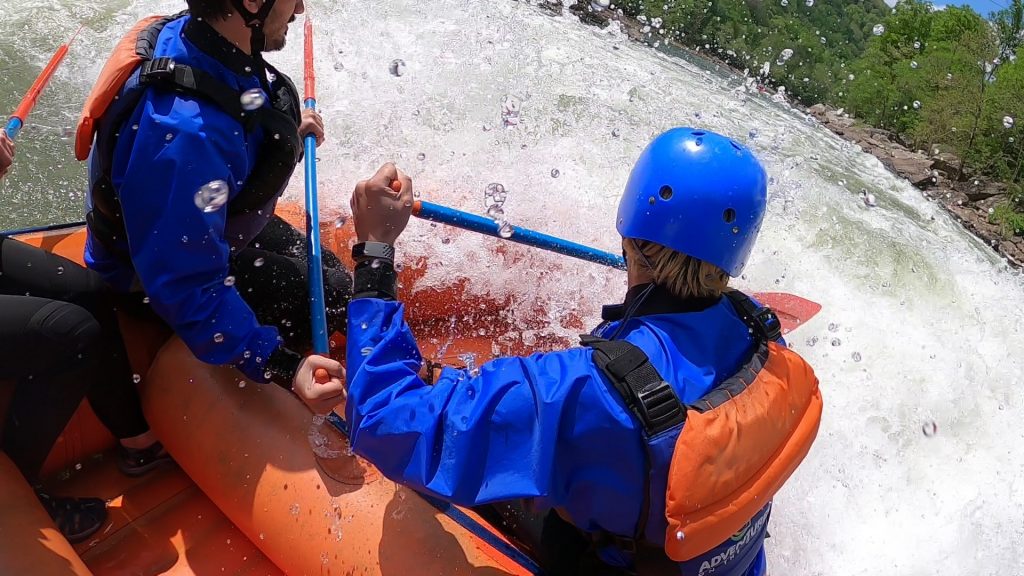 New River Gorge National Park in West Virginia and the surrounding area is a renowned whitewater rafting location. Both the New River and the Gauley River provide difficult rapids ranging from class III to class V. The rivers have large boulders that necessitate fast maneuvers in powerful currents, particularly in the lower sections. Those boulders also provide the perfect "jumping-off point" for rafters.
Local outfitters lead trips down the river between April and October. The upper parts of the rivers offer slightly less challenging class I and class II rapids, perfect for whitewater canoeing or the inexperienced or timid (read: chicken!) rafters. The National Park Service's website lists licensed outfitters on their Commercial Whitewater Information page.
Bridge Walk on West Virginia's Iconic Landmark
Yearly, on the third Saturday in October, the New River Gorge Bridge holds "Bridge Day." On that day, one side of the bridge is closed to vehicular traffic, allowing pedestrians to cross the bridge. On Bridge Day, you can legally BASE jump from the bridge, parachuting down to a sandbar on the river below. Or you can descend by rappel or zipline (eeekkk!)
Can't make it in October? There is a way to walk across the New River Gorge on the bridge the rest of the year. Well, actually, you will be walking under the bridge. OK…full disclosure…chicken here! I'll happily take pictures of you crazies walking on a two-foot-wide catwalk underneath a four-lane highway, 876 feet above the New River. Whew! But don't look for ME on that catwalk!
The 3,030-foot-long bridge opened in 1977 (the longest single-span bridge in the Western Hemisphere) was never intended for this purpose, but—they couldn't keep people off! So in 2009, subscribing to the "if you can't beat them, join them" theory, the National Park Service, the West Virginia Division of Highways, and the partners of Bridge Walk, combined to develop Bridge Walk, LLC.
Bridge Walk if You Dare!
If you are so inclined, Adventures on the Gorge (ATOG) will set you up with their partner, Bridge Walk. Less than five minutes from AOTG, you'll check in, clip into a safety harness (the bridge has the longest continuous safety system in the world), and walk the half-mile on a narrow steel plank, stopping for pictures and interesting historical details from your guide.
After the two-to-three-hour walk, a shuttle will return bridge walkers to the starting point. You can take along your phone or camera, but they must be secured with straps or lanyards. Don't take the risk of losing your eyeglasses; they need to be securely "leashed."
Camping At New River Gorge
Campers will think they've found paradise in and around the New River Gorge National Park. There are nine campgrounds within the park, and numerous commercial parks are scattered throughout the area.
Adventures on the Gorge has sites for RV camping, tent camping, lodges, and individual cabins (both with and without running water.) Adventure's 35-acre Mill Creek Campground has sites close enough to walk to the resort's shops and restaurants. Campsites are provided with picnic tables and fire rings—and you can arrange for firewood and ice delivery!
When you are researching places that offer New River Gorge camping, these are additional links to click for West Virginia camping information:
There are four primitive camping areas located along the river within the park. For information and possibilities, visit the NPS website.
Adventures On the Gorge Resort
Adventures on the Gorge Resort is conveniently located and has a stunning view of the Gorge. The resort is adjacent to West Virginia's New River Gorge National Park and has been named one of the country's top six adventure resorts by U.S. News & World Report. They have numerous options for meals and will arrange activities both on the 250-acre property and throughout the park. The folks staffing the check-in desk can make it all happen.
Since the Gorge is known for the rapids of two nearby rivers, whitewater rafting is high on the list of things to do. But adventures don't stop there. Adventures on the Gorge has a zipline through the treetops and over Mill Creek, along with swinging bridges.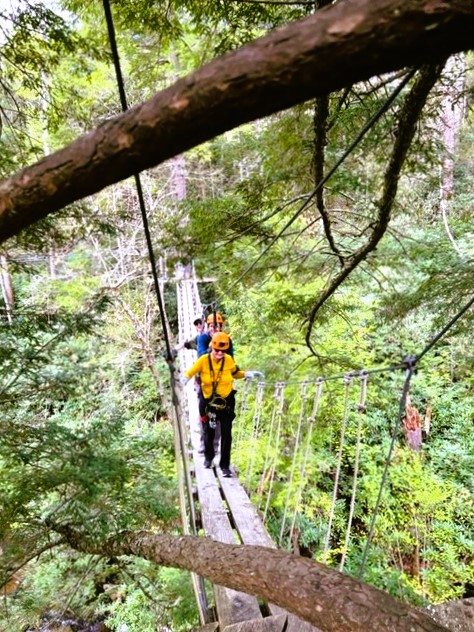 Your adventure will have you on ten ziplines, brushing against hemlocks and other treetops. Between some of the ziplines, you will walk over five swinging bridges. Finally, the adventure ends with a 35-foot rappel back to terra firma.
And there is disc golf. If you play, plan on time at Raven Ridge Disc Golf in the forest at the resort.
If you want something a bit tamer after whitewater rafting, visit the largest lake in West Virginia. Summersville Lake has 2,700 acres of water and more than 60 miles of shoreline. Sandstone cliffs surround the lake, and you can enjoy rock climbing, paddle boarding, and boat rides.
For a group challenge, try AOTG's TimberTrek Adventure Park. Seven obstacle courses are suspended over four acres in the forest. Your group will have three hours to navigate the series of nets, swinging bridges, ziplines, suspended tunnels, platforms, and complete the adventure.
History of Adventures on the Gorge
In the 1980s and 1990s, as rafting took center stage, West Virginia was a rafter's dream and also a nightmare. With unclassed and uncharted rapids, it became evident that change was needed.
Four rafting companies–Mountain River Tours, Songer Whitewater, Class-VI River Runners, and Rivermen were some of the largest in the New River Gorge. In 2007, the companies merged to form Adventures on the Gorge. Each company had expertise in different areas and its loyal customers. Instead of competing for guests, the new company owners focused on creating a premier adventure resort.
Adventures on the Gorge Resort
And the resort they created is a complete package. The company expanded, adding more "campuses" with camping, lodging, conference rooms, bars, and restaurants. All this plus breathtaking views of the New River Gorge—even from the swimming pool!
But even with resort amenities, the Adventures on the Gorge guides are down-to-earth men and women who want to experience their sport alongside visitors. The company owners and the guides grew up paddling and rafting the New and Gauley Rivers. Their love for the activities and the New River Gorge shows in everything they say and do.
The history of Adventures on the Gorge also rears its head in names. For instance, Smokey's Restaurant is named for "Smokey" Morton, a larger-than-life man known for his smile, which spread beneath a handlebar mustache, and his warm spirit. He drove the shuttle, taking adventurers to and from the river put-ins. Keeping his memory alive is more of the hometown vibe you'll get at AOTG.
The guides who led me on my Adventures on the Gorge were knowledgeable, patient, and encouraging. When I doubted myself, they were quick with words of encouragement and tips. I never once felt like they were not in control (although I felt like I was—more than once!) So go to the Gorge and challenge yourself! You may be surprised by what you can do!
The Chef for Adventures on the Gorge
August Moore, Jr. is the Executive Chef for Smokey's at Adventures on the Gorge. He describes himself as "strong-willed and enthusiastic." Born in Detroit, but raised in West Virginia, AJ's first job at Adventures on the Gorge was working in the dish pit. I like to think he "cooked" his way to the top.
He says, "I fell in love with kitchen culture and food, people from all different walks of life coming together for one cause. There is nothing like seeing the destruction and chaos of everyday operations of a kitchen, resulting in comradery and delicious masterpieces delivered to tables of happy customers." He says he has learned a lot over the years and continues learning more every day as he perfects his craft.
I had the pleasure of taste-testing many of Chef AJ's signature creations. I'm telling you, this was an Adventure on the Gorge I could sink my teeth into! *giggle* Every bite, I'd think, "He can't top this." And the next bite, I'd think, "Wrong again!" His choices for wine parings were spot-on, as they say. I asked Chef AJ to share a recipe with me for my readers to prepare at home. If this doesn't impress your guests, don't invite them again!
The dish is Chef AJ's spin on his roots—soul food fish and grits meets West Virginia mountain boy. And I can assure you, it was a match made in Almost Heaven!
Adventures on the Gorge Restaurants
Mealtime is special at Adventures on the Gorge. For those off on an adventure in the early morning, breakfast may be a grab-and-go treat, or it may be brunch upon your return. Either way, AOTG has your back. Smokey's is open from 7 – 10 am for breakfast; Sweet Java Falls Café opens at 7 but remains open until 2 pm, covering brunch and lunch. Try their bacon croissant with egg! I'm still licking my lips!
Smokey's, which overlooks the Gorge, offers dinner and wine choices that will astonish you. The menu lists everything from a perfectly cooked steak topped with cherry butter (trust me!) to a Sorghum glazed pork belly. Or pay a visit to Chetty's Pub, with a selection of draft beers and pub food. Take your drink out on the deck and enjoy the Gorge-ous view!
The Snack Shack serves ice cream and snacks like pretzels by the pool. The Rendezvous River Lodge has space for 350, making it popular for rehearsal dinners and other large gatherings, and boasts a stage for entertainers.
Make New River Gorge National Park and Adventures on the Gorge Your Next Getaway
I can't tell you where to stay when you visit West Virginia's New River Gorge. But I will tell you that when you are in the area, you need to visit Adventures on the Gorge and the New River Gorge National Park.
If you have perfect timing, as I did, *smile* you will be in the area during the springtime Ramp Festival. But that's a story for another article! Check it out!!
Chef AJ's Recipe
Black Walnut Crusted Trout and Boursin Grits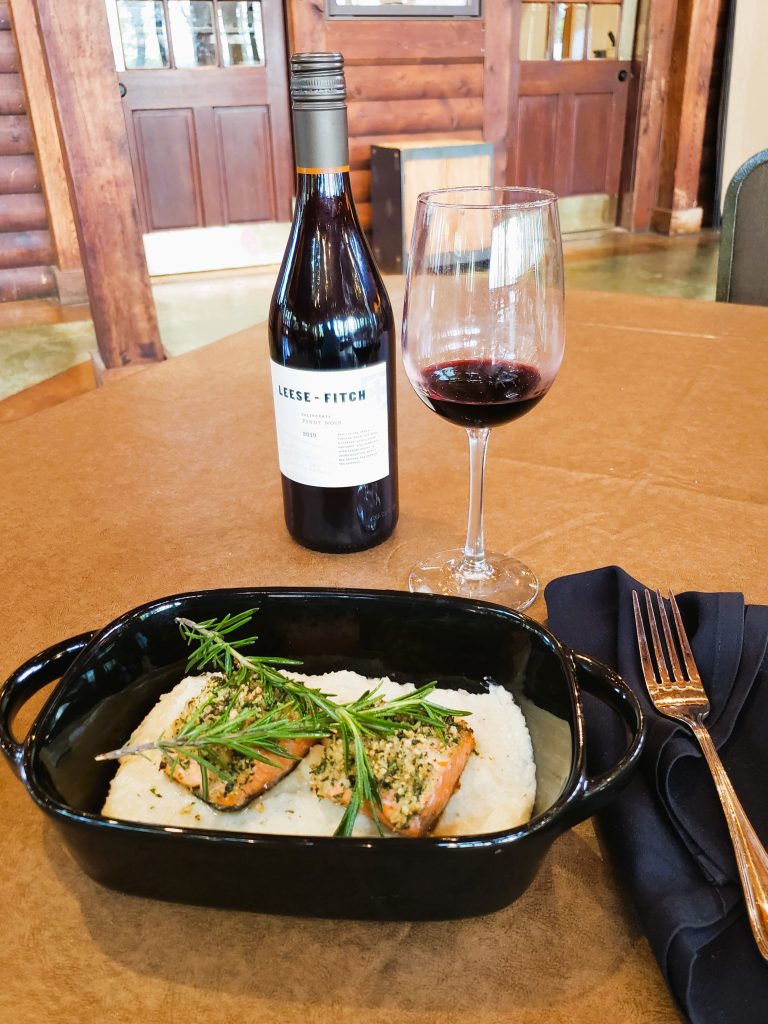 Ingredients:
3/4 cup finely chopped toasted black walnuts
1/2 cup panko (Japanese breadcrumbs)
1/4 cup (packed) chopped fresh Italian parsley
2 tablespoons finely chopped fresh tarragon
2 tablespoons finely chopped fresh chives
6 8-ounce halibut fillets (each about 1 inch thick)
6 tablespoons butter, melted
Method:
Preheat oven to 450 degrees F. Spray sheet tray with nonstick olive oil spray.
Mix walnuts, panko, and all herbs in small bowl; sprinkle with salt and pepper.
Brush each fish fillet with 1 tablespoon melted butter; sprinkle with salt and pepper.
Place fish on prepared baking sheet. Sprinkle panko-herb mixture atop fish, dividing equally and pressing to adhere.
Roast fish until just opaque in center, about 8 minutes.
Serve immediately over Boursin Grits.
Boursin Grits
Ingredients
8 cups fish stock (or chicken stock)
2 cups white stone ground grits
12 tablespoons unsalted butter
12 oz boursin cheese
Plan Your Next Trip
Read about more amazing trips – and start planning your next vacation! You could cruise to Alaska, travel to Italy, or jet off to Christmas Island!
---
---