Would you like to know how to make a charcuterie board like you've seen photographed and posted all over the Internet? But how do you make one that is Insta-worthy? And how do you even pronounce "charcuterie"? I'm here to help—I know people! I'll fill you in on shopping, creating, and caring for your charcuterie board!
How Is Charcuterie Pronounced
People wonder about this French word. Instead of embarrassing themselves by slaughtering it, they say "meat and cheese board" or "cheese and meat platter." It's actually pretty easy to say if you take it slow; it's pronounced like a shard of glass – shar and cu like cute, then tuh like King Tut and ree like Ree Drummond! So put it together, and you have "shar-kyu-tuh-ree."
Where Are Charcuterie Boards From
You may have guessed from my introduction the word charcuterie originated in France. Trust the French to pile meats on a slab of wood and call it the first course! Yes, charcuterie is simply assembling cured meats for an appetizer.
But it has expanded (perhaps thanks to the American tradition of "super-sizing"). Today people seem to use the term charcuterie to refer to an assortment of meats and their various accompaniments, such as crackers, fruits, cheeses, and other little taste temptations.
How To Make a Charcuterie Board
I visited Nature's Platter this summer on a trip to York, Pennsylvania. I was treated to their Once Upon A Platter Charcuterie Class. Let me tell you—it was FUN!
Of course, Nature's Platter owner, Marie Fisher, made the class more fun by having all the components selected and ready for our use. With her suggestions and guidance, the afternoon of designing flew by, leaving too little time for gobbling up the meat of our assignment! *giggle*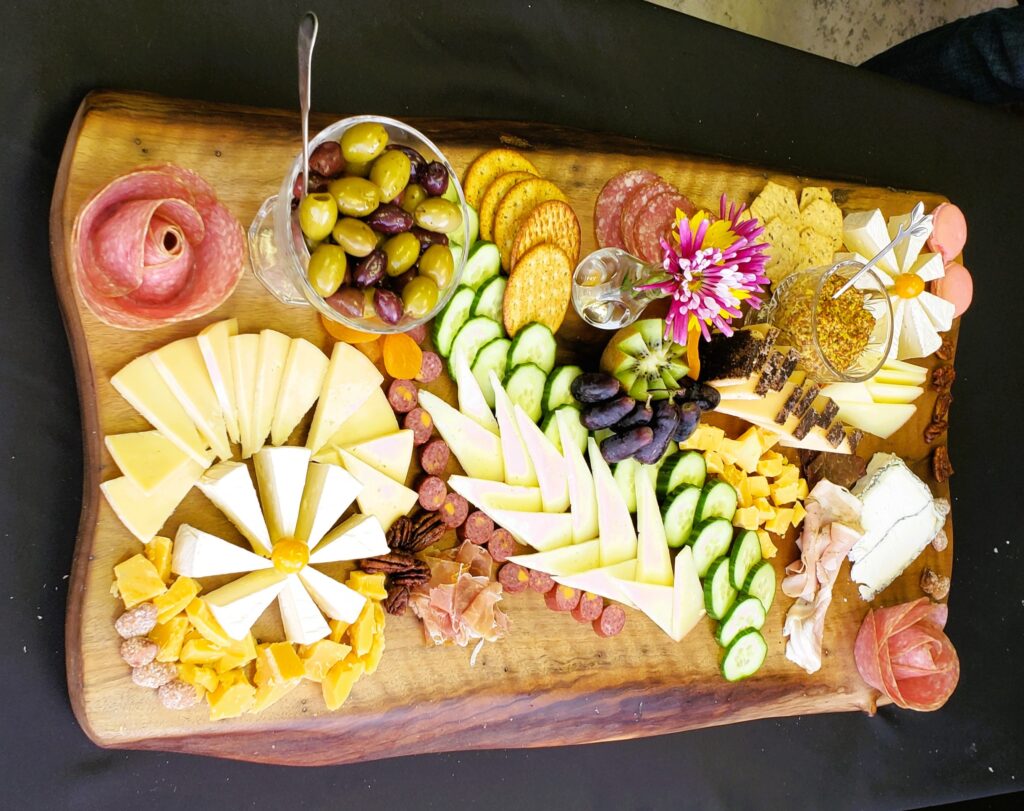 Educated as an engineer, Marie says she "hung up my engineering hat to…work with live-edge wood." She creates serving boards and other beautiful products from wood. Live-edge wood means that the edge was not touched by hand tools or woodworking machinery; the craftsperson utilizes the natural edge of the wood to enhance the design of the finished piece.
Marie describes herself as "a Pennsylvania country gal with a passion for cheese, chocolate, wine, and the simplicity of nature." I think she has a lot of "teacher" in her, too. She is creative and patient, and her pride in her work shines through.
Marie seeks out the wood for her projects in several states and imports some pieces from other countries. I grew up the daughter of a furniture man, so sawdust is in my blood too, and I inhaled deeply while touring her shop. Using sanders and planers, Marie works to showcase each piece of wood, showing off its most glorious face.
Where to Buy a Charcuterie Board
Of course, you can purchase a board from Nature's Platter. The charcuterie board shop is unique, and you will find stunning works of art made from local and exotic woods. These elegant, handcrafted wooden statement pieces are designed in York. Boards range from six inches to seven feet—and beyond, and have a variety of shapes—you may even find one that resembles an animal or your favorite state! Visiting the store and the shop is an adventure, and finding just the right piece is great fun. But, if a Pennsylvania road trip isn't in your future, you can visit them virtually on their website or pop into their Etsy shop.
Full disclosure, yes, I came home with a little beauty—a lightning-struck black walnut board with a live edge and burned with the Nature's Platter brand. It stands on my kitchen counter as a reminder of a fantastic trip.
Home Goods stores have a surprising selection of things to use, as do antique shops. Then, there is always Lowe's or Home Depot. These stores will cut a piece of wood any size you'd like from the wood you find in the store. You can make your own using an old cutting board or piece of dried wood.
Even Amazon advertises charcuterie boards and accessories. Everyone wants in on the action! Most of the boards they offer are made from bamboo, making them lighter and more sustainable.
How to Make a Charcuterie Board
Charcuterie boards are unique, but they look intimidating to lay out. Trust me; they aren't nearly as challenging to create as they look! Well, unless you make your own cheese! No, I'm not kidding. Near York, in a town called Spring Grove, I made mozzarella! If you can't commit to this, you can still enjoy cheeses from Caputo Brothers Creamery (they ship!) Caputo Brothers has produced handcrafted, authentic Italian cheeses since 2011. But fresh, handmade mozzarella is something you will never forget—just sayin'!
And Marie will even teach you the secret to smoking cheese! What a fantastic way to add a layer of taste!
First, decide on the board. Then plan your menu and look online for pictures to inspire you. Next, make a list of ingredients that you will need. Go shopping and come home ready to assemble an impressive spread!
Insider Tip: Hit up the deli for pre-sliced ingredients; it saves you tons of prep time!
Ingredients to Use When You Make a Charcuterie Board
The choices are myriad and entirely up to you. But there are some standards, suggestions, and a few tips for making it easy. And, naturally, there are a few tips on arranging the foods to display nicely. One of Marie's tips is to use cucumber slices to create a "river" down the board.
This gives the board movement and interest. Once you complete the river, you can fill in with all these goodies:
Meats – group them, and place them near the cheeses or honey that pair with them. Fold some of the larger pieces, and spread out others.

Pepperoni
Varieties of salami
Summer sausage
Prosciutto

Cheeses—different sizes and in a variety of displays, slices, cubes, chunks

Hard and Firm Cheeses

Cheddar
Parmesan
Asiago
Smoked Gouda
Gruyere
Colby
Manchego

Soft Cheeses

Havarti
Muenster
Burrata
Brie (topped with honey and nuts or a bright jam)
Cream Cheese (topped with pepper jelly)
Blue

Accouterments

Nuts (herbed almonds, sugared pecans)
Fruits (fresh and dried)

Raspberries
Blueberries
Yellow cherries
Grapes

Olives
Pickles – sweet and spicy pickle slices and tiny ones
Mustards
Honey
Fig Preserves (or a fruit jam)

Greenery – to protect the board or just to make it pretty (and it smells great!)
Crackers
Small slices of bread/toast points/crostini
Add Features to Your Charcuterie Board Like a Pro
A champagne glass is a perfect size to make meat rosettes. And roses are a MUST if you want your guests to think you went all out and used a caterer! Use a slice of firm meat, like salami. Fold a slice over the edge of your glass. Then add another piece, overlapping the glass's edge and the last slice's seam. Continue around the glass, using 6-8 slices (or as many as fit). Turn the glass upside down onto the board and lift. Voilà! You have a beautiful rose.
Pick crackers of different flavors and shapes. Look for these in the cracker aisle and the deli section. Use the crackers and nuts to fill in spaces between the meats and cheeses.
You'll need a few small bowls, little spoons, and spreading knives along with the board. Antique shops provide the perfect place to seek out unique pieces, allowing you to make the display your own. Use simple white or glass dishes with just a few pops of color. Use the dishes as a guide on the board of where things will go, and then fill in around the bowls with other items.
Allow two ounces per person for an appetizer. Still, if the charcuterie is for a cocktail party, you will need more than twice that amount. And don't forget the bread! Another benefit of charcuterie? You can use your fingers! So fewer dishes to wash after the party! It's a beautiful thing!
When to Serve a Charcuterie Board
Do you really need to ask? Any time I'm invited! *smile* It could be used as a traditional first course or as the only course at a cocktail party. The beauty of the charcuterie board is it allows people to serve themselves, freeing you to carry out last-minute preparations for the next course or to mingle with your guests.
Holidays are the perfect time for entertaining, and using a charcuterie board simplifies the entertainment process. For more ideas, read Betsi's article on Easy Holiday Entertaining Ideas.
Charcuterie boards lend themselves to wine tastings too. Read this guide for the perfect wine and cheese pairings!
A charcuterie board makes a perfect make-ahead plan, too. You can prepare nearly everything ahead of time and add fresh fruit at the last minute. Just cover it with plastic wrap and store the entire board in the refrigerator a day ahead of time.
Are Charcuterie Boards Keto
Charcuterie boards are filled with meats and cheeses—of course, they're Keto! You can even provide Keto crackers to keep dieting guests happy. Most of the boards will run about eight carbohydrates per serving.
How to Care for Your Charcuterie Board
After use, clean your board with a damp cloth and allow it to air dry. Remember that foods such as berries, yellow cheddar, or artificially colored foods will stain the wood. To keep your board unblemished, place those food items in decorative bowls, on waxed paper, or use a large leaf such as lettuce or grape.
Apply a bit of mineral oil to keep the board looking healthy. Every third use, or every-other month, apply another layer of protection with board butter. Board butter is a mixture of mineral oil and beeswax and should sit for at least 15 minutes, and then you may wipe off the excess with a cloth.
Nature's Platter tips on board use and care can be found on their web page. And Marie has a shop on Etsy, so you won't have to drive to Pennsylvania to pick up board butter.
Make a Meat-free Charcuterie Board
Think Breakfast—waffles, fruits, nuts, chocolate chips, and toppings! Or perhaps candy—I'd call that one "Candycuterie" (you're welcome!) and make it with all candies, and perhaps ice cream toppings. You could even make a Mexican theme board to assemble mini tortillas.
What fun to come up with your own variety for the use of your board. Charcuterie boards are only limited by your imagination. There is no wrong way to charcuterie…so keep calm and charcuterie on!
Planning Your Next Trip?
Read about more amazing trips – and start planning your next vacation! You could cruise to Alaska, travel to Italy, or jet off to Christmas Island!