A visit to wine country to discover Calistoga will be a delight for the senses. Wine lovers worldwide seek out the celebrated Calistoga wineries. Calistoga wineries have the accolades wine aficionados appreciate, but the relaxed small town feel that makes wine tasting accessible to all.
Discover Calistoga's hot spring spas for yet another reason for visitors to flock to this part of Napa wine country. Calistoga was California's first wellness destination. It was founded in 1859 as a health spa by Sam Brannan, who founded the California Star, San Francisco's first newspaper, and was California's first millionaire. Calistoga quickly became famous for its geothermal waters -which exist in the rock formations below Calistoga- and to this day, people flock to enjoy the bubbling waters.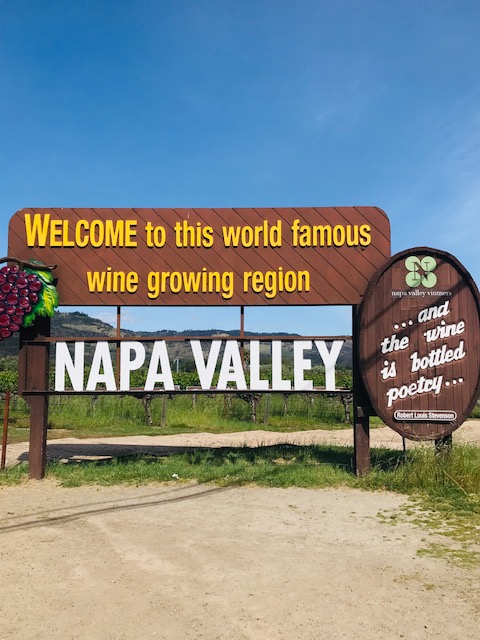 Discover Calistoga and What Makes It So Popular
Calistoga, the traditional homeland of the Wappo tribe, is now a charming small town with Western heritage. This heritage can be seen by the horse ties still evident on rails in the center of town. Calistoga also has an on-trend new age health vibe, but their wineries are the biggest draw, and that is why most people visit Calistoga. And visitors will have no problem finding Calistoga wineries to tour!
The two main roads are a joy to drive. They are two lanes wide with no fast food restaurants to be seen. There are vineyard-lined driveways on Highway 29, and the Silverado Trail North will deliver you to some of the most cherished wineries in California wine country.
Taking a quick stroll down Lincoln Avenue, the main street running through this delightful town, you'll encounter an abundance of wine-tasting rooms and trendy restaurants. You will also find spas – lots of spas.
Spas include hot springs and wellness resorts that offer mineral soaks, massages, facials, and the famous Calistoga mud baths.
Is Calistoga in Napa or Sonoma?
Calistoga is a 90-minute drive from San Francisco, Sacramento, and Oakland airports, at the north end of Napa Valley. However, if you find yourself on a road trip driving south on Highway 5, take a right turn at Williams. Once you turn, a verdant curvaceous drive will take you past the Robert Louis Stevenson State Park. The route has stunning panoramic views of Calistoga. When the tight corners end and the landscape opens, you will see an incomparable view!
As far as you can see, the fertile lower valley between the Mayacamas Mountains and Vaca Range has row upon row of gnarly vines. These vines will ultimately produce grapes for Calistoga's envied and esteemed wines.
Approximately two-thirds of visitors to Napa Valley drive north from San Francisco. The drive from San Francisco is classic California, with grassy hills dotted with handsome native oak trees.
After driving over the Golden Gate Bridge (check that off your bucket list!), a drive around the Tiberon coast is highly recommended. This outing offers the most glorious views of San Francisco Bay from a unique perspective.
From Tiberon, you will pass the Napa River Wetlands, full of endemic and migrating birds, before reaching the southernmost town in the Napa Valley – Napa itself!
To drive from Napa to Calistoga, head north. You will pass famous Napa Valley names: Yountville, home to Chandon; Oakville, Robert Mondavi's home; Rutherford, home to Inglenook and Grgich Hill; and V. Sattui, a historic winery; and in St. Helena, Beringer Winery. V. Sattui has one of Napa's most elaborate (and delicious) picnic options. Plan accordingly!
Is Calistoga near Sonoma Valley?
There are many reasons to enjoy Calistoga as your home base while in Napa Valley.
With Calistoga as your base, you can roam the entire Napa Valley. Over four hundred wineries and trendy little towns offer unique wine-tasting options, fine dining, and on-trend Californian shopping.
A day trip from Calistoga to Sonoma Valley is also highly recommended. It is less than an hour's drive past rolling hills covered in vines to reach Sonoma Plaza, the park that defines the center of Sonoma town.
The Plaza, shaded by enormous trees, is a great resting spot to enjoy a coffee and a bakery treat from the nearby Basque Boulangerie Café. Surrounding the Plaza is an eclectic mix of tasting rooms, restaurants, delightful art galleries, and beautifully stocked stores like Chateau Sonoma, a thoughtfully curated French gift store.
History buffs will spend hours at the Sonoma State Historic Park across the Plaza. The buildings include Mission San Francisco Solana-founded in 1823-which was the only Mission built after Mexico's independence from Spain. Sonoma Barracks is significant because it is where the first bear flag was raised on July 14, 1846, proclaiming California's independence from Mexico. The Barracks are filled with valued treasures, artifacts, and photos from the past.
Discover Calistoga Wineries' History and Culture
Without question, the true jewel in the crown of Calistoga wineries is the impressive architectural masterpiece, Castello di Amorosa.
Visionary Dario Sattui built the castle to honor his Italian heritage and because he had a passionate desire to create something extraordinary. And extraordinary it is! It took over 30 years from planning to building, using only authentic medieval construction, to bring his realistically styled 14th-century Tuscan castle to fruition.
Castello di Amorosa
The enormity of building a caastle is hard to comprehend! There are three acres of rooms at Castello di Amorosa! And 95 rooms are dedicated to creating and caring for the winery's award-winning Italian-style wines.
Visiting Castello di Amorosa transports you back to medieval Italy. Driving up a short hill, you will see iconic Italian cypress trees lined up and standing like sentinels stewarding the estate.
Arriving at the castle, you cross the moat and impressive iron drawbridge. Walking past the Italian oak door, you'll enter the Great Hall. Hand-painted frescoes and a 500-year-old Umbrian fireplace greet you. The room's centerpiece is a massive table large enough for a decadent medieval banquet. Standing in the room, you feel you are waiting for the minstrels and Knights in armor to enter.
The rest of the castle is equally impressive, thoughtfully decorated with European furnishings. There are nearly a million antique bricks used in Castello di Amorosa.
The vaulted wine cellar is spectacular; admire the details, but keep moving–there is much more to see and do. Any wine lover will enjoy the superb wine tastings and pairings at Castello di Amorosa.
Choosing which wineries to visit from the remaining seventy-plus Calistoga wineries and tasting rooms will be hard. You can drive onto the many wine properties in the area that announce they are open for visitors. While many require reservations, you can still visit most of the wine boutiques on the properties and take a bottle with you to savor next to the hotel pool.
Lawer Estates
Returning to town and walking down Lincoln Street is a pleasurable way to view the tasting rooms quickly. A few of our favorite stops include the family-owned Lawer Estates. Their small-batch wines are sustainably farmed and are available in the wine shop. For those who adore a beautiful glass of bubbly, don't miss their Sparkling Brut Reserve. It's ideal for celebrating a romantic holiday with your loved one, a bridal getaway, or even a birthday. Ask your hotel for a champagne bucket filled with ice, and begin celebrating!
Picayune Cellars
Picayune Cellars offers their Classic Tasting with five of their key wines on the front patio or in their private courtyard. Also, the cellar also has an eclectic mercantile store with Native American and Western art, providing you with the perfect opportunity to find a meaningful treasure to take back home.
Romeo Vineyards and Cellars
Romeo Vineyards and Cellars is one of the most extensive wineries and offers delightfully shaded patios on Lincoln Street. The winemaker, Alison Green-Doran, is a pioneer female winemaker with training in France. She has produced superior wines since 1981, which will become evident at a Romeo wine tasting.
The wine educators at Romeo, serving Calistoga wines from the restored 1800s Carriage House, will provide one of the most personal, heartfelt, and fun wine tastings possible. Since they are well informed, they guide you through your wine tasting at a comfortable pace. In addition, you can choose from a white, Bordeaux, Cabernet, or Library flight tasting, and they will thoroughly explain each one. In fact, the chocolate pairing, like the much-anticipated dessert after dinner, shows off the talent of both the winemaker and the local chocolatier.
Discover Calistoga's Best Restaurants
Though Calistoga's primary focus is on wine, it also offers fertile ground for many restaurants that feature fresh local produce in this relaxed California town.
With its long Mexican history, Calistoga had to have an authentic Mexican restaurant. Pacifico Restaurante Mexicano, with its colorful Mexican décor, offers an extensive menu with perfectly prepared traditional choices.
The sumptuous seafood offerings include lime-soaked ceviche, fresh cod tacos, and tiger prawns sautéed with Mexican corn. And don't forget to order a Millionaire Margarita pitcher or glass topped with a Marnier float. Sangria is not on the bar menu, but special order it and savor their delicious layered sangria perfectly complements Mexican cuisine. And, of course, Napa Valley prosecco and red and white wine provide a memorable Cali experience.
Discover Calistoga Brewery
Calistoga Inn Brewery and Restaurant, overlooking the Napa River as it passes through town, is a perfect location to stay and dine. The restaurant is casually elegant, with a large dining room perfect for group celebrations. For lodging options at the inn, you can choose from bedrooms in the historic Calistoga Inn or the private cottage.
The paved brick patio offers comfortable shaded seating under the trees from the river bank or near the indoor/outdoor bar. Stop for lunch to enjoy delicious burgers, pasta, and pizza.
Consider the Basil Pesto Pizza with ambrosial burrata cheese and toasted pines nuts enhancing the basil pesto base.
Savor culinary stars such as grilled Pacific swordfish for dinner, followed by the classic molten chocolate lava cake. Top off your delightful meal with an extravagant espresso martini, dessert wine, or cognac. It's the perfect ending.
You can choose the best wine for pairing with your meticulously prepared meal with a thoughtful and varied selection of Napa and international wines. The menu includes a beer flight of six tasters from their own Napa Valley Brewing Company and an impressive selection of handcrafted house beers.
Cocktails are a favorite at night with the original "Sunset in The Valley." This cocktail has mescal, elderflower liqueur, lime juice, and bitters and is very popular.
You might opt for an impromptu picnic in one of Calistoga's parks. Consider picking up a custom picnic basket from Sam's General Store. The picnic basket includes wine glasses and a wine opener, of course! You can even keep the straw picnic basket!!
The incredibly charming and historically significant Brannan Cottage Inn is the last remaining cottage built by Calistoga founder Samuel Brannan. It is on its original site and houses the general store.
Discover Calistoga Has Magical Hot Springs
Calistoga's healing waters became very popular in the late 1800s. Hotels with hot spring water were built along Lincoln Road to accommodate spa-seekers. By the early 1900s, a train transported health seekers to Calistoga mineral spas for "medicinal" treatments. Today, spa and wellness centers remain near the main road and are a "must-do" activity. Many are in top-rated Calistoga accommodations.
Indian Springs Resort and Spa, a seventeen-acre property dotted with historic cottages and stunning Mission Revival-style buildings, offers volcanic mud baths, mineral pools, massage, facials, scrubs, and a new Himalayan Salt Room.
One of the original spas in California, their goal has long been to produce a sense of deep calm and rejuvenation. Unique to Indian Springs is Buddha Pond, a geyser-fed pool surrounded by comfy lounge chairs, majestic palm trees, and flowering gardens.
The Buddha Pond is a unique retreat you can use at any time during your stay to relax and regroup, not worrying about a thing. At night, stargazing by the pond feels like a magical slice of heaven.
Calistoga Spa Hot Springs is a boutique resort and spa in the heart of downtown Calistoga. The resort offers beautifully appointed guest rooms, many offering patios overlooking outdoor gardens and four geothermal mineral pools. Have a massage before or after your mineral soak for a rejuvenating experience.
The Roman Spa Hot Springs Resort, a Tuscan-style resort just a block off Lincoln Avenue, offers charming rooms surrounded by patios, a refreshing pool, and serene gardens. It is also home to the Baths at Roman Spa. The Baths offer the coveted Calistoga trinity: massage, mud, and mineral baths.
Try a Mud Bath
Consider experiencing their "Mud Adventure," where you immerse yourself in Calistoga volcanic ash, peat, and the geothermal mineral water that bubbles up from below the spa! This spa also has side-by-side massages and baths for couples and friends to enrich the Calistoga adventure.
Moon Acre Spa and Baths at the Calistoga Motor Lodge and Spa believes in the perfect pairing. This spa has a fresh, unpretentious retro vibe and will appeal to fun seekers of all ages.
The perfect pairing is a soak in their outdoor geothermal pools, followed by a stress-relieving massage. You can opt to include CBD in your massage for superior therapeutic benefits.
The Motor Lodge offers pet-friendly Camper Rooms designed to make you feel as if you are "on the road again" in your camper van. They also have their new spacious Vista Rooms.
Pro Tip:
Ask for a room overlooking the Vaca Mountains – you will not be sorry!
Calistoga, California, is the Perfect Weekend Getaway
Most visitors to Calistoga come for a quick getaway. Calistoga's proximity to San Francisco, Sacramento, and Santa Rosa airports makes this an easy and memorable weekend holiday destination. Visitors love the relaxed spa vibe of Calistoga. Add in the excellent culinary choices and world-class wine-tasting scene. Calistoga is perfect for a romantic weekend, girls' getaway, small party, or wedding extravaganza.
To experience the best that Calistoga offers, consider sipping on a glass of any of Calistoga's premium wines from nearby vineyards while lazing around the pool after your spa treatment. Feel your shoulders drop, your breath becoming deeper as the combined effect of spa therapy and wine therapy combine to produce a state of blissful euphoria.
Undoubtedly, Calistoga wines, when matched with Calistoga spa treatments, will sustain you until your next visit back to this delightfully sybaritic locale.
Plan Your Next Vacation
Read about more amazing trips – and start planning your next vacation! You could cruise to Alaska, travel to Italy, or jet off to Christmas Island!