Many visitors to Florida mistakenly believe it is just a tropical haven. Florida is a tropical haven. It also has a diverse array of national parks, state parks, national monuments, beautiful beaches, and crystal-clear waters. But did you know that it also has a solid European heritage?
Who says you have to go to Europe to see jaw-dropping architectural grandeur? Vizcaya and its gardens are a resting place for a man with a passion for art and history who sought to build a haven and escape from reality and harsh winters.
You'll discover a renaissance-inspired mansion in the middle of Miami's tropical hardwood hammocks. Treasures from the past, when the romish and greek ruled the European hemisphere are on display in the mansion.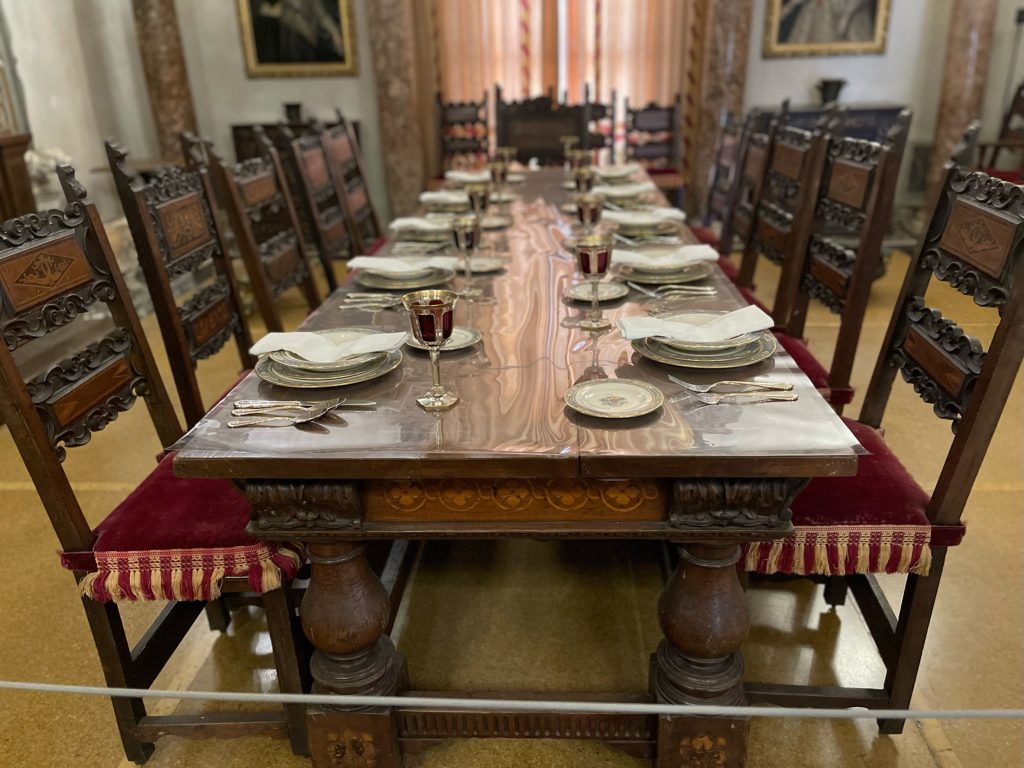 James Deering, the builder of Vizcaya, was an industrialist who traveled the world searching for unique and unusual kinds of souvenirs to enrich his mansions' nature. Deerings' Vizcaya, built in 1914 in a style of the past century, includes modern touches: electricity, a phone, and a central vacuum system.
It is impossible to capture the stunning beauty of Vizcaya as you walk through its doors. Dominating the center of the entranceway is a glass dome adorned with fauna.
Imagine being a guest of James Deering and staying in one of the many themed rooms during the winter months. The stories the walls could tell of the beautiful parties and soirees that James Deering hosted! Guests included movie stars such as Lilian Gish.
James Deering entertained on an opulent and decadent level. I imagine that readers of the book "The Great Gatsby" by F. Scott Fitzgerald could envision the indulgent touches that marked parties at Vizcaya. At its height, Vizcaya employed 1,000 workers during the winter months to run the home.
As you stroll through Vizcaya's marble corridors and gaze through the stained glass doors, you'll notice several treasures. Vizcaya is a remarkable example of Paul Chalfin's meticulous attention to detail, which he used to design the mansion's 70+ rooms. There are gilded panels, carved mantels from Tuscany and France, and many other treasures dating back to the 15th century.
Vizcaya's Garden
When you read about Eden in the Bible, you have to wonder whether James Deering modeled his gardens after that place. Though, as an admirer of Versailles in Paris, he used numerous examples of their gardens with low, manicured shrubs to build captivating patterns, paths, and mazes. European figurines like those seen in Greek temples border the pathways, making you wonder if you slipped into a fairytale.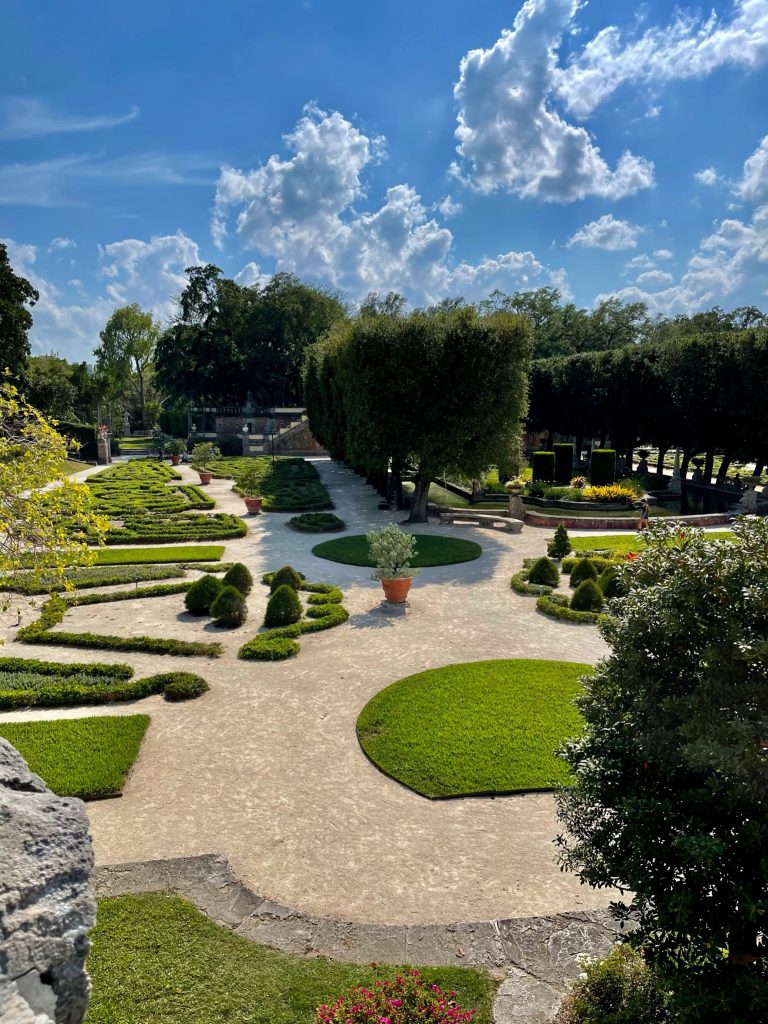 Deering and landscape designer Diego Suarez wanted to create a Mediterranean atmosphere of being in Italy or France. They incorporated orchids, including Vandas and Cymbidiums, and palm trees surrounding Cuban limestones to evoke that feeling of being transported to the Mediterranean.
Winding your way through the labyrinth of bushes resembling mazes, taking in the fountain garden, you'll feel like you've stepped into a hidden paradise. The fountain garden is unique as it honors the surrounding native forest in the back.
Another feature unique to Vizcaya is a massive barge. The barge has two purposes: to defend Vizcaya from storms and to welcome guests arriving by boat from Biscayne Bay. At the front of the ship is a large casino Pavilion adorned with shrubbery, fountains, and lighting. It is the perfect location for greeting arriving guests.
Gatsby's parties were known to be elegant, extravagant, and opulent. Today, you can experience a Gatsbyesque gathering at one of Vizcaya's late-night parties for a glimpse of what it was like 100 years ago.
Castle Otitis rises to a height of more than 50 feet. It is reminiscent of medieval Irish castles built over 1,000 years ago. It was designed by Ottis Sadler and Rusty Ickes in 1984 and completed in 1988.
Sadler and Ickes wanted to evoke the mood of an ancient Irish monastery or a Christian church. It weighs over seven million pounds and is built entirely by hand out of concrete block with reinforced steel rods.
The interior of the building was designed and crafted by Lee Carpenter and took three years to complete. The woodwork on the staircase, altar, Bishop's chair, and pulpit are from cypress and southern heart pine.
Although this castle isn't hundreds of years old, it reflects a spiritual dedication along the St. Augustine seashore. In 1992, the American Institutes of Architects formally recognized it as a landmark. There is a public interdenominational Christian worship service on the last Sunday of each month.
If you've always wanted to see Ireland's castles but didn't want to make the trek across the pond, here is a chance to get a taste of what it's like – make sure to make an appointment before you go through.
Built by Franklin W. Smith in 1883 as his winter home, Villa Zorayda is now a museum. Obsessed with the Alhambra palace in Canada, Spain, Smith incorporated the Moorish revival architecture into Villa Zorayda.
This castle uses poured concrete and crushed coquina shells, common construction materials throughout St. Augustine.
Villa Zorayda was Smith's home for 20 years. During that time, it was known as the Zorayda Club, where the elite of St. Augustine would socialize. Abraham Mussallem acquired the property in 1911. Mussallem, a Lebanese immigrant, was a well-known authority on oriental rugs and Egyptian artifacts. Suddenly Villa Zorayda was transformed as Mussalem's passion for oriental rugs and Egyptian antiquities melded with the castle's Spanish architecture.
Throughout its lengthy history, this castle has experienced several alterations. These changes are visible as you stroll through the home. Stained glass, thick rugs, and drapes create the sensation of being in an oriental palace.
In the early to mid-1920s, Mussallem turned the estate into a gambling establishment and speakeasy. In the late 1920s, Abraham and Olga decided to shut its doors and move into the house with their children. However, recognizing the significance of the structure, the Mussallems reopened it as a museum in 1933. Since then, the castle has been in the family's possession and protection.
This one-of-a-kind castle combines the finest of both worlds as you experience its rich history. On the guided tour, you'll discover more about Franklin Smith, and Abraham, and Olga Mussalem and how their lives and passions influenced this Florida castle.
Before the 20th century, the most significant and Florida's first mansion, the Stetson Mansion, was built in 1886. This Gilded Age estate was created by the hatmaker John B. Stetson.
The handmade wood embellishments are some of the home's exquisite details. When walking throughout the estate, keep your eyes peeled for the 16 unique mosaic patterns in the parquet wood floors. There are also 10,000 panes of antique glass throughout the home.
This castle has a unique history. It was the first residence in Florida to be designed and constructed with Edison electricity, steam heat, indoor plumbing, and a call bell system. Talk about GROUNDBREAKING!
Yet another intriguing fact about this enormous dwelling is that it is privately owned and has always been occupied.
Today, the home has been restored and is open for tours. Though it is not a museum, its owners live in the house.
It'd be an understatement if I told you that I felt like a princess wandering through the Flagler museum.
What if I told you that this castle and mansion was built out of love from a man to a woman? Someone who was literally carrying their woman on their hands and fulfilling every wish they had? A fairytale, Disney has yet to write and film.
What if I told you that before this love story involving this castle could be written, there was a lot of tragedy?
First, I'd want to tell you a little bit about the history of this palace, so you'll understand why it's so significant.
A Love Story for the Ages
Philanthropist and businessman Henry Flagler was a long way ahead of his time in terms of his innovations, ideas, and treatment of women. It was just a matter of time until Rockefeller and Andrews invested in him. Within two years, he founded one of the most powerful oil companies in the United States, Standard Oil Company.
Standard Oil sent Flagler from Ohio to Manhattan, New York. During his time in New York, Mary, his first wife, was diagnosed with Tuberculosis. Her doctor suggested that she relocate to Florida during the winter months. Unfortunately, in 1881, at the age of 47, Mary passed away, leaving a son behind.
Flagler and Ida Alice moved to St. Augustine. Only two years later, Flagler remarried Ida Alice. Unfortunately, not long after, he lost her to a mental illness.
Flagler met and married Mary Lily in 1901. He built Whitehall as a winter home for Mary Lily. Located in Palm Beach on the Atlantic Ocean, Whitehall was designed by Henry and Mary Lily with architects John Carrère and Thomas Hastings.
In 1902 The New York Herald hailed the home as "…more wonderful than any palace in Europe, grander and more magnificent than any other private dwelling in the world" because of its 100,000 square feet and more than 75 rooms.
As you travel through the hallways of the magnificent palace, created by Henry for his wife Mary Lily, you feel and see every detail picked with love.
Henry lavished his love on Mary Lily. Henry loved to bestow pearls on Mary Lily. Some of these pearls were valued more than diamonds.
Hanging in the music room of Whitehall is a portrait of Mary Lily wearing the pearls Henry had gifted her. The music room is built to resemble French Versailles. There is organ at the end and a grand piano on one side, where Henry and Mary Lily frequently entertained.
The Last Train to Paradise
The fact that Flagler had a plan to expand his train to Key West as far back as the late 1880s shows how far ahead of his time he was in his thinking.
Flagler extended the rail route from Miami to Key West. This route was approximately 156 miles much of it over the water. Thus, Flagler called this route the Over-Sea Railroad. Today, that route is called the Oversea Highway.
Traveling the route today, you can view the remains of original Flagler rail bridge, erected more than a century ago. During the 1935 Labor Day hurricane, the rail line was destroyed.
Key West was already one of the most populous towns during the early 1900s. Henry Flagler wanted to take advantage of the Cuban and Latin American traffic that would pass via the deep harbor to the Panama Canal.
Flagler owned his railcar. And it is quite sumptuous.
Despite its age of more than a century, the train you'll see and enjoy is remarkably well-preserved. In the light, the sun-kissed wood in this train glows with showers, bathrooms, and mattresses to provide a place to relax while traveling from Jacksonville to Key West.
You might imagine yourself riding this train and looking out the windows. You would be watching schools of fish darting about in the crystal-clear water below, or maybe even a dolphin swimming by – can you imagine this breathtaking experience?
Have you ever heard of the book Last Train to paradise? Yep, it's based on his trains and this railway system, a must-read!
If the Flagler Museum in Palm Beach isn't on the top of your list for Florida, it needs to be; it's a one-of-a-kind experience.
European castles have a rich history dating back hundreds or even a thousand years. The Flagler Museum in Florida is my favorite among American castles because of its emphasis on love behind it.
To Mr. Carson, the museum's Public Affairs Director, I extend my gratitude for taking time out of his day to meet with me and provide further information – it was an honor to talk to someone who's so caring about the history and our heritage here in Florida.
Alex Cleland, who focuses on the tours and coordination of visitors at the entrance, also deserves a shout-out for his generosity in sharing his knowledge of Flagler's past as well as that of the palace with me. The time I had with him was priceless, and I am grateful for every second of it. When you come to visit, don't be afraid to say hello and greet him on my behalf – we need more passionate people like him in our world.
Some Last Thoughts . . .
As the United States is the youngest country in the world, naturally, there are few castles to be found.
However, there were philanthropists throughout the last two centuries who adored the notion of castles. They wanted to share the heritage and the touch of French, Oriental, German, and Spanish influence with others. Allowing everyone to experience a bit of Europe in the United States was their vision; today, their dream is becoming a reality.
Suppose you have the desire to stroll the hallways of a castle, to imagine yourself as a princess. In that case, Florida has five castles for you to experience without having to make the jump across the pond.
After all, isn't that what any girl's dream is? Someone who adores you so much they're willing to build a dream castle for you?