Victoria is the capital of British Columbia, Canada. From Vancouver Island, tourists reach Victoria on high-speed boats or by plane in about an hour. It is a lovely place for tourists to visit with many attractions to see and do.
Victoria is a great city to visit year-round with its vibrant downtown area, inner harbour, beautiful views, fantastic food, and gorgeous gardens. Read on for some highlights of what you can do in this Canadian gem!
Named after Queen Victoria and established in 1843 — this is one of the oldest cities in the Pacific Northwest.
Victoria is British Columbia's capital city with an estimated population of more than 408,883 (as of July 1, 2020) people.
It is Canada's eighth-most populous municipality and the seventh-largest in Western Canada. It has an area of 114 km2 (44 sq mi) and is located on the southern tip of Vancouver Island off Canada's Pacific coast.
The city has a mild climate compared to other locations on the same latitude because it lies in Victoria's moderating ocean air currents off the Pacific Ocean. It does not have extreme temperatures like interior British Columbia.
It was recently ranked as one of 'The Best Cities to Live' by MoneySense Magazine, which focuses on lifestyle preferences. A survey conducted by Expedia named Victoria as #2 in Canada for the best year-round travel destination.
1. Soak in the beauty of Beacon Hill Park
Victoria BC, home to Beacon Hill Park, is a 200-acre park located along the shore of Juan de Fuca Strait in Victoria, British Columbia. It has lovely views of the inner harbour and has excellent bike paths for cycling enthusiasts.
The Beacon Hill Park is home to a variety of different attractions, including majestic old trees, formal gardens, sports and play features. Don't miss out on the free tours led by local experts.
Beacon Hill Park has over 330 parking stalls for tourists traveling by car.
2. Experience Fan Tan Alley
Fan Tan Alley is a colourful section of downtown Victoria lined with shops, art galleries and restaurants.
Fan Tan Alley, which runs for a full city block from Fisgard Street to Pandora Avenue (at the block between Government Street and Store Street), is one of the most famous attractions in the British Columbia capital.
The alley has a variety of retail outlets and Chinese-Canadian businesses. It is best to explore the alley on foot since many of its treasures are hidden on narrow side streets.
There are some cute and well-known outdoor brands in the quirky shops along Government Street.
3. Attend an opera at the Royal Theatre and Listen in on Victoria Symphony Orchestra
Royal Theater
The Royal Theater is a concert hall and an opera house designed in 1912. The theater retains its original Rococo/Renaissance Revival style décor. It is located at 805 Broughton Street on Blanshard Street and Broughton Street.
The Royal Theatre is Victoria's largest theatre. It can seat 1,460 patrons, while the stage area contains 12,500 square feet of space for sets, props and costumes.
It offers a variety of shows like Broadway tours to drag shows, dance to comedy, opera to jazz and symphony to rock concerts. The Royal Theater provides an excellent show for both tourists and locals alike. It's a beautiful way to see Victoria in a different light!
Victoria Symphony Orchestra
The Victoria Symphony Orchestra, located at 620 View Street, Suite 610, Victoria, BC V8W 1J6, is a wonderful organization to visit if you enjoy traditional music. The symphony puts on numerous concerts throughout the year that are always fascinating to observe.
4. Explore the Royal BC Museum
If you are looking for something a little more modern, the Royal BC Museum is a great place to explore. Not only does it offer visitors an insight into the history of British Columbia, but it also showcases some incredible local Indigenous art.
The Royal BC Museum is also home to one of the world's finest totem poles and many other treasures and artifacts.
5. Explore the galleries
Victoria Art Gallery
Located at 1040 Moss Street, Victoria Art Gallery is a great place to explore and learn more about various artists and their works. The gallery specializes in 19th-century European art and 20th-century Canadian art.
Natural History Gallery
The Natural History Gallery is another great stop when you're exploring downtown Victoria near the Inner Harbour, located at 675 Belleville Street, Victoria, BC V8W 9W2. Among what you can expect to find are the most extensive collection of dinosaur fossils in Canada, as well as several other exhibits.
6. Visit a famous artist's home
Robert Bateman Centre
The Robert Bateman Centre is a must-see destination, especially for nature lovers. Located at 470 Belleville St, Victoria, BC V8V 1W9, Canada, the centre showcases some of Canada's finest wildlife art.
A visit to the Robert Bateman Centre will teach you more about one of Canada's most renowned artists and why his work is so important.
Pick up one of the unique gift items and a Robert Bateman's exclusive numbered print at the Gallery Shop.
Emily Carr House
The Emily Carr House is another beautiful location to visit. This lovely two-story Picturesque-Italianate building is located at 207 Government Street in Victoria, British Columbia V8V 2K8, Canada. It reflects a little of what it was like for the renowned Canadian painter and author.
Although it was built for her father, Richard Carr, this home had a crucial role in Emily Carr's development. Its proximity to Beacon Hill Park and the ocean shoreline inspired Carr's lifelong interest in natural scenery and her distinctive viewpoint of coastal British Columbia.
To add, Emily Carr was buried at Ross Bay Cemetery, a cemetery that is also renowned for its 100-year-old trees – hauntingly stunning!
7. Visit Craigdarroch Castle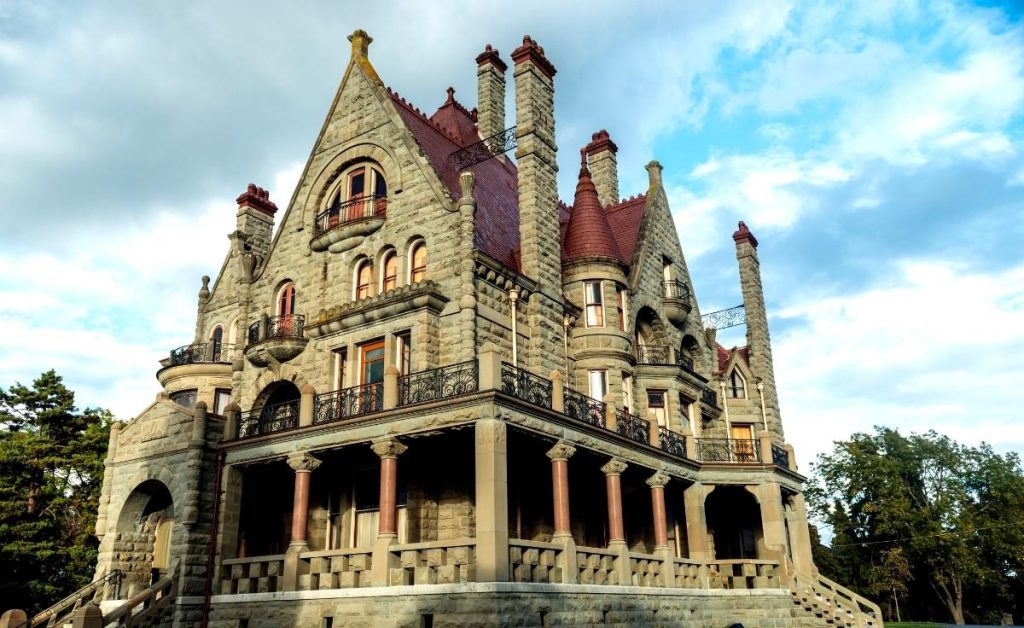 Craigdarroch Castle is one of Victoria's biggest tourist attractions, located at 1050 Joan Crescent, Victoria, BC V8S 3L5.
Coal baron Robert Dunsmuir built this mansion during the reign of Queen Victoria. It is now a National Historic Site. It has now been meticulously restored. Craigdarroch Castle gives visitors an idea of privileged life in the 1890s.
This Scottish Victorian-style mansion was constructed between 1887 and 1890 and is now owned by Craigdarroch Castle Historical Museum Society. Its 150,000 annual visitors almost totally fund it.
Check out the spectacular views of downtown Victoria and the Olympic mountains from its tower!
8. Go on a Victoria whale watching tour
If you are visiting in winter, a trip to go whale watching is a must. You can go on Victoria Whale Watching boat tours from May until October. Then when you see for yourself just how big these whales are, it will surely take your breath away.
Aside from killer whales, you can also spot local marine life such as porpoises, sea lions, and seals. It is a phenomenal experience to see all the wildlife in their natural habitat.
9. Savor gastronomic delights
There are a lot of wonderful cafés, restaurants, and bakeries where you may enjoy delectable cuisine from all around the world.
We'll discuss just a few of these fantastic restaurants.
Dutch Bakery
One of many great bakeries in town, the Dutch Bakery at 718 Fort Street Victoria BC, is one of the most popular. The brick ovens are left on at all times, so you can look out for fresh bread coming out. It's definitely worth getting up early to go and get some baked treats from here.
Café Brio
When you visit Victoria, it is a good idea to have at least one meal in a restaurant that specializes in Canadian cuisine. One of the best places is Café Brio, located at 944 Fort St, Victoria, BC V8V 3K2, Canada. The food here provides diners with a real sense of comfort and quality while still affordable. Cafe Brio is firmly committed to BC-farms-first for produce.
Fresh fish is available year-round off the waters of Vancouver Island. This awareness has resulted in a menu that is delicious and incredibly fresh.
They offer brunch, lunch and dinner menus for patrons.
The Walrus and the Carpenter
The Walrus and the Carpenter is one of the most popular restaurants in Victoria, located at 2718 Main Street. Victoria BC V5Z 3E9, Canada . It has been seen on Huffington Post, CBC, The Globe and Mail and many more.
The food at this restaurant is ideal for sharing during the winter season. The menu includes Scandinavian, French, and local Canadian cuisine. The tastes are strong here, the food will warm you up, and it is worth visiting in Victoria.
There's also a four-course prix fixe dinner, as well as an à la carte lunch menu with tempting dishes that are sure to make your mouth water.
Rebar Modern Food
Another fantastic restaurant to consider is Rebar Modern Food, located at 50 Bastion Square, Victoria, BC V8W 1J2, Canada. This popular eatery offers diners an opportunity to try out some of the best and most flavoursome dishes in Victoria today.
You'll be impressed by their great menu and excellent ambiance. Fish tacos, Huevos rancheros, eggs Kurosawa, wood-fired pizzas, and great craft beers are just some of the fantastic things that Rebar Modern Food has to offer.
Made from the freshest ingredients, this no-meat restaurant never ceases to impress. Plus, there are, vegan options available.
Bodega Restaurant
Bodega Restaurant is located at 1210 Broad Street Victoria, BC V8W 2A4. They offer a variety of tapas and other Spanish specialties to be enjoyed by sharing with friends or family. Beef carpaccio, anchovies dish, ceviche, and lamb meatball are highly recommended. You can't go wrong with their great decor and easy-going vibe.
Restaurant Matisse
Restaurant Matisse is located at 512 Yates Street Victoria, BC V8W 1K8. Their menu focuses on fresh produce. Foie gras, fish of the day, duck, wine pairing, dessert are sure to delight your palate. You'll love their classy, intimate setting and exemplary service.
Il Terrazzo Ristorantée
Another excellent restaurant to consider is Il Terrazzo Ristoranté, located at 555 Johnson Street Victoria, BC V8W 1M2. This Italian eatery has got some of the finest cuisines in town. From fresh pasta dishes to mouthwatering pizzas, you'll be impressed by what they have on offer.
Their spacious, bright dining room is perfect for both dinner and entertainment. You'll appreciate the fantastic ambiance as well as their attentive service.
10. Take in panoramic highlights
Johnson Street Bridge
When you're visiting Victoria, one of the things that you have to do is walk across the Johnson Street Bridge, located at 400 Johnson St, Victoria, BC, Canada.
This modern, white bridge is a new landmark, but it also offers some of the best views of downtown Victoria. It is spectacular at night because you can see all the lights reflecting off the water.
San Juan Islands
One of the fun things to do in Victoria is to book a trip on a ferry and head over to Vancouver Island's San Juan Islands. This beautiful archipelago offers incredible views and some fantastic hiking trails, as well as excellent opportunities for kayaking and whale watching.
11. Listen to stories about Victoria's History at Legends of Vancouver Tour
Based on the book Legends of Vancouver, written by E. Pauline Johnson (Tekahionwake), this show takes you on a wonderful and quite informative 2-hour tour of Victoria. You'll love it if you have never been to Victoria before or if you want to learn more about its rich history.
The self-guided, virtual tour highlights tales and stories by E. Pauline Johnson (Takehionwake). Her father was Chief of the Six Nations Indians (Mohawk Tribe), and his mother was of English parentage.
She documented and shared her family's Iroquois traditions and her own experiences as a young woman growing up in Victoria at the turn of the twentieth century.
She was born in 1861 and began writing after moving to Vancouver Island at the age of 19, where she frequented several archaeological sites and learned about their stories.
You'll have a great time learning about what life was like for people living in Victoria centuries ago from this tour, which starts from the downtown inner harbour.
The stops of interest include places such as The Pauline Johnson Memorial in Stanley Park, The Two Sisters, Siwash Rock, The Lost Salmon-Run, The Sea-serpent, Deadman's Island, The Lost Lagoon, The Lure in Stanley Park, Deer Lake, Point Grey, The Recluse, The Lost Island, and The Deep Waters.
These legendary sites are pointed out as places with sacred meaning to the local people during that time.
12. Visit Gardens and Zoos
Victoria Butterfly Gardens
If you are visiting Victoria in the summer, there is no way that you can miss out on visiting some of the fantastic gardens that are open to the public.
The Victoria Butterfly Gardens is another great attraction to visit, especially if you love butterflies. Located at 1461 Benvenuto Ave, Brentwood Bay, BC V8M 1J5, Canada, the gardens boast more than 50 species of free-flying birds as well as some great greenhouses.
Victoria Bug Zoo
One great way to get a close encounter with some of the most exciting insects around is at the Victoria Bug Zoo, located on 631 Courtney St, Victoria, BC V8W 1B8, Canada.
Not only will you be able to see up close more than 50 fascinating bug species, including Canada's largest ant colony but also find out more about how these insects are essential for keeping ecosystems in balance. Truly, the Victoria Bug Zoo has many fun things that kids will enjoy!
Butchart Gardens
Within walking distance from the Victoria Butterfly Gardens, Butchart Gardens is another great attraction to visit during the summer. It is located at 800 Benvenuto Ave, Brentwood Bay, BC V8M 1J8, Canada.
The Sunken Garden is one of the attractions, with its stone walls and short cliffs on all sides, nestled beneath a canopy of trees.
The Japanese Garden at Butchart Gardens is magnificent, featuring orchids, rhododendrons, azaleas, dogwoods, cherry trees and many more.
The experience is breathtaking and will be something you remember for a long time after you leave!
Abkhazi Garden
One of the most beautiful places to visit in Victoria is the Abkhazi Garden. It is most likely why Victoria is nicknamed "The Garden City". The garden was built for a Prince and Princess Abkhazi in 1946.
Abkhazi Garden is an oasis right in the middle of downtown Victoria. The garden is between the Parliament Buildings and the Inner Harbour. This 1.4-acre garden also overlooks the Strait of Juan de Fuca and the distant Olympic Mountains.
13. Visit the British Columbia Parliament Buildings
When you're visiting Victoria, you should spend some time exploring the downtown Victoria area and visit some of the city's most iconic locations. You can't miss City Hall, better known as the Parliament Buildings at 501 Belleville St, Victoria, BC V8V 2L8, Canada.
These magnificent neoclassical buildings are home to incredible architecture. Its monuments commemorate significant events. A statue of Queen Elizabeth graces the front lawn, while a statue of Captain George Vancouver crowns the central dome.
Built between 1893 and 1897, this stunning pink structure is now a National Historic Site and is open to visitors who want to explore the clock tower, legislative chambers and more.
It's within walking distance to tons of shops and restaurants, the Royal BC Museum, Fremont Empress and the Inner Harbour. To complete your trip, you may choose to dine at the Parliamentary Dining Room and enjoy white cloth dining!
14. Go shopping at Cook Street Village
Another great place to visit in Victoria is Cook Street Village.
Located in Victoria's Fairfield neighborhood, this quaint village has lots of cute stores perfect for getting souvenirs or stocking up on gifts before you leave the city.
Cook Street Village has antiques, unique clothing stores, thrift shops, and so much more, all in one convenient location.
The area is also home to great restaurants, pubs and cafes, so you can stop for a quick drink or bite before heading back to the downtown core.
Some of the most popular spots include Cook Street Vintage, Surroundings, Kay's Korner (for antiques), WIN Resale Shop, Lifestyle Markets (for health food), Paws on Cook Pet Store Inc., The Root Cellar Village Green Grocer (greengrocer), and McLennan's Island Meat & Seafood (grocery).
15. Take an Inner Harbour Cruise
The Inner Harbour is another must-visit destination while you are visiting Victoria. It is located next to the Parliament Buildings at 700 Government St, Victoria, BC V8W 1W5, Canada. This was Canada's first official Inner Harbour back in 1865 and is still just as popular today.
The water in the inner harbour comes from the sea so you will get a wonderful salty smell while you are there.
You can stop for some rest or grab something to eat before heading off to explore some more of this stunning city.
Some of the restaurants you can find in the Inner Harbour are also amazing, serving up some of the best seafood in Canada.
Another way to enjoy the Inner Harbour is to come aboard the pickle-shaped boats by Victoria Harbour Ferry and take in some of the most landmarks like the Parliament buildings, the Fairmont Empress Hotel, and historic homes on the water. The "captains" of these mini-sightseeing tours explain the area's history.
16. Go whale watching
If you are visiting Victoria during the wintertime, then there is no way that you can miss out on going whale watching.
Whale watching season starts in late January and goes through to April every year, but it's a great idea to book a trip earlier in December to be safe.
Several companies offer whale watching Victoria tours like BC Whale Tours Victoria, Eagle Wing Whale & Wildlife Tours, and Orca Spirit Adventures Whale Watching.
17 . Book a trip to see the totem poles
Another great piece of Canadian culture you should not miss out on is the totem poles.
There are many different totem poles in Victoria, and many visitors make sure to visit as many as they can while they are visiting.
Thunderbird Park is the best place for totem pole spotting, located at 638 Douglas St, Victoria, BC V8V 2P8, Canada. It is about a 1-min walk from the Royal British Columbia Museum.
There are some great totem poles here, and you can even learn more about the history of the totems by visiting the Royal British Columbia Museum, which is right next to Thunderbird Park.
18. If you're in the mood for tiny, visit the Miniature World
Miniature World, located at 649 Humboldt St, Victoria, BC V8W 1A7, Canada, is a wonderland for those who love tiny things. Get a glimpse of Victoria, including its history, culture, architecture, and landscapes by using more than 500 miniature replicas that are all less than an inch high.
This is a fabulous place to visit if you have kids, as they will not be able to wait to explore the miniature world.
There are also some great coffee shops, restaurants nearby, and a park, perfect if you need a quick break from all the exploration.
19. Enjoy afternoon tea at the Fairmont Empress Hotel
One of the most luxurious experiences — a rite of passage in the Pacific Northwest — is a traditional afternoon tea at The Fairmont Empress.
This elegant hotel is located at 721 Government St, Victoria, BC V8W 1H6, Canada, and it has more than 100 years of history associated with it.
The Fairmont Empress was built in 1908. This exquisite hotel is a sight to behold and one of those places you will never forget after you visit it.
20. Visit Niagara Falls in Goldstream Provincial Park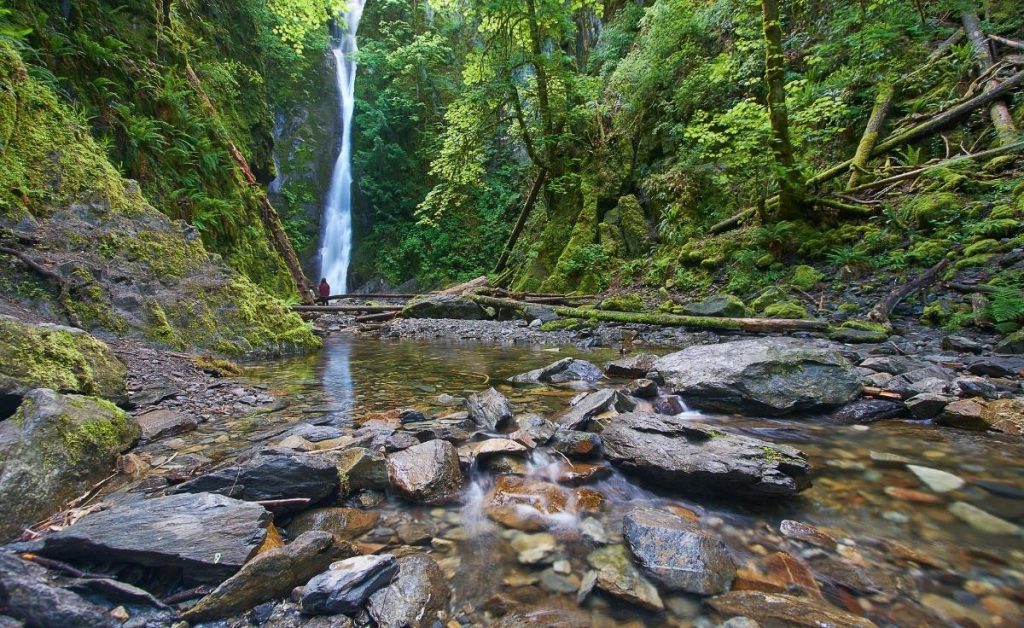 The Goldstream Provincial Park is located just 17 kilometers from downtown Victoria Avenue, making it another place to see if you are in Victoria.
This beautiful provincial park boasts the most scenic bike trail, Trestle Bridge Hiking Trail, where you can stop at Niagara Falls along the way.
Niagara Falls is located within the park and is open to visitors between late October and mid-April.
The falls themselves plunge about 50 feet and, after a good downpour, they can triple in size!
21. Hop on a bike and get on the Galloping Goose Trail
Follow the famously scenic 40-mile long Galloping Goose Trail that passes through BC's capital. The trail follows the old railway path, so it is flat and easy to ride on.
And if you are one of those cyclists who love hills, then there is no fear as well because Victoria also has plenty of bicycle lanes along its streets that will let you pass through in safety. The best time to ride along the trail is between April and October.
Victoria, Canada, is a wonderful city located on the southern tip of Vancouver Island, off the west coast of Canada. It is also known as the "cultural capital" because of its many attractions and activities.
With a host of good restaurants, unique attractions and lots of lovely, cozy places to stay in Victoria, this is an excellent place for families or just couples who would like to get away from the hustle and bustle of city life. There are genuinely so many fun things in this lovely city, appealing to people from different walks of life!